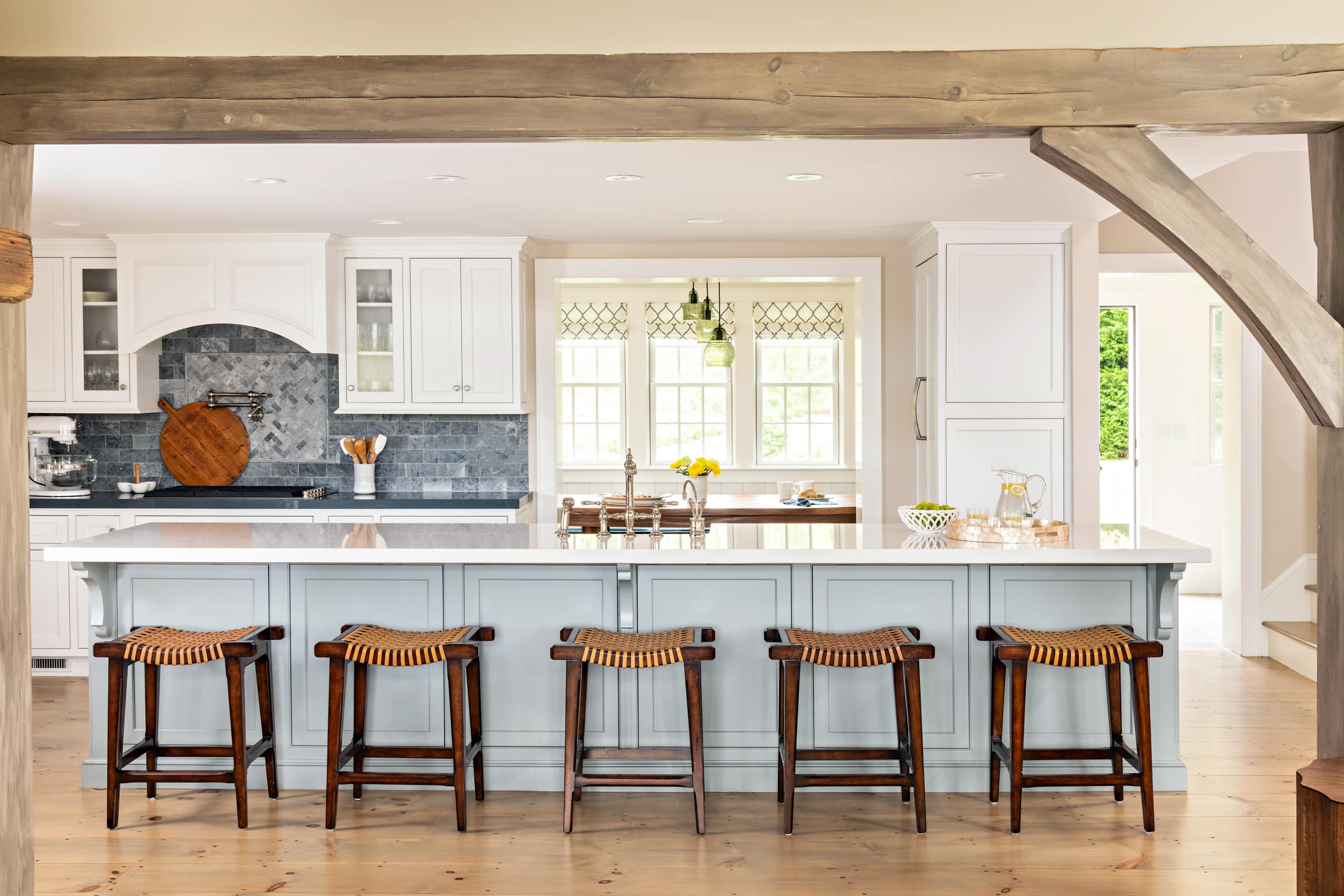 Cabinets play a pivotal role in both style and function when renovating or designing your kitchen. They are a prominent fixture in your house that receives an incredible amount of use, and wear and tear. As a result, we recommend investing in cabinetry that will for many years.
What should I factor into my kitchen cabinet decision?
There are many important factors to consider when selecting your kitchen cabinets. First, we recommend determining your needs by closely examining your kitchen style and layout. Then, it helps to educate yourself on the different types of cabinetry and their standard features. Below, we speak about these elements and how they impact the overall quality of your kitchen cabinets.
Types
Framed vs. Frameless Cabinets
Framed and frameless are the two main types of cabinetry. Framed cabinets are a common American style, where the cabinet door gets secured to a frame. This construction provides a traditional look with more strength and a wide variety of design options.
In comparison, frameless cabinets are more common in Europe but, more recently, have gained traction in the states. With these types of cabinets, the manufacturer eliminates the frame and secures the door to the cabinet box. Because of the construction, these cabinets provide a modern look with additional storage space. Also known as "full access" cabinets, they are great for smaller kitchens to maximize space.
Materials
Warping drawers and deteriorating hinges are signs of poorly-build cabinets. Therefore, it is critical to select cabinetry made with high-quality materials. Generally, kitchen cabinet makers build their cabinets using a combination of hardwood, plywood, and particleboard. In addition, they use different wood thicknesses and styles of joinery. All these elements impact the durability of the kitchen cabinet.
What are the best quality kitchen cabinets?
The best kitchen cabinets get assembled in a factory with top-of-the-line materials. Essential features that quality cabinet construction include are:
All-wood construction
Full-height back panels
Steel soft-close hinges
Steel soft-close drawer glides
Dovetail drawer boxes
Customization
There are three levels of kitchen cabinet customization:
Stock Cabinets
First, you have stock cabinets that do not give homeowners the ability to customize. These cabinets are the most affordable option. However, they do limit your design possibilities.
Semi-Custom Cabinets
Second, semi-custom cabinets allow you to create your kitchen cabinets from a predetermined set of options. Door style, wood, and finish are examples of customizable features. For instance, manufacturers will offer various choices, like red oak or maple, that allow you to customize the look of your kitchen. Working with semi-custom cabinets is a reliable way to go.
Fully-Custom Cabinets
And third, fully-custom gives you the ability to work with a manufacturer or skilled carpenter to create a cabinetry system that caters to all your design requirements. This route is the most expensive, but the quality and possible solutions are unlimited. To sum up, fully-custom best suits homeowners that have unique project requirements.
Assembly
Ready-To-Assemble Cabinets vs. Pre-Assembled
When you order kitchen cabinets, they get assembled in either a factory or on-site. For pre-assembled, cabinet-makers use more robust materials and construction methods to increase a cabinet's durability. Such building techniques involve using top-of-the-line adhesives and dovetail joinery. Since there are limitations to home assembly, manufacturers producing high-quality cabinet systems will only offer a pre-assembled option.
Ready-to-assemble cabinets are generally less expensive and ideal for the budget-minded homeowner. These cabinet systems get shipped in parts and take a considerable amount of time to put together. Ikea is an example of a company that manufactures ready-to-assemble cabinets.
Warranty
Warranties are another vital factor to consider when purchasing kitchen cabinets. Generally, the best kitchen cabinet makers offer extended periods of warranty because they believe in the quality of their products. That said, the terms and conditions can significantly vary by manufacturer. As a result, we recommend comparing the warranty periods and their exceptions.
Cabinet Trends
Aside from the construction and quality of a cabinet there are also cabinet styles that are trending.  Here we showcase three popular trends that our clients have chosen.
Handless, or cabinets without knobs, offers sleek lines that are elegant and minimalist, providing a modern feel. Open or floating shelving, often used in rustic or modern farmhouse styles, eliminates the cabinet altogether and exposes the contents. Color blocking is using a different color or wood choice and the lower and upper cabinets.
Open Shelving
Color Blocking
---
Related Posts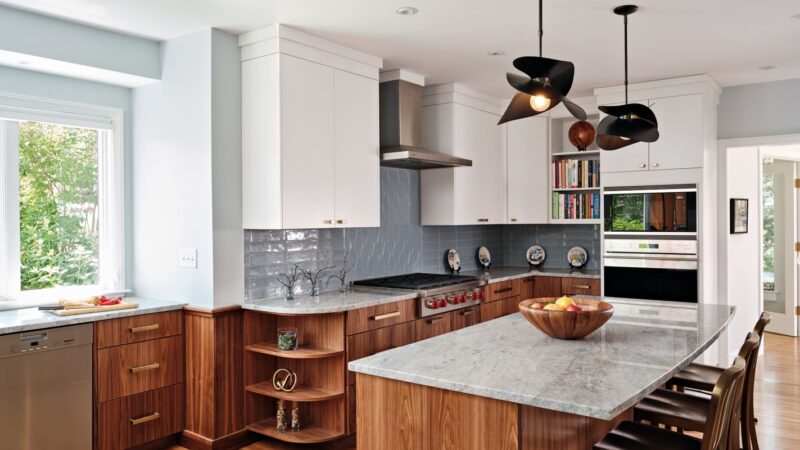 The Ultimate Guide to Home Fixtures and Selections
Everything you need to know about home fixtures. From examples to essential questions. Learn how to select the right fixtures for your home.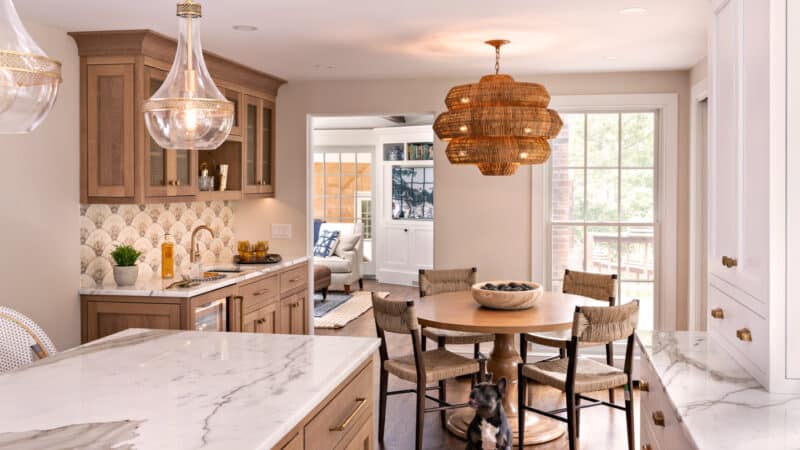 How to Select the Best Lighting for a Renovation
Lights are essential in both form and function in your home. Learn about the three types of lighting and how to select the right fixtures.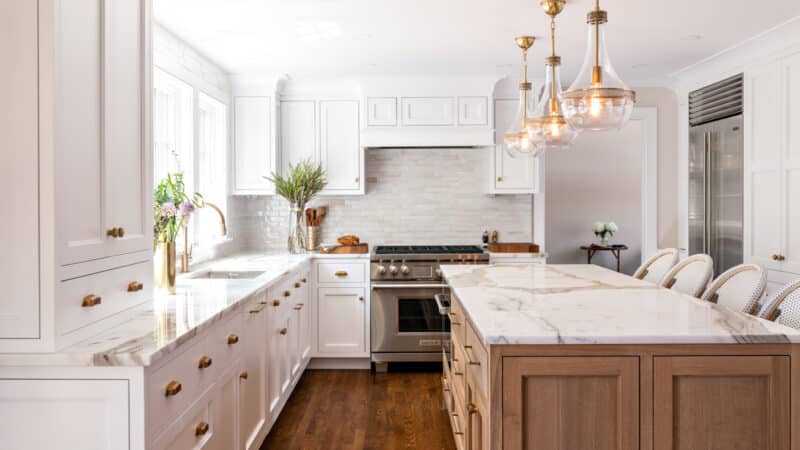 Best Kitchen Appliance Brands in 2021
Learn about our favorite kitchen appliance brands and why we recommend them for your home remodeling project.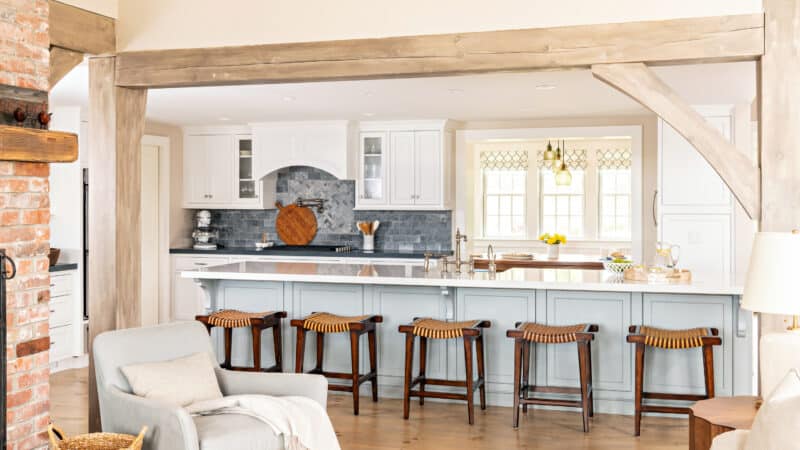 The Selection Process: Honing Your Design Decisions
Learn about the selection process when building a new home. Pam Bruni-Holick will help you hone your design decisions.