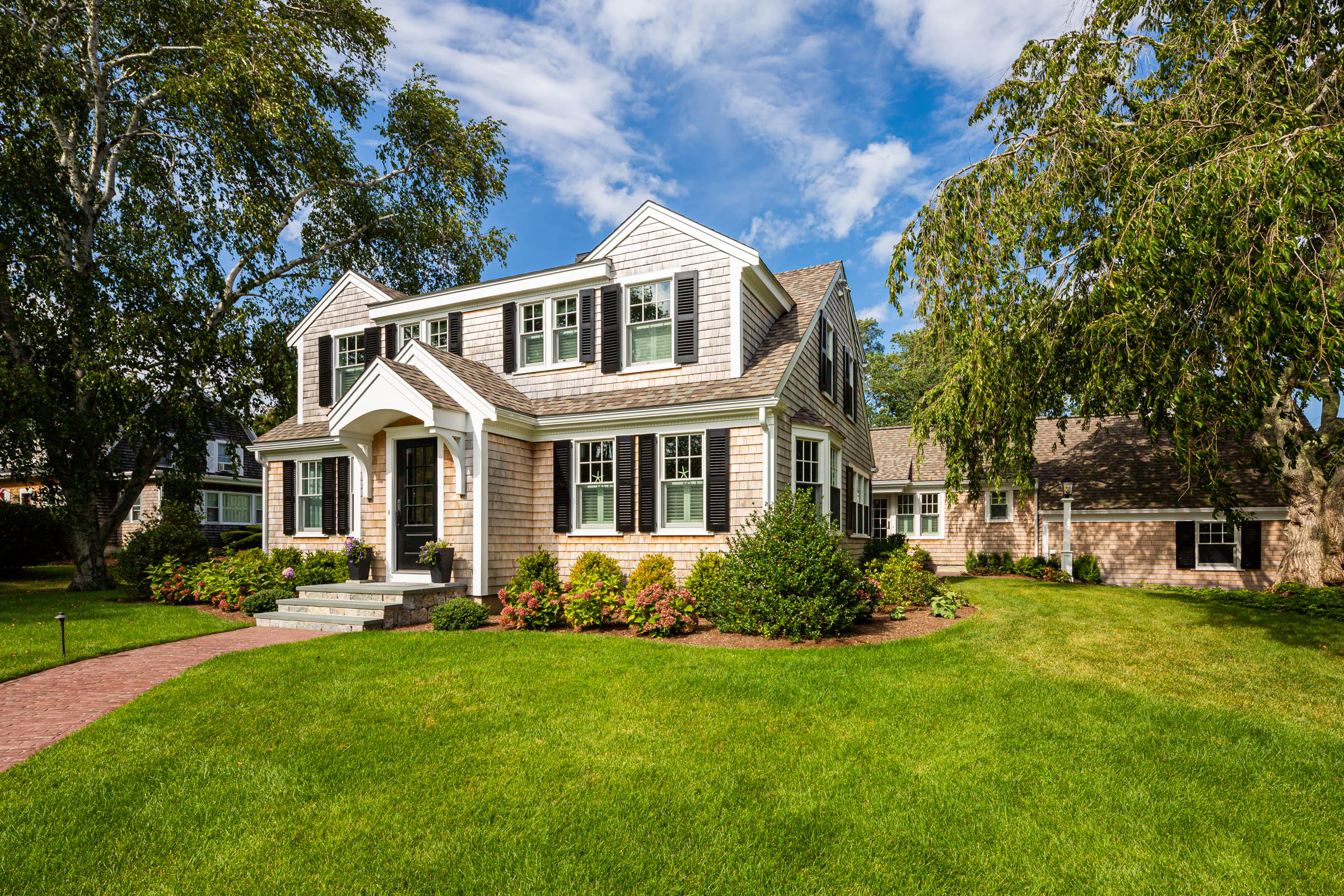 Have you ever heard the saying "the whole is greater than the sum of its parts"? Well, it can apply to the architectural style of a home. Many intricate details can work together to create an overall beautiful and highly functional aesthetic. Let's explore integral architectural details common to northeast coastal communities like Cape Cod.
What Are Architectural Details?
Architectural details are the small elements of the design and finish of a home or building that come together to characterize the entire building. These details greatly enhance the style of a home.
If you would like to enhance your home's style with architectural details, it's imperative to establish the project's scope. You can add some architectural details yourself, but more complex or structural details may require a professional.
Check out the architectural details below for inspiration…
Exterior House
The exterior of a house provides the first aesthetic impression. Examples of exterior architectural details common in coastal homes may include:
Dormer
A dormer is a roofed structure, often with a window, that projects vertically beyond the plane of a pitched roof.It can be is used to create more space and light in the interior.
Styles of dormers include:
Doghouse (gabled dormer with triangle peak)
Flared gable (roof extends over dormer)
Recessed (inset dormer, may have porch)
Nantucket (two dormers connected by a middle)
Shed (single sloped roof)
Eyebrow (curved roof)
Hipped (4-sided angular roof)
Roof Shingles
Roof shingles protect a home from the elements, but they can also add style to the roof. There are different types of shingles like asphalt, wood, and slate. Some roofing comes in sheets in materials like copper, metal and rubber for a specific style.
Siding
Like roof shingles, siding adds to the style and character of a house. Cedar shingles that fade naturally are the most common form of siding on a classic Cape Cod home. Board and batten paneling or painted wood with accent colors on the trim is also standard.
Chimney
The chimney is a functional part of a home. It can be used as an architectural accent on a roof or exterior wall with stone or brick materials. Although, with the gas fireplace trend, a typical surface may be a compound material decoratively clad with panel.
Windows
Like dormers, windows play a significant role in the exterior appearance of a home. A few examples:
Bay window: A bay window is made of multiple individual windows. It extends out from the rest of the home in a polygon or square shape. An added feature may be a copper roof accent. Inside, the space could be a cozy bench or a ledge.
Porthole window: A round or oval "porthole" window on a home, with a resemblance to those on a shipping vessel, adds a nautical touch to both the exterior and interior.
Shutters
Whether they are functional or purely aesthetic, window shutters are a common element in Cape Cod-style homes. Shutter styles can range between basic louvered or paneled, to traditional board and batten with exposed hinges.
Columns
Vertical columns, or upright pillars, on a house may support a roof or beam or be purely decorative. They're most commonly found on covered porches of coastal-style homes.
Cupola
A quintessential Cape Cod architectural detail is the cupola. Cupolas are usually built on the ridge of the roof of a garage or cabana. They're topped with an ornamental weathervane adorned with a copper object like a fish or a sailboat.
Entry
The main focal point of any home is the entry or front door. A painted front door is one way to add curb appeal to the exterior appearance. But architectural elements can make a dramatic impact here. Examples may be:
Portico
A portico is a small roof that covers the front door. It typically has columns or detailed brackets. Portico designs are standard on Cape Cod homes and fall into a few categories – a frame, shed, flat, arched, or hip.
Porch
The front porch is a beautiful and valuable part of a home's exterior. Extra details like columns, railings, and trim make it more charming and appealing.
Front door
The front door style should reflect the architectural design and style of the home. Examples of home styles include modern, craftsman, farmhouse, traditional, or ornate.
Transom and side light windows
These windows rest either above the front door or on the sides. Transom windows (above) and side light windows (beside) add light to the interior entrance and detail to the exterior. They come in many styles.
Lighting
Exterior light fixtures and recessed lighting add finesse to the entry of your home. You will want to choose light fixtures that complement the style of your home and outdoor landscape.
Interior Trim
A discreet yet essential design element is the interior trim. In broad terms, it's a type of millwork used on walls for practical and decorative purposes. Designers also use trim to frame windows, doors, walls, floors, and even ceilings. Examples of interior trim elements include:
Molding
Molding is the general term for decorative cornices used between walls and ceilings or walls and floors. Generally, it's painted a different color and finish than the wall to create a subtle accent or contrast. Types of molding include crown, baseboard, chair rail, and door casings.
Paneling
Paneling is an excellent way to create an accent wall or ceiling. It adds contrast and a unique ambiance to spaces. Here are some common types:
Wainscoting: Interior paneling that usually covers the lower half or third of a wall. Wainscotting varies in design and consists of individual boards or a system of frames and panels. Wainscotting that is dark and saturated with color is a current trend.
Beadboard: Beadboard is vertically grooved wood panels, typically incorporated into walls (as wainscotting) or as full walls and ceilings to add visual interest.
Shiplap paneling: Common with coastal home design, shiplap paneling has a rabbet (groove) cut at the top and bottom of each board. It's can be installed horizontally or vertically and is usually white, but can be painted.
Textured wall
Textured walls or ceilings add interest or hide imperfections. Examples include orange peel and knockdown, which are drywall finishing styles. Textured wallpaper, like raw jute grasscloth or siskel bluegrass cloth, is common in coastal home designs. Other
Ceiling beams
Ceiling beams can be exposed raw timber or added for decorative purposes. They are a great architectural detail that adds warmth and depth to rooms with high ceilings.
Fireplace mantel
As the focal point in any room, the fireplace mantel and trim is a place for creativity in design. Materials can range from natural beams to slate to decorative molding.
Built-ins
Built-ins are a functional architectural addition to a home. They can be shelves, cabinets, and benches, adding character to any space.
Staircases
Staircases are one of the largest interior features. They're often visible at entry or in the main living space, so the style and craftsmanship in the details shouldn't be overlooked. Some architectural components include:
Handrail
The functional handrail, also called a banister, creates the perspective of the staircase. It can match or contrast the colors or materials of the other parts.
Newel post
At the landing or turning points of the staircase rests the newel post. This post is the central supporting pillar of a spiral or winding staircase.
Balusters
Balusters are narrow pillars that support the staircase rail and increase safety.  They can be decorative in design, and establish the style of the staircase and newel post. Rope, twisted wood, and cable wire are common materials used to build nautical-style balusters.
Kitchens
At the heart of the home, the kitchen's architectural details create an artistic aesthetic for a highly functional space. Architectural kitchen details include:
Two-toned cabinets
Trending recently, two-toned cabinets bring intrigue, variation, and contrast — like black and white, or navy and natural wood — to any kitchen.
Island Details
The kitchen island is a central and essential space for food prep and entertaining. It's also an excellent place to add stylish details like decorative legs, corbels (supporting or decorative brackets), patterned trim, and end panels.
Glass cabinet doors
Cabinets with glass doors add a sophisticated look to any long line of solid wood, improving the beauty and functionality of your kitchen.
Custom wood range hood
Ranch hoods seamlessly blend with farmhouse or modern cabinetry styles and complement the style of the kitchen.
Backsplash tile
The backsplash is the perfect tool for personalizing your kitchen style. Designed to protect the wall behind a stove or countertop, tile backsplash has evolved into an art form of color, shape, and texture.
Floating shelves
A floating shelf is attached to a wall with no visible means of support. You can also use these shelves to add the texture of natural wood (or other material) to break up finished cabinet surfaces.
Light Fixtures
The right light fixture has the power to transform your home's ambiance and character. A lot of architectural details are available within the context of light fixtures.
Light fixtures
Between ceiling lights, chandeliers, and vanity lighting, light fixtures come in more styles than you can imagine. Choosing the right lighting for your home can create a specific mood.
Sconces
Wall sconces are wireless (hidden) light fixtures attached to a wall. They add sophistication, architectural style, and depth to your space.
Pendants
Hanging pendant light fixtures (sometimes in groups of two or three) can be decorative and serve as a dramatic focal point. They can provide additional task lighting over small areas like kitchen islands, sinks, or workspaces.
Hardware
A relatively easy and budget-friendly architectural home detail is hardware. Let's run through a few hardware ideas below:
Knobs and pulls
You can update your cabinets without a complete overhaul by changing the knobs and pulls. Select from trending options such as black matte, brushed gold, antique brass, ceramic or bronze, or matte.
Door knobs
Door knobs are an integral part of your home, and can be found throughout the entire house. There are many styles and finishes to choose from, which can change the look of the home considerably.
Landscape and Outdoor Living
Your yard or grounds present an additional opportunity for architectural style. Here are a few ideas:
Hardscape
In landscape language, hardscape means walkways, driveways, paths, or walls. Materials can be brick, stone, slate, pavers, or any combination. When executed by a skilled landscape designer, the appearance can be stunning.
Fencing
Fencing can be both functional and decorative. It comes in different styles and materials, which match your home's style and colors.
Arbors
Arbors are ornate, standalone structures in a landscape or garden. They can separate an area or provide a vertical space for vines to grow and can be quite charming.
Pergola
Pergolas can be a stand-alone structure or mounted to the exterior of your home. They provide shade, privacy and added visual interest to any outdoor living space.
Fireplace
An outdoor fireplace offers year-round entertainment and coziness. You can build a fireplace against the home's exterior (as in a screen-in porch) or as the centerpiece to an outdoor patio. Materials such as brick, stucco, fieldstone, or slate can complement hardscaping and landscaping.
Firepit
Firepits are a fantastic addition to an outdoor living space. A wood-burning or gas version can be worked into any landscape, providing ambiance and heat to outdoor gatherings.