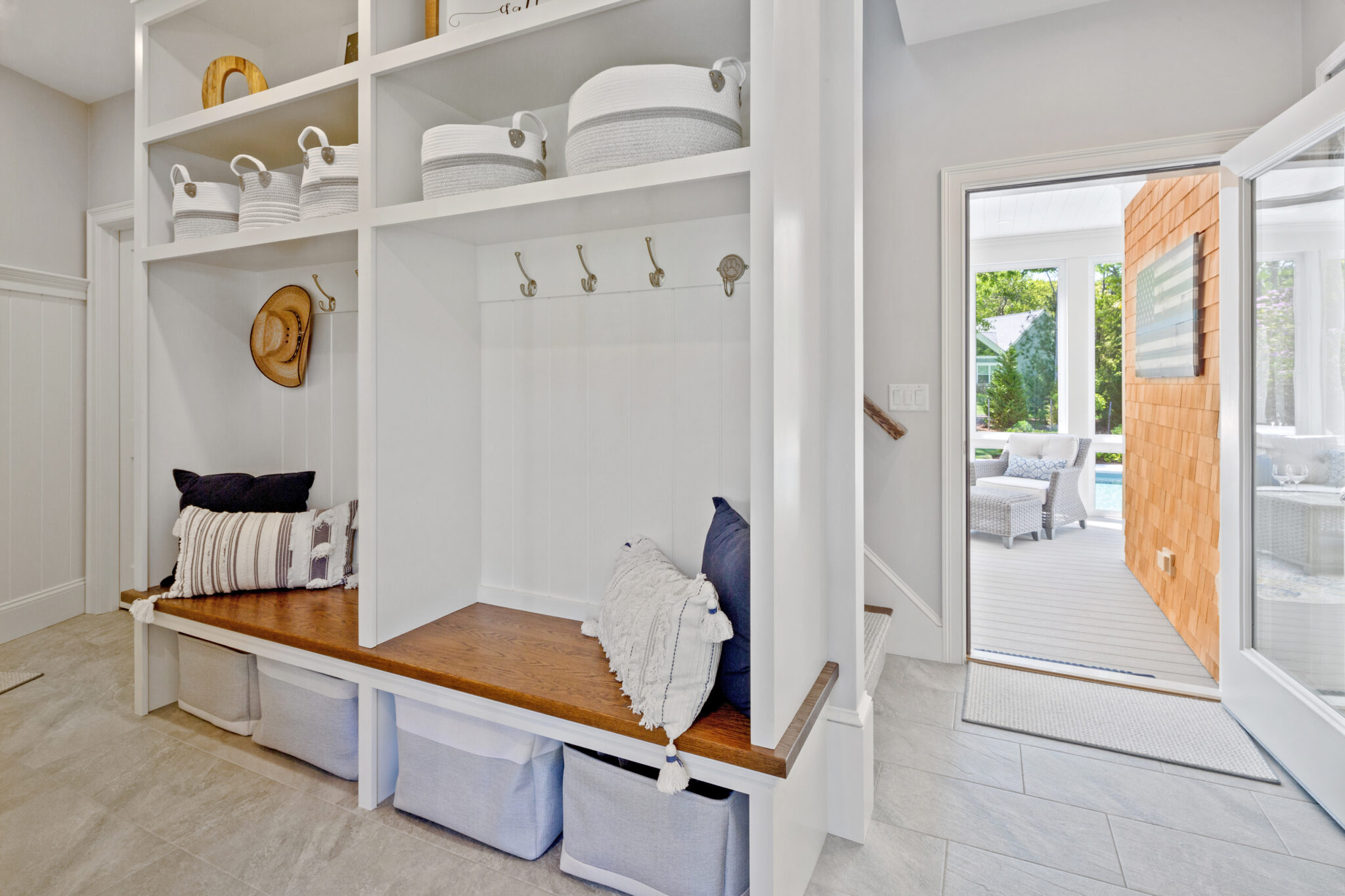 The mudroom may be one of the smallest rooms in a house, but it's certainly a functional one.  After a day at the beach or a trip to the market, the mudroom is the place to drop the bags and lose the shoes.  The space is often designed to be nestled between the garage and the kitchen, and can be at a side door or back entrance with an outdoor shower near by.  Some home designs include built-in benches, cubbies and hooks for hanging the outerwear.  A powder room or laundry nook may be also be worked into the design.
We've hand picked ten of our favorite Cape Cod mudrooms from recent custom home builds or renovation projects by McPhee Associates. Included with some are exterior views of the entrance for context. These coastal homes and mudroom spaces range in home style but all have this essential pit stop as a functional design feature. 
Take a look at these Cape Cod Mudrooms …
---
Buzzards Bay Overlook | Falmouth, MA
Located on the lower level near the garage,, this mudroom is where coastal simplicity meets rustic charm. The walls of this inviting space are finished with shiplap paneling, evoking a classic Cape Cod vibe. A natural wood bench and black hardware accents add a touch of sophistication and contrast to the room. They balance the coastal and classic elements in perfect harmony.
---
Coastal Farmhouse Revival | Dennis, MA
Welcome to this versatile Cape Cod mudroom that doubles as a laundry room, offering charm and practical functionality. The heart of this space is a convenient sink designed for multi-purpose needs. Added cabinetry and farmhouse-style accent shelves provide ample storage to keep this eclectic space organized and clutter-free. The accent ceiling shines with a painted blue shiplap, evoking the serene colors of the ocean.
---
Classic Cape Reimagined | East Orleans, MA
A mudroom does more than welcome you home – it offers comfort and style. The herringbone-patterned floor tiles set the tone, providing a captivating visual appeal. The shiplap walls with black accents give a touch of coastal charm and welcoming warmth. Tucked away discreetly, you'll find a powder room, adding convenience between the front and rear entry for a practical touch to your daily life.
---
Channel Side Charmer | Harwich Port, MA
Located in Harwich Port, this mudroom is where design meets functionality. The walls are the standout feature of the space, showcasing a captivating light gray herringbone pattern. This timeless design choice adds a touch of contemporary elegance to the area, making it an inviting entry for your home.
---
Sea Oaks Splendor | East Dennis, MA
This East Dennis home is an example of a mudroom that seamlessly serves as a connecting point from front to back. There is an entry in the front, garage access, stairs to the second level, and a passage to the sunroom and backyard. Custom cubbies with bench seating provide the perfect spot for stowing away coats, shoes, and bags, keeping your entry organized and clutter-free. Thoughtful shelving and hooks offer additional storage, ensuring everything has its place.
---
Contemporary Net Zero Beach Compound | West Dennis, MA
Enter a contemporary haven of style and organization in this unique mudroom. Built-in wood accents add warmth and character to the space, seamlessly blending functionality with modern design. As you first walk in, the floor comes alive with bold, eye-catching patterned tile. A teal-colored accent door serves as a focal point, providing a pop of vibrant color that adds an unexpected twist to the contemporary aesthetic.
---
Serenity on Long Pond | Harwich, MA
Step into a traditional mudroom in Harwich that exudes timeless warmth and functionality. With bench seating as its centerpiece, this space welcomes you with open arms. The warm tones throughout the room, from the wooden accents to the cozy color palette, create a sense of classic comfort and charm.
---
Windward Village Lot 7 | East Dennis, MA
Located in East Dennis, we added a mudroom into this home design that showcases multitasking at its best. A helpful laundry area, equipped with the essentials, takes center stage. Around the corner, a small bench nestles perfectly into the space, offering a cozy spot to put on or take off your shoes. Complete with crisp, white paneling, this space blends functionality and style.
---
Cozy Cottage | Chatham, MA
You'll discover a brilliant use of space in the heart of the small yet efficient Chatham mudroom. On one side, built-in shelving and cubbies provide a dedicated spot for all your essentials. Opposite the shelving is a custom bench that offers a place to sit and features storage drawers, ensuring every inch of space is well-used.
---
Simplicity on the Sound | Harwich Port, MA
Welcome to this open and inviting mudroom/foyer that goes beyond first impressions. Bright white paneled walls lend an air of coastal charm to the space, while the hardwood flooring adds warmth and durability. Off to the side, you'll discover a sun-filled powder room offering convenience and functionality.