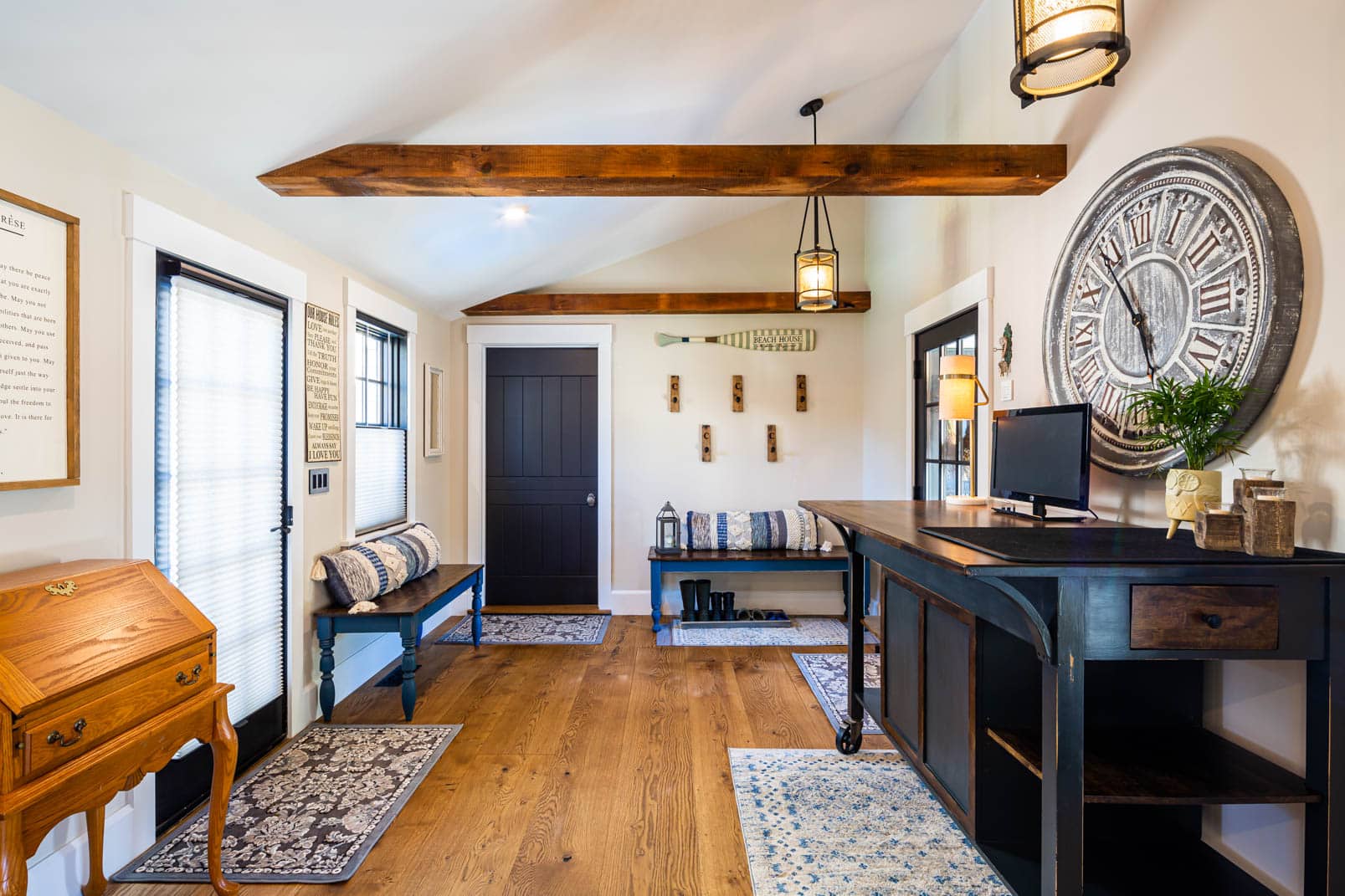 A home renovation comes with many benefits. It not only elevates the aesthetic, but it enhances property value, lowers energy costs, and gives your home a new lease on life. Undergoing a home renovation can be a major undertaking. However, it gives you the freedom to customize your home to your preferences, creating a space reflective of your style. Are you looking for some inspiration for your renovation project? We have compiled a list of some of our stunning before and after home renovations on Cape Cod. Learn about challenges like dilapidated structures, flood zones, and preserving architectural integrity along with the solutions we provide. We hope these projects excite and inspire you.
Learn about our before and after home renovations…
Historic Chatham
Chatham, a seaside town at the southeastern tip of Cape Cod, is known for its bustling Main Street, maritime history, and sandbar beaches. McPhee renovated this Chatham property to align with the town's coastal zest and historic charm.
McPhee accomplished the goals of the homeowners by maintaining the history of the home while modernizing the living space. The team transformed the kitchen into a warm and welcoming oasis. The kitchen features a blue tumbled stone backsplash, white cabinetry, dark blue granite tones, and a natural wood breakfast bar top. Next, McPhee took space from an oversized deck, creating extra room for a small wet bar and informal breakfast dining area.
McPhee Associates earned the coveted Chatham Preservation Award in 2012 for this renovation.
Classic Ranch
This classic 1960s ranch in East Dennis received a beautifully-balanced makeover. Its homeowners wished to prioritize continuity over modernization. To keep traditions and memories alive, McPhee modernized the home while maintaining its general layout and architectural integrity.
To achieve this, McPhee opened up the living area without significantly altering the original footprint. The team built a 12-foot sliding door off the living room, connecting to a redesigned outdoor haven with a large deck and patio. The kitchen and main bathroom also received major updates.
Channel Side Charmer
With this Harwich Port home, the homeowners wanted to maximize the serene water views of the Harbor and add more living space. Working with architect Karen B. Kempton, McPhee's full renovation of this home included adding a wall of windows on the waterside with strategically placed new front windows that allowed front to back vision. To provide more opportunity for outdoor enjoyment, a family-friendly deck off the updated kitchen was built
The homeowners wished to incorporate separate spaces in the house for their visiting grown-up children and families to enjoy. As a result, McPhee expanded and renovated the second story to include bedroom suites, a loft and a family room with custom-built "boat" bar.
Coastal Comfort
Working with architect Jane Hewitt and McPhee Associates, the homeowner's goal for this Harwich Port home was to maximize space, emphasize the water views, and create family-friendly living. Jane and McPhee Associates achieved the water views by adding windows in the dining room and French doors to open the porch. The team also added a second floor to increase sleeping space. Architect Hewitt kept the eaves as low as possible to reflect the original architecture.
Timeless Remodel on Saquatucket Bluffs
This 3,400-square-foot property in Harwich Port required a complete overhaul inside and out. A young couple boldly took on the renovation project in phases – with the help of McPhee Associates. The homeowners had a strong vision for what they wanted but needed help with execution. The kitchen underwent the most significant transformation – complete with white-painted maple cabinetry around the perimeter. The island and wet bar feature natural white oak with a matte finish.
The team refinished the house's exterior to resemble a traditional Cape Cod house using white clapboard, cedar shingles, and navy blue shutters. This home earned a Gold BRICC Award in 2021 for Excellence in Remodeling.
Oasis on Arey's Pond
McPhee Associates transformed this once outdated, darkly-lit Cape Cod home into an airy, light-filled oasis. The main living space now features floor-to-ceiling windows providing panoramic views of Arey's Pond. Additionally, McPhee installed sliding glass doors that opened to a refurbished deck with new cable railings. Beams, driftwood, and wide plank hardwoods compliment the property's natural surroundings.
The home underwent significant changes when McPhee opened up the kitchen, dining room, and sitting room to center around a freestanding fireplace. McPhee transformed the kitchen to feature clean, white Silestone quartz countertops and a charming farmhouse sink. The addition of a wood-burning stove in the family room makes the area perfect for year-round entertaining.
Beautiful Boathouse
Located on the Arey's Pond property, this beautiful boathouse was once a dilapidated structure. The old structure was beyond repair and nowhere near FEMA regulation height in a flood zone. Consequently, McPhee had to start the renovation from scratch, in which McPhee then transformed the boathouse into the perfect multi-purpose space.
The homeowner's goal was to create a haven for escape and work. McPhee achieved this goal in several ways. First, the team integrated exposed beams to bring lake house-style to the Cape. Then they added a mahogany leather-accented desk facing the water, providing a tranquil space to unwind. Next, they installed recycled glass counters, two-toned cabinets, and floating shelves. Finally, McPhee rejuvenated the bathroom with charm featuring Mediterranean-style tiles and a nautical mirror.
Beautiful Boathouse earned McPhee a Silver BRICC Award in 2021 for Excellence in Design & Construction of Specialty Rooms.
Coastal Farmhouse Revival
The historic home in East Dennis was a mix of styles. It was an 1825 farmhouse with two additions over the years that didn't match the original farmhouse. The client wanted to modernize and transform all of its space into a summer family retreat.
The McPhee Associates team worked closely with the owners to design and build the ideal solution. The first part involved turning the smaller cottage addition into a luxurious primary suite with a small kitchen, bathroom, laundry nook, and loft. And for the second phase, McPhee Associates completely remodeled the home's original farmhouse inside and out. The finished project infused modern farmhouse character while refurbishing original details like fireplaces, crescent windows, and beams to preserve its rustic charm.
Bay Breeze Oasis
The owners of this Dennis home wanted to convert this traditional Cape summer home into a modernized and more spacious year-round residence. By adding new dormers and windows and improving sight lines, McPhee Associates expanded the primary suite's living space. They also removed a central fireplace in the living room that created a bright and open living and dining space.
Additionally, they raised the main floor's kitchen and family room ceilings to maximize unused attic storage and increase natural light. Except for the sunroom, McPhee completed these changes, and more, on the existing footprint of the original house. McPhee also built a modern cabana near a newly installed pool.