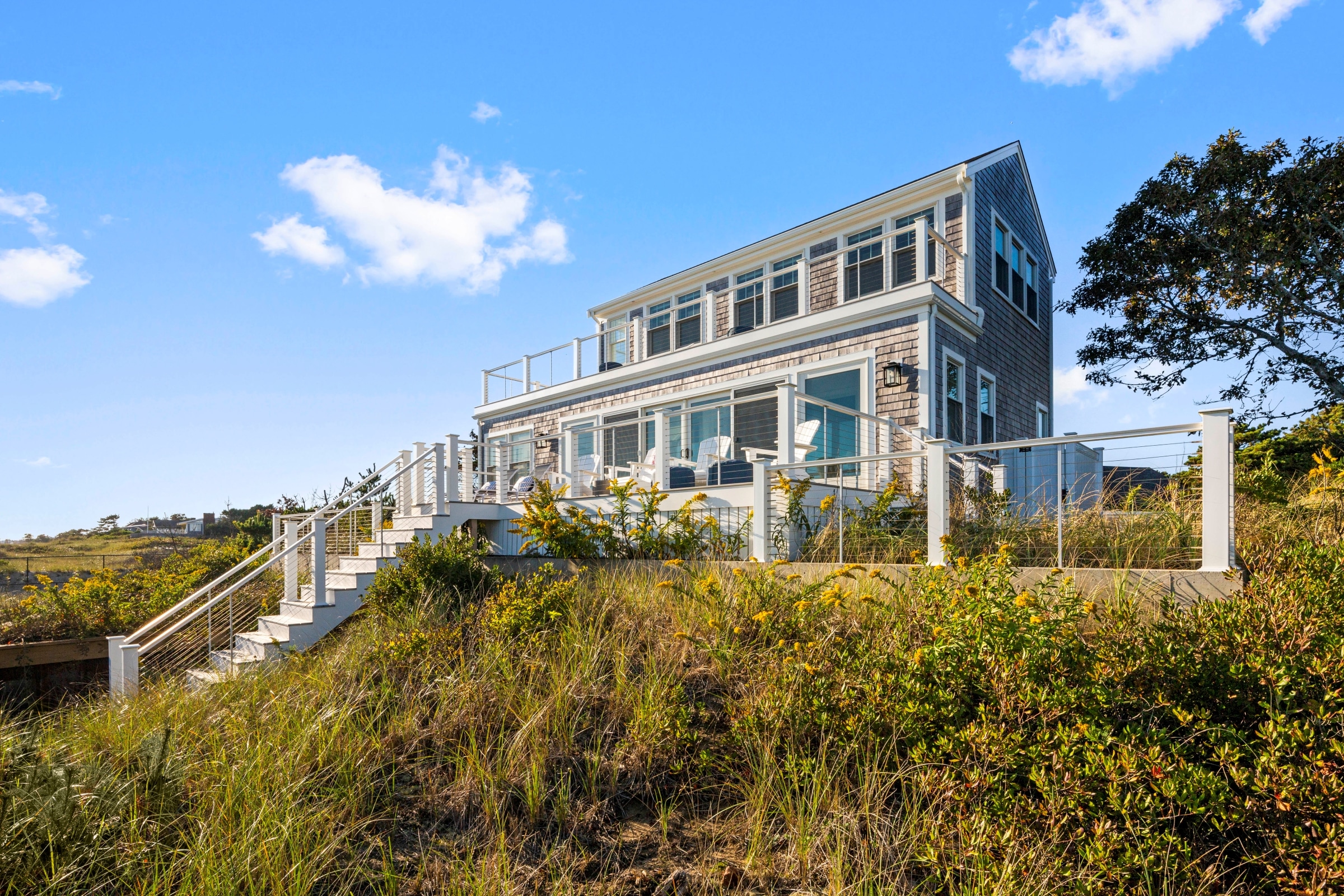 Are you at a point where you are trying to choose between remodeling your Cape Cod home, or rebuilding it from scratch? This decision is significant. Deciding which option is best can be challenging. To make an informed choice, homeowners should compare the differences between a remodel vs. rebuild. This blog post will explore each option to help determine which approach best fits your home improvement project.
Purchasing an Older Home to Remodel or Rebuild
Cape Cod real estate is ideal for homeowners seeking a coastal lifestyle or seasonal getaway. However, current market conditions have presented some challenges for prospective buyers. The limited inventory has reached record lows, making it increasingly difficult to find the perfect home. Additionally, new development opportunities are scarce due to factors such as availability, zoning regulations, and environmental restrictions. This inventory shortage has led to a situation where the available land for building is limited, or non-existent, in the desired location.
For obvious reasons, there has always been a high demand for homes closer to the water. Since proximity to the ocean significantly impacts property prices, older waterfront area homes in need of repair have become a more affordable option for buyers. In such cases, buyers often purchase these properties primarily for the lot and location, with plans to remodel or rebuild their dream home.
Before embarking on such a project, it's essential to carefully weigh the pros and cons of a remodel vs. rebuild. Let's explore some reasons buyers might choose one option over the other.
Reasons to Remodel or Rebuild Your Older Cape Cod Home
For various reasons, many older Cape Cod properties require updates and improvements. These factors include age, coastal wear and tear, failing foundations, electrical and plumbing issues, rot, mold, pest damage, or outdated features. If you own an older Cape Cod home, remodeling or rebuilding could transform it into your dream living space. Here are some compelling reasons to consider a remodel or a rebuild of an older Cape Cod home:
Summer Cottage Conversion to Year-Round Home
Many Cape Cod cottages were initially designed as summer-only retreats, lacking insulation and efficient heating systems. You can transform a seasonal cottage into a comfortable year-round residence by considering a remodel vs. rebuild. This conversion allows you to enjoy the beauty of Cape Cod throughout the year. It can provide an ideal option for those seeking a permanent retirement home, or a space to work from during the off-season.
More Space
Growing families often find that older Cape Cod homes can be restrictive regarding space. Remodeling or rebuilding offers the advantage of expanding the square footage of your home to accommodate your evolving needs. Extra space guarantees that your Cape Cod home remains a comfortable and inviting environment for everyone.
Updated Floor Plan
Older Cape Cod-style homes often feature low ceilings, small closets, and enclosed rooms, making the space cramped and dated. Deciding to remodel vs. rebuild allows you to reconfigure the floor plan to create an open, airy layout. Removing walls, raising ceilings, and integrating oversized windows can bring in more natural light, maximize views, and create a modern living space.
Modern Features
Outdated bathrooms and kitchens are common issues in older homes. Remodeling or rebuilding allows you to update these essential rooms with modern fixtures, appliances, and finishes. Additionally, you can incorporate more outlets throughout the home to accommodate technology needs, such as TVs, surround sound systems, and innovative home technology.
Better Energy Efficiency
Older homes often suffer from poor insulation, outdated windows, and inefficient heating and cooling systems. A remodel or rebuild provides an opportunity to enhance the energy efficiency of your Cape Cod home. You can install efficient insulation, upgrade to energy-efficient windows, convert from electric to sustainable heating solutions, and choose appliances that conserve energy.
To note, there are new regulations in Massachusetts with stricter energy efficiency requirements that apply to both new construction and home remodels. This will factor into your comparison when considering one option over the other.
---
Channel Side Charmer
In this example of a full home remodel, a waterfront cottage was expanded both out and up. Learn more…
---
Bay Breeze Oasis
This is an example of a complete, whole-house remodel that kept the original floor plan and added space by opening walls on the main level and dormers on the second level. Learn more…
---
Pros and Cons of Remodeling
When considering the refresh of your older Cape Cod home, one crucial decision is whether to remodel or rebuild. Each approach has its own pros and cons that you should consider carefully. Let's explore the advantages and disadvantages of remodeling:
Pros of Remodeling
Cost
Remodeling is generally less expensive than rebuilding. By working with the existing structure, you can save on costs associated with demolishing and constructing a new home. Depending on the project's scope, a remodel can be a more budget-friendly option.
Time
If time is of the essence, remodeling may be a more suitable choice. Compared to rebuilding, which involves starting from scratch, remodeling can have a faster completion.
Permits
Depending on your specific remodeling plans and lot location, you may not require special permitting for a renovation or small expansion. The permitting process may be less complex if you're working with the existing floor plan and not making significant structural changes.
Flexible Design
With remodeling, you can reconfigure the floor plan, build up or add space while preserving the existing footprint. This flexibility allows you to customize the home according to your needs and desires, making it a more personalized living space.
Preserving Character
Older Cape Cod homes often have a unique charm and historical significance. By opting for a remodel, you have the advantage of preserving the original character and history of the house.
Cons of Remodeling
Extensive Updates
A remodel can be a significant undertaking if your older home requires extensive updates. Sometimes, it may involve gutting the house and starting from scratch with electrical, plumbing, and framing. Depending on these factors, the remodeling cost could be comparable to or even exceed the cost of rebuilding.
Neighborhood Fit
The location of your home plays a significant role in determining the sustainability of a major remodel. Depending on the neighborhood and its architectural style, a substantial remodel may not align with the existing homes. It's essential to keep this in mind for the resale value of your property.
Pros and Cons of Rebuilding
Another option worth considering when revitalizing your older Cape Cod home is rebuilding. It allows you start fresh and create the exact house, layout, design, and desired features you envision. However, we recommend carefully weighing the pros and cons of this approach. Let's explore them in more detail:
Pros of Rebuilding
Blank Slate
Rebuilding offers the advantage of starting with a blank slate. You can design and build your dream home from the ground up, ensuring that every aspect of the house meets your specifications and preferences.
Energy Efficiency
Rebuilding your older Cape Cod home means you can incorporate the latest energy-efficient features. Massachusetts and Cape Cod have updated energy codes that require stricter standards, resulting in reduced energy costs. You can build your new home with advanced insulation, energy-efficient windows, and other green building practices.
Value Retention and Appreciation
A rebuilt home generally holds its value and appreciates more quickly than a remodeled one. Investing in a new construction creates a home that aligns with modern buyer preferences and current market trends.
Technological Advancements
Rebuilding provides the opportunity to incorporate newer technologies into your home. From advanced security systems to smart home automation, you can take advantage of the latest innovations for enhanced security, convenience, and comfort.
Cons of Rebuilding
Permitting and Zoning
The location of your older Cape Cod home will determine if there are new permitting requirements or zoning restrictions that could impact your rebuilding plans. Some neighborhoods or municipalities may have limitations on the size or height of the home and environmental restrictions. It's important to thoroughly research and understand local regulations before committing to the rebuilding process.
Additional Costs
Rebuilding incurs extra costs compared to remodeling. These costs include additional permits, demolition, lot preparation, and all the materials needed for the construction. Assessing your budget and determining if a rebuild aligns with your goals is essential.
---
Simplicity on the Sound
This is an example of a demolish of a 1870s oceanfront cottage that was rebuilt on the same footprint, with expansions on the second level. Learn more…
---
Harbor Bluffs
This is another example of the demolition and rebuilding of an oceanfront home with an entire new construction home, including foundation. Learn more…
Steps to Get Started on Your Cape Cod Home Remodel or Rebuild
Taking the necessary steps to guarantee a successful outcome before diving into a major remodel vs. rebuild project is vital. Here's a guide to get you started:
Begin by thoroughly assessing the scope of your project. Create a detailed list of the updates or changes you envision for your home.
Determine a realistic budget and estimated timeline for your project. Consider factors such as the scale of the remodel vs. rebuild, materials, labor costs, permits, and other associated expenses.
A major remodel or rebuild will require architectural designs. Start researching reputable architectural firms in your area. Schedule meetings to discuss your remodel vs. rebuild options and obtain quotes for each design.
Consider working with a design and build company to simplify the process and streamline communication. These companies offer a comprehensive approach, combining design services with construction expertise.
Research possible tax credits or incentives available for your remodel or rebuild project. Some jurisdictions offer incentives for energy-efficient upgrades, historic preservation efforts, or other specific criteria.
Once you have a finalized design, it's time to find reliable builders and contractors to bring your vision to life. Look for professionals with extensive experience, a strong portfolio of previous renovations or rebuilds, and positive customer feedback.
Before the construction phase begins, confirm that your builder is willing to work with the town to obtain any necessary permits and documentation. Compliance with local regulations is vital for a smooth and hassle-free project.
Remodel vs. Rebuild: Which is Cheaper for an Older Home?
The cost of a remodel vs. rebuild of an older home can vary based on project size and materials. Generally, rebuilding an entire house tends to be more expensive due to increased labor and materials. A remodel may be more cost-effective if the existing structure is in decent condition and only needs minor repairs. This route would preserve the original floor plan and footprint. When deciding, it's also important to consider long-term costs like maintenance, utility bills, and property taxes. Consulting professionals with remodeling and custom home experience can provide valuable insights into your situation.
When deciding on a remodel vs. rebuild, evaluating your needs, budget, long-term implications, and home conditions is essential. Remember that each home and situation is unique, so what works for one homeowner may not be ideal for another.
Contact McPhee Associates of Cape Cod
McPhee Associates is an award-winning, family-owned design and build company that has been building and remodeling high-end residences on Cape Cod since 1972. Recognized as a premier custom home builder in the region, they have built their reputation by delivering superior quality in each project they manage, while establishing lasting relationships with clients through generations.