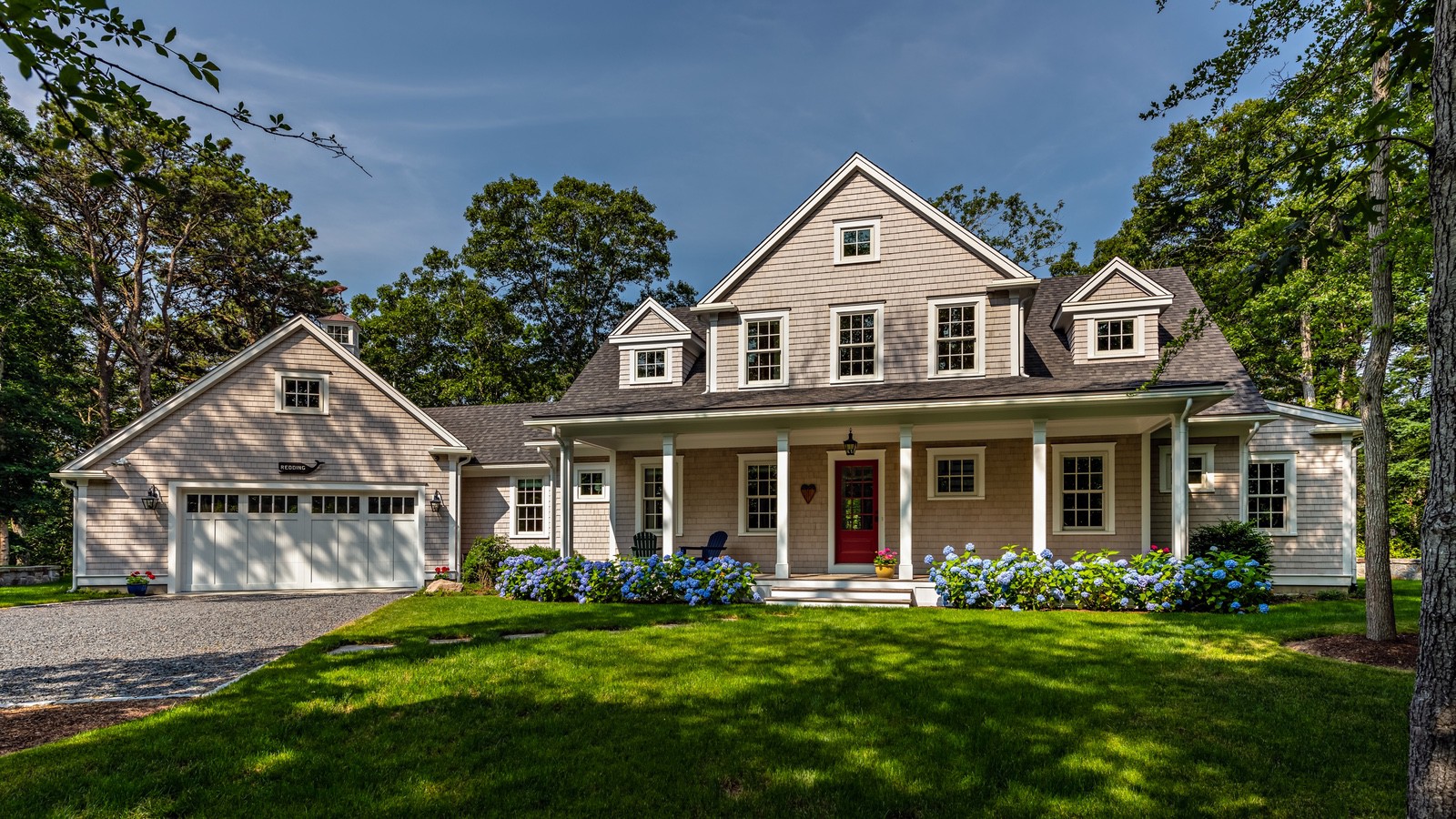 When planning a Cape Cod custom home build or remodeling project, choosing the right architectural team is a big consideration. To help your decision-making process, we are showcasing some of the best architects on Cape Cod, Massachusetts. Since we have worked with every architect and building designer on this list, we can genuinely stand by the quality of their work and design services.
What is the difference between an architect and an architectural designer?
It is essential to understand the difference between an architect and an architectural designer. Generally, the latter has gone through similar education but has not taken the rigorous six-part Architect Registration Examination® (ARE), which designates licensure. (An AIA designation means a licensed architect is also a member in good standing with the American Institute of Architects.) With an ARE® license, one can legally call themselves an architect and has the ability to determine whether building plans are structurally sound. With this responsibility, they are liable for your work and must ensure that anything stamped is safe for the public.
Although, the size and scope of a construction project can determine the level of approval needed. For a residential project, an architect does have the authority to approve or 'stamp' their plans for construction. However, in most instances, a structural engineer is called in for that extra level of safety—primarily for beams and structural support. With that, an architect would have added approval, and an architectural design team would have the necessary approval. Commercial properties, however, require architects and more controlled construction practices.
Karen B. Kempton, AIA
Review
Karen B. Kempton, AIA Architecture is an outstanding architectural design firm on Cape Cod, Massachusetts. They are best known for seamlessly blending traditional New England architecture with the contemporary lifestyle of the homeowner. Karen B. Kempton, AIA Architecture works on a range of design projects from custom homes to renovations and additions. They recently worked with McPhee Associates on a full remodel of a modest ranch in Harwich Port transforming it into a spectacular Gambrel.
Location
Barnstable (Cape Cod)
43 Angela Way, West Barnstable, Massachusetts, 02668
Website
Projects
John Dvorsack, AIA
Review
John Dvorsack, AIA, is an architect who specializes in single-family, custom homes. With his creative solutions, high-quality designs, and excellent communications skills, we love working with John. In addition, he collaborates well with both the client and the general contractor.  Our most recent completed project with John was a new build – Sophisticated Second Home in Brewster.
Location
Falmouth (Cape Cod)
Highfield Hall, Suite 2A, 56 Highfield Drive Falmouth, MA 02540
Website
Projects
Patrick Ahearn Architect LLC
Review
Patrick Ahearn Architecture is an architectural firm with a talented team that serves the Greater Boston, Cape Cod, and Martha's Vineyard communities. As a well established firm of over four decades, they work on new construction, restoration, and renovation projects that recapture or preserve the original spirit of the property, as well as blend with its surroundings. We are currently collaborating with Patrick Ahearn Architecture and have been very impressed by their professionalism and detail of designs.
Location
Boston
160 Commonwealth Ave., Suite L3, Boston, MA 02116
Martha's Vineyard
Nevin Square, 17 Winter Street, Edgartown, MA 02539
Website
Projects
Classic Cape Reimagined, East Orleans
Mill Point Road, West Harwich (photos coming soon)
Fiddlers Landing, Harwich Port (photos coming soon)
A3 Architects, Inc.
Review
A3 Architects, Inc. is a unique full-service architectural firm in Dennis on Cape Cod, Massachusetts. Their expertise pertains to designing energy efficient homes. For instance, the project we collaborated with them on in Dennis is one of their net-energy zero home designs. Partner Alison Alessi has been a LEED accredited professional since 2007, and Certified Passive House Consultant since 2011.
Location
Dennis (Cape Cod)
831 Main Street (Route 6A), Dennis, MA 02638
Website
Projects
Northside Design Associates
Review
Northside Design Associates is a professional building design firm specializing in new homes and contemporary Cape Cod-style architecture. They provide home design services from conceptual drawings to construction documents, and building design services from structural engineering to site design. In addition, they offer stock house plans to help reduce time and cost.
Location
Yarmouthport (Cape Cod)
141 Main Street, Yarmouthport, MA 02675
Website
Projects
Neshamkin French Architects, Inc.
Review
Neshamkin French Architects, Inc. is a premier architectural firm that serves Greater Boston and Cape Cod. They are known for their exceptionally designed spaces that integrate both beauty and function while maximizing living space.  The Historic Chatham home that we worked on with them is an example of their superior design and planning.
Location
Boston
5 Monument Square, Boston, MA 02129
Website
Projects
John Toates Architecture and Design
Review
John Toates Architecture and Design is not technically on Cape Cod, but they are licensed in Massachusetts and McPhee Associates worked closely with them on a recent new build in Harwich Port. John Toates Architecture and Design is a full service architecture and design firm with over 40 years of experience, bringing an exceptional level of professionalism and knowledge to each job.
Location
914 North Valley Forge Rd., Devon, PA 19333
Website
Projects
SV Design
Review
SV Design offers an excellent blend of services. They provide a combination of architecture, interior design, and landscape design to create one cohesive environment. As a result, their team of designers and architects can plan and design every aspect of your home to make it fit your lifestyle.
Location
Chatham (Cape Cod)
693 Main Street, Chatham, MA 02633
Beverly
126 Dodge Street, Beverly, MA 01915
Website
Projects
Saquatucket Bluffs, Harwich Port
Peter McDonald Architect
Review
Peter McDonald is a full service architectural firm that specializes in the designs that respond to the unique historic and geographical context of Cape Cod.  Peter has been in business for over 14 years and provides designs for new construction, renovation and additions.
Location
Eastham (Cape Cod)
PO Box 888, N. Eastham, MA 02651
Website
Projects
Shurtleff Road, Eastham, MA (under construction)
McPhee Associates of Cape Cod
Our Award-Winning Design Projects
Please check out the following projects to see our design work.