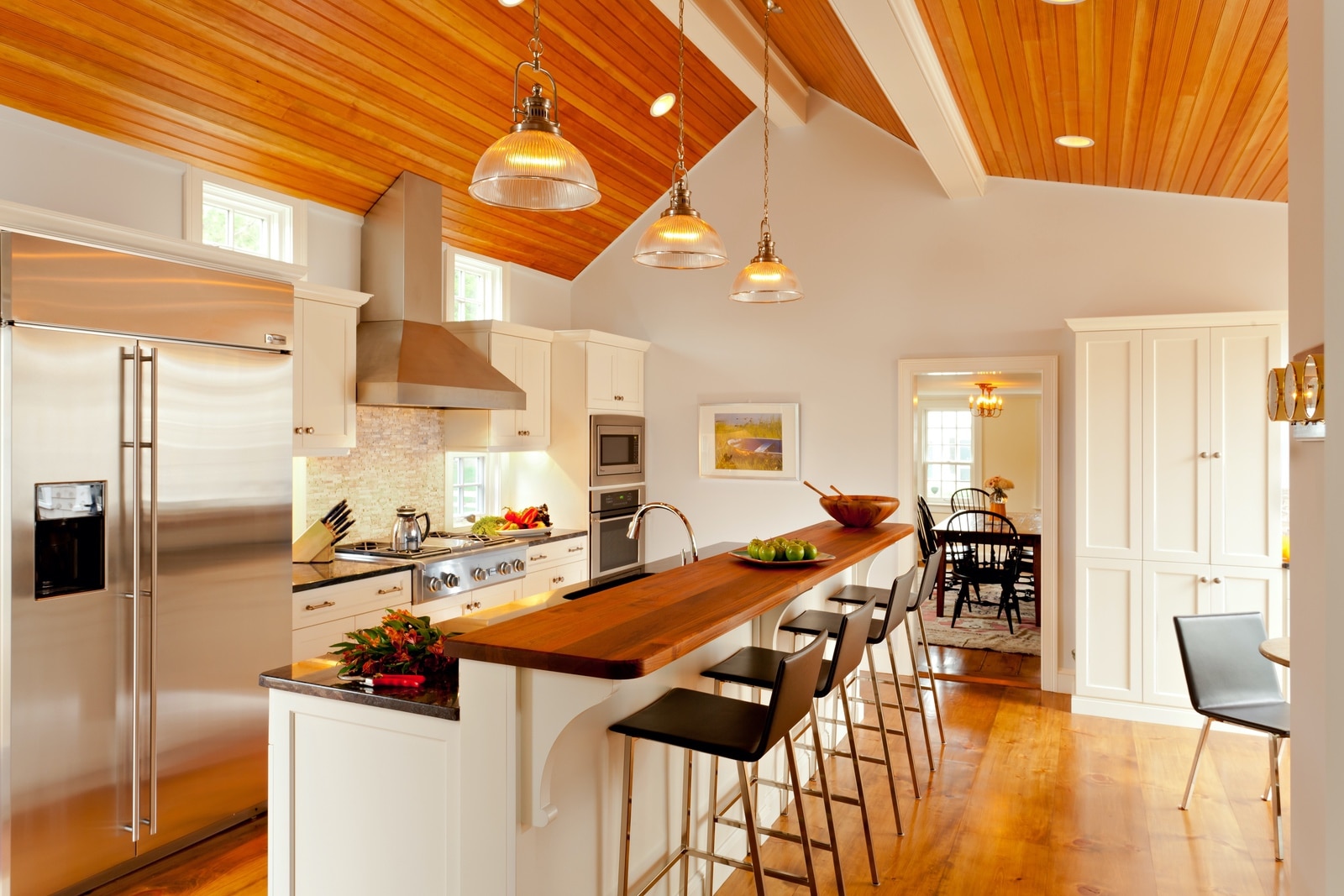 Where should you start when planning your home renovation? There are essential elements to consider between layout, functionality, and style before beginning the design process. With a little bit of research, you can provide your architect or design-build company with helpful direction.
Below, we feature a collection of successful remodeling projects. Check out which design solutions and features you would like to incorporate in your home.
Timeless Remodel on Saquatucket Bluffs
This beautiful home in Harwich Port got major upgrades, inside and out. The project got renovated in phases. It involved redoing the kitchen and living spaces, updating the exterior, and refreshing the landscape. The home's white exterior, classic cedar shingles, and navy blue shutters resemble a Cape Cod style. In the kitchen, the client chose custom cabinetry with contrasting colors to create a sophisticated feel.
Design Idea
Renovate your home in stages. This method has many perks, from reducing stress, controlling your budget, and improving decision-making.
Photos by Dan Cutrona Photography
---
Classic Ranch
This ranch in East Dennis received a complete makeover. The client wanted to make their living spaces more spacious and functional. This was accomplished by lifting the ceilings, rearranging walls, and adding an addition. The result was a modernized house with an improved floor plan that retained its classic charm.
Design Idea
Create an open floor plan by removing or rearranging walls. These methods can have a dramatic impact on your living spaces. They will improve the flow between rooms and make their areas feel bright and airy.
Photos by Dan Cutrona Photography
---
Oasis on Arey's Pond
McPhee Associates completely renovated this classic Cape Cod house. The client wanted a getaway that would be perfect for entertaining and relaxing. As a result, the project features an open floor plan that connects the kitchen, living, and dining areas. In addition, the house includes large windows, vaulted ceilings, and a deck to maximize the views.
Design Idea
Incorporate wood elements into your renovation to add warmth and a rustic feel. Between the exposed beams and wood furnishings, the interiors seamlessly integrate with their surroundings.
Photos by Dan Cutrona Photography
---
Beautiful Boathouse
You would never guess that this run-down boathouse was once beyond repair. Subsequently, McPhee Associates decided to rebuild this boathouse on its original footprint. The design featured a kitchenette, porch, and multi-purpose living space. The ultimate goal was to create the perfect boathouse for both escape and work.
Design Idea
Decorate your walls and ceilings with horizontal planks to make space feel larger. Also, painting those planks white will help maximize the light coming in.
Photos by Dan Cutrona Photography
---
Captain's House
This Harwich Port home required restoration. A renovated wraparound porch, coupled with flooring, columns, and ceiling, highlights the exterior. The inside includes simple and classic design elements that nod to its era and location.
Design Idea
Install vintage flooring to accentuate the history of an older home. With this house, its pine flooring and antique furniture help retain its classic feel.
Photos by Design Imaging Studios
---
Historic Chatham
This home on Cape Cod got restored and upgraded with modern features. The goal was to make improvements while staying true to its original charm and structure. The kitchen received a complete redo, incorporating contemporary design elements plus a nautical touch by adding a wood-finished ceiling. An outdoor shower adds quick access to a half-bath and laundry room near the back entrance.
Design Idea
Raise the ceiling when restoring older houses. Modern homes incorporate higher ceilings to make the space more bright. Also, do not be afraid of knocking down walls to connect living spaces or create a master bathroom.
Photos by Dan Cutrona Photography