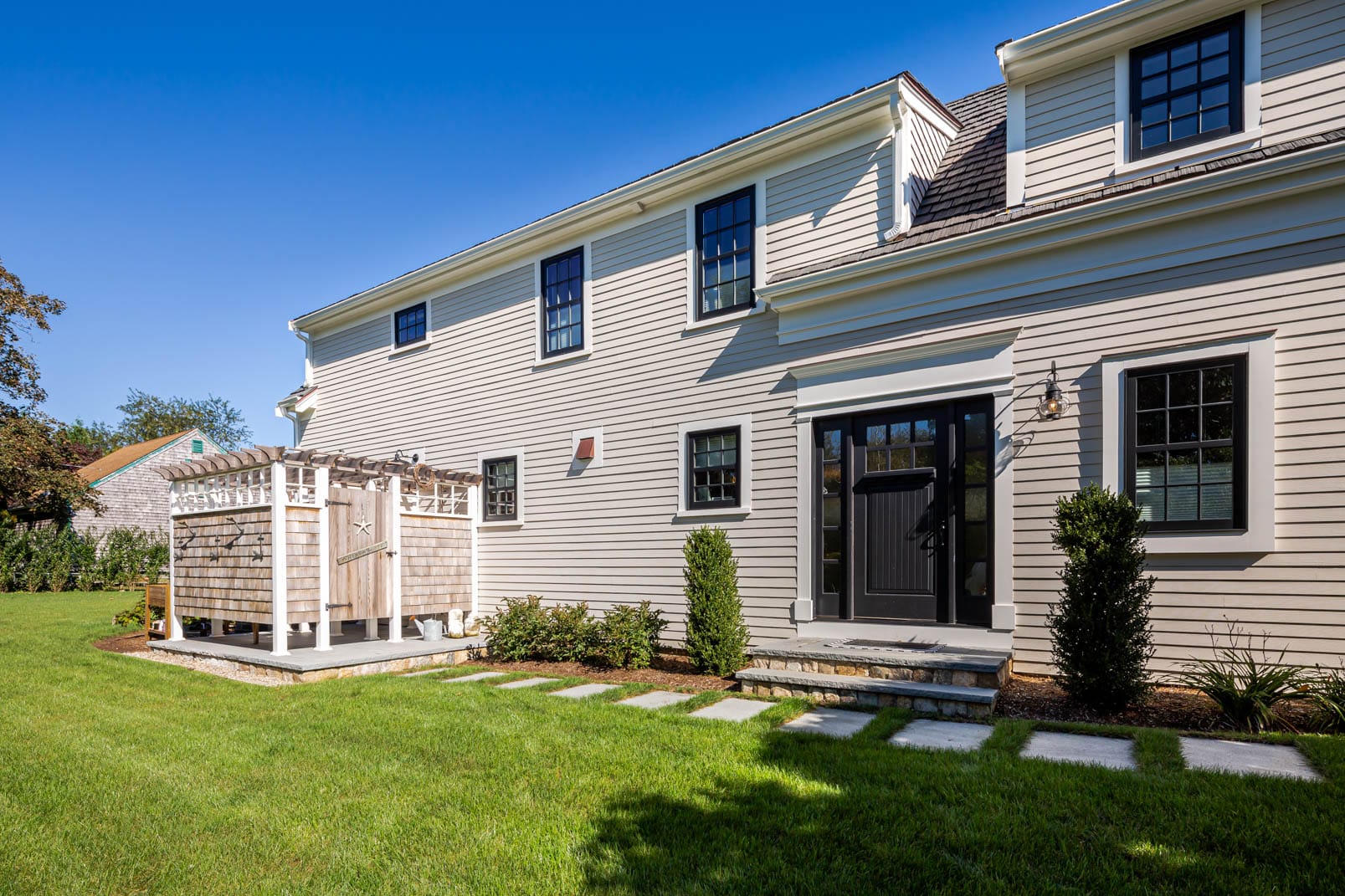 The Cape Cod outdoor shower is an essential exterior home fixture. You can find them throughout Cape Cod and coastal New England. After a day of beach outings, boating, or biking, there's nothing quite as invigorating as a warm afternoon shower outdoors. Whether you're hosting summer guests, accommodating family overflow, or simply seeking a more natural experience, these outdoor showers will surely captivate.
We've handpicked a selection of our favorite Cape Cod outdoor showers from recent custom home builds and renovation projects by McPhee Associates. These coastal homes encompass various styles, yet they all incorporate this essential addition as a functional design element.
---
Buzzards Bay Overlook | Falmouth, MA
This breathtaking Cape Cod outdoor shower, located in Falmouth on Buzzards Bay, has a charming nautical vibe. It serves as a seamless extension of the owner's primary suite bathroom. Nestled on one side of the house, just steps from the pool, this outdoor oasis offers a refreshing escape. As you step in, a porthole frames a picturesque view of the Bay, creating a truly immersive coastal experience.
On the other side of the house, an outdoor shower and half bath was designed for family and guests. With quick access to the pool and upper family room, this second shower allows total privacy for the primary shower.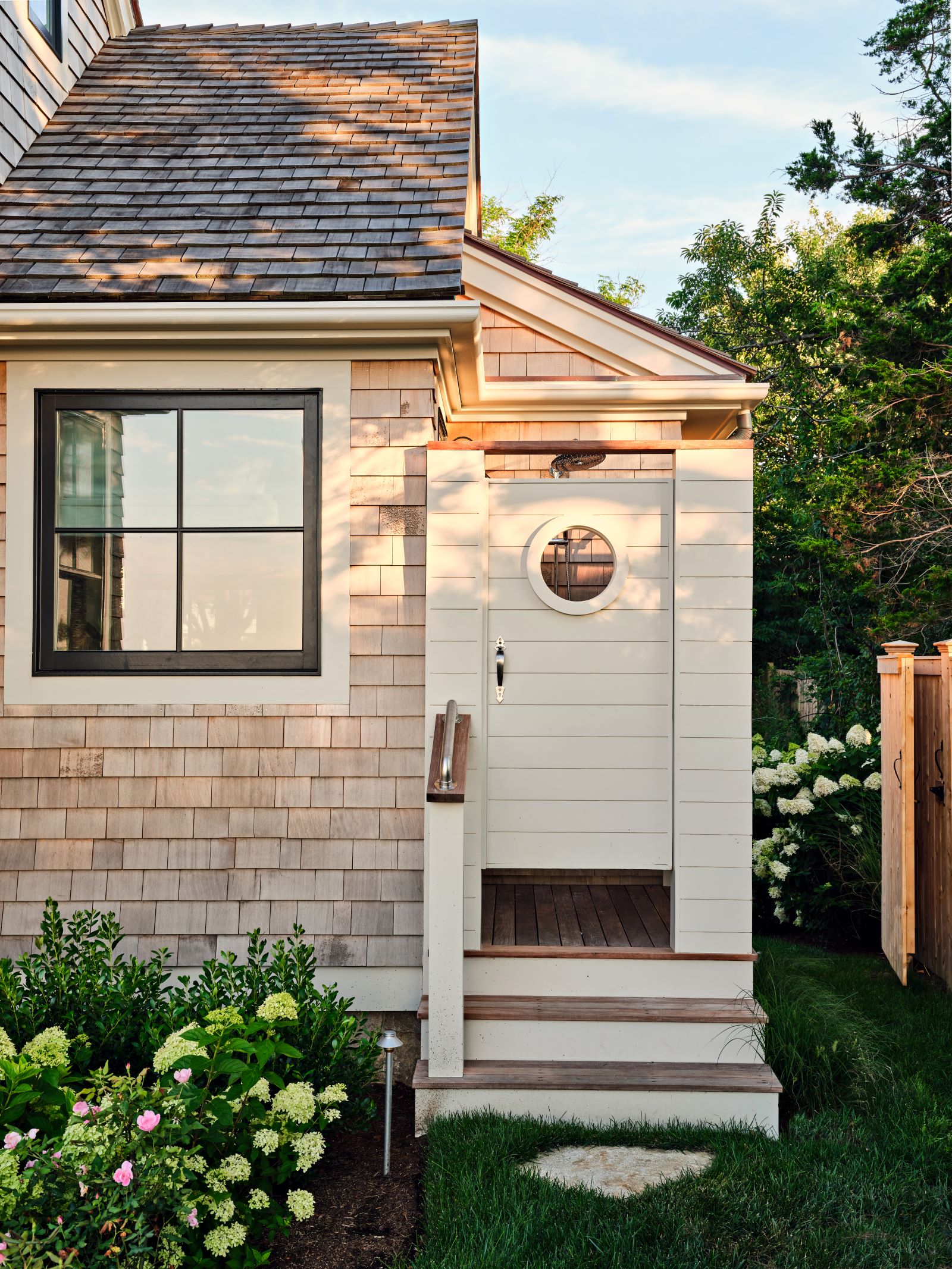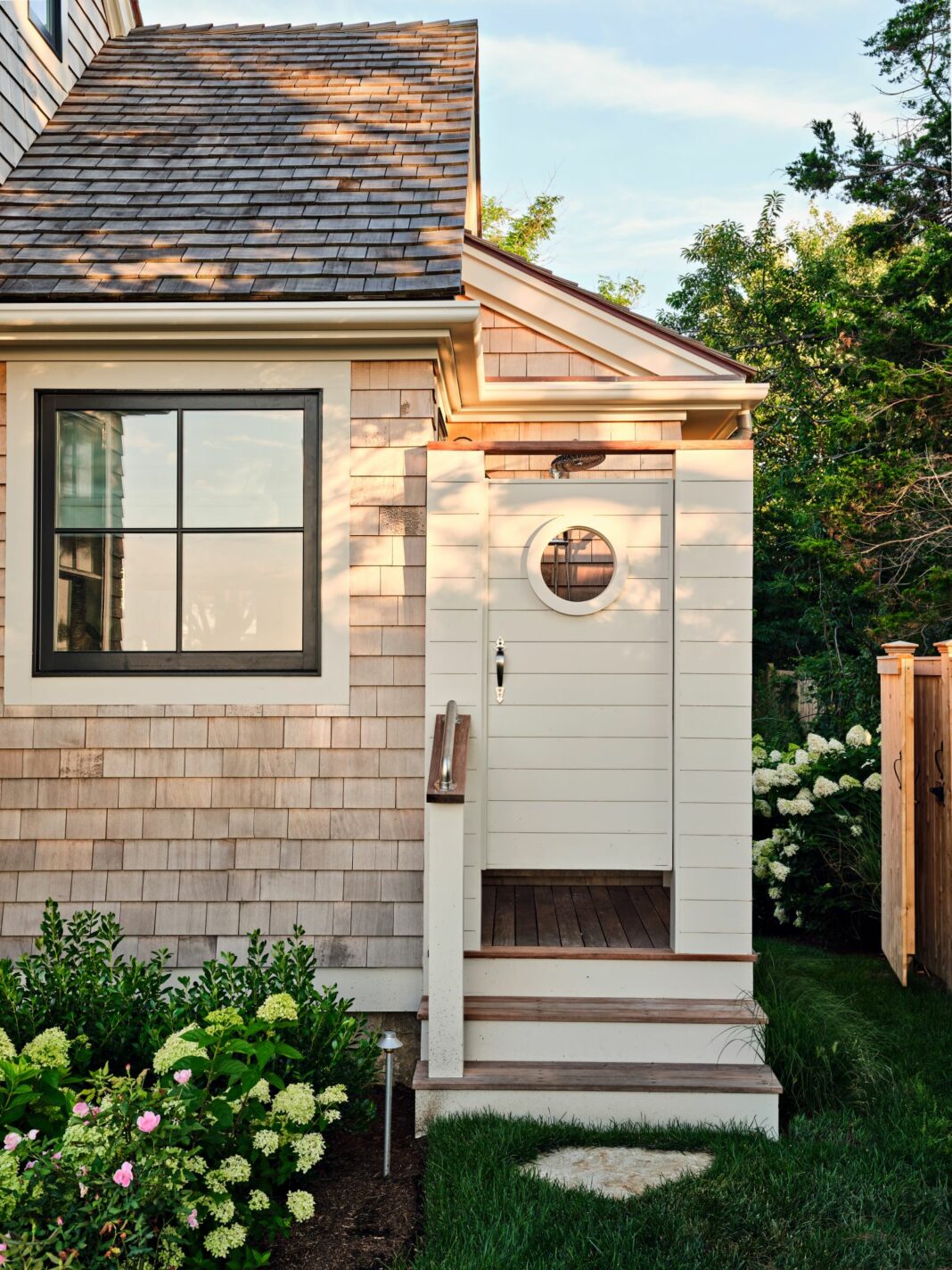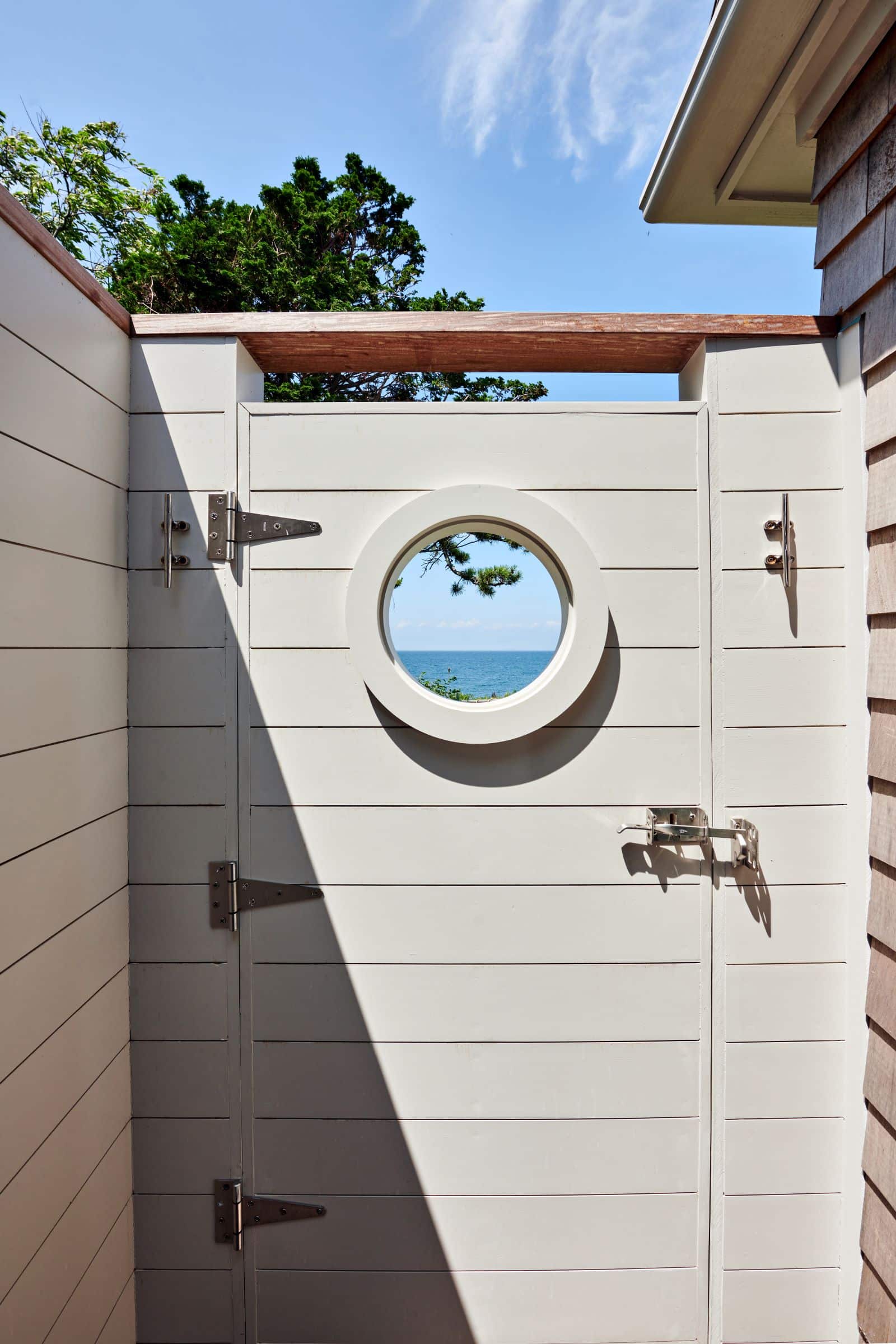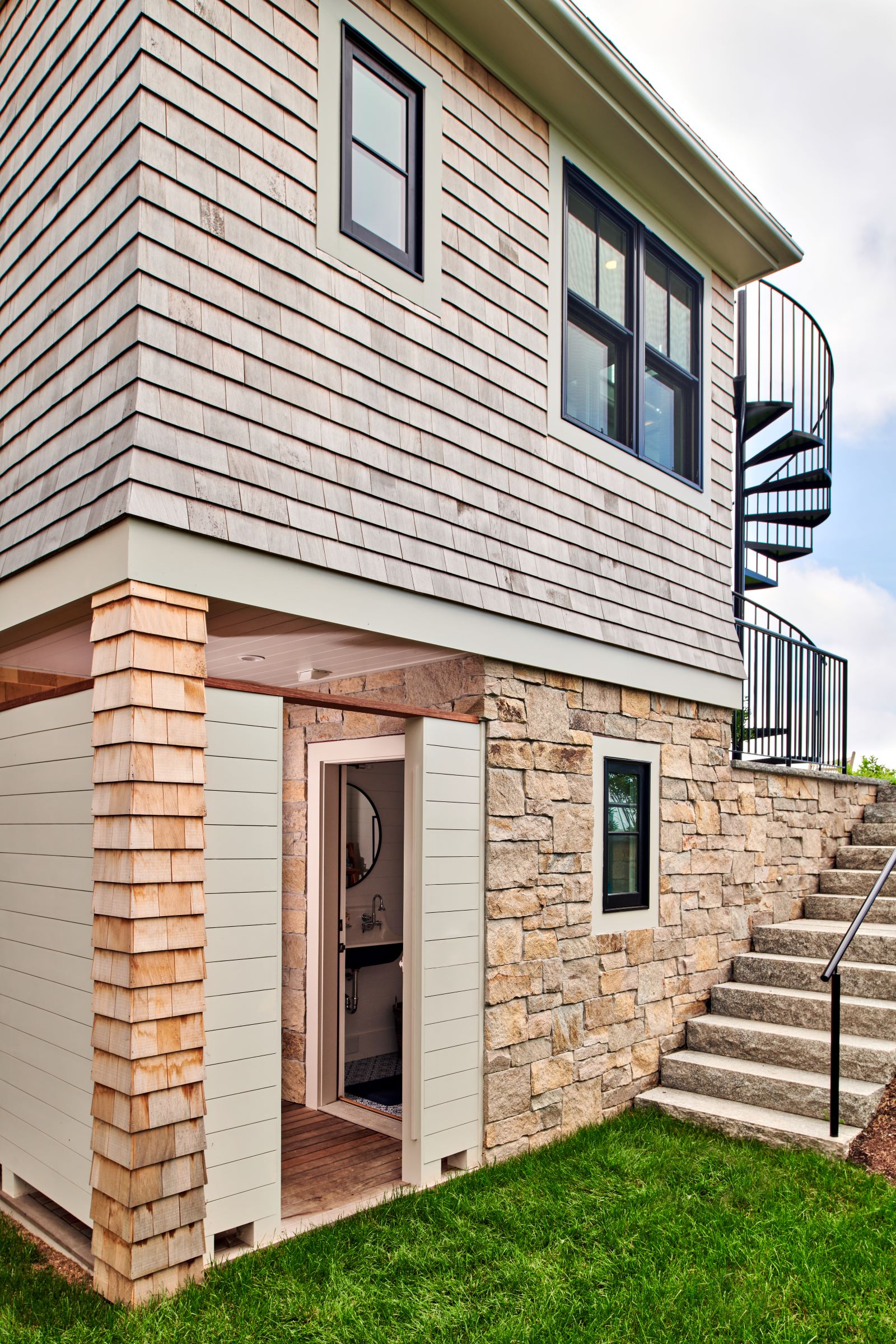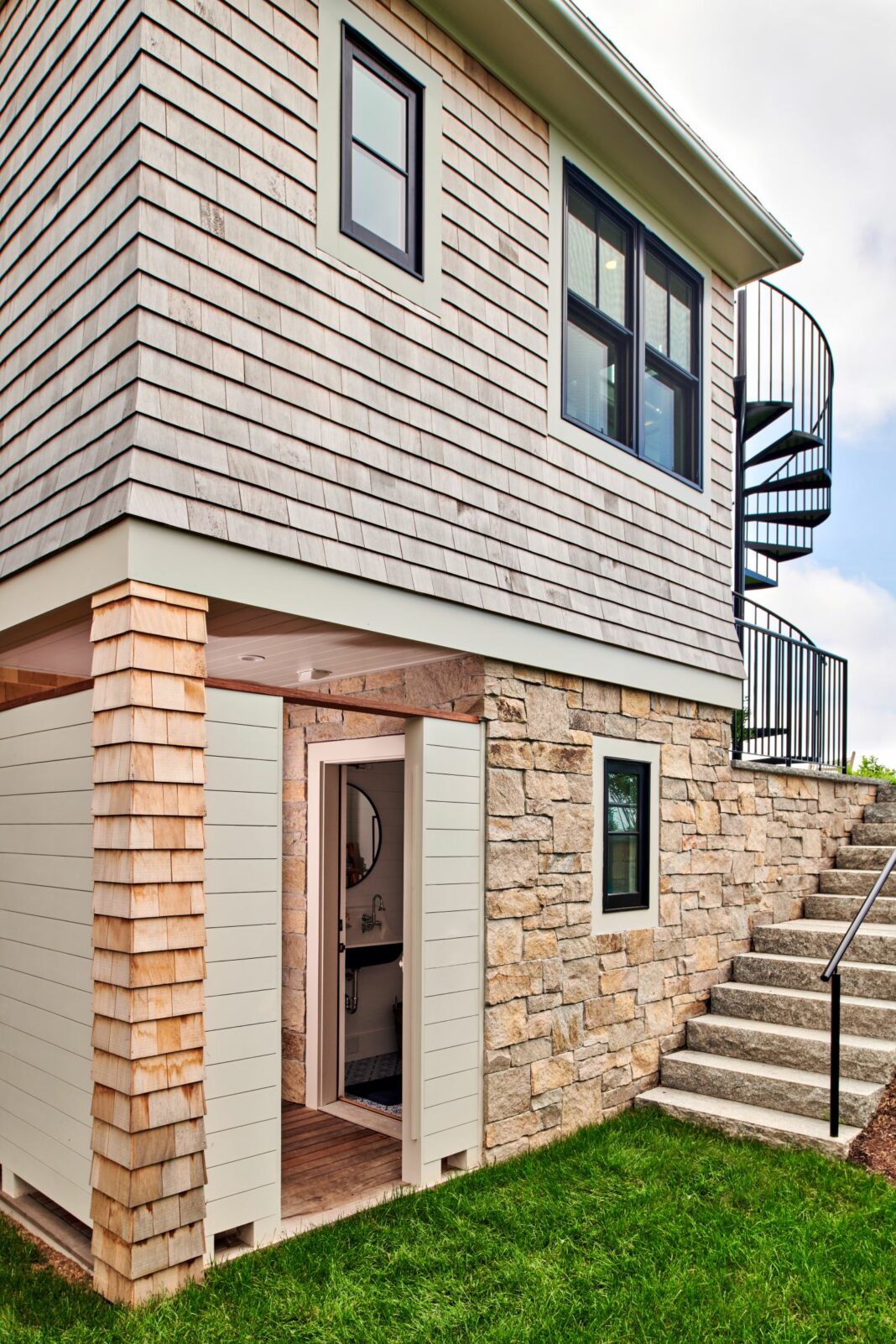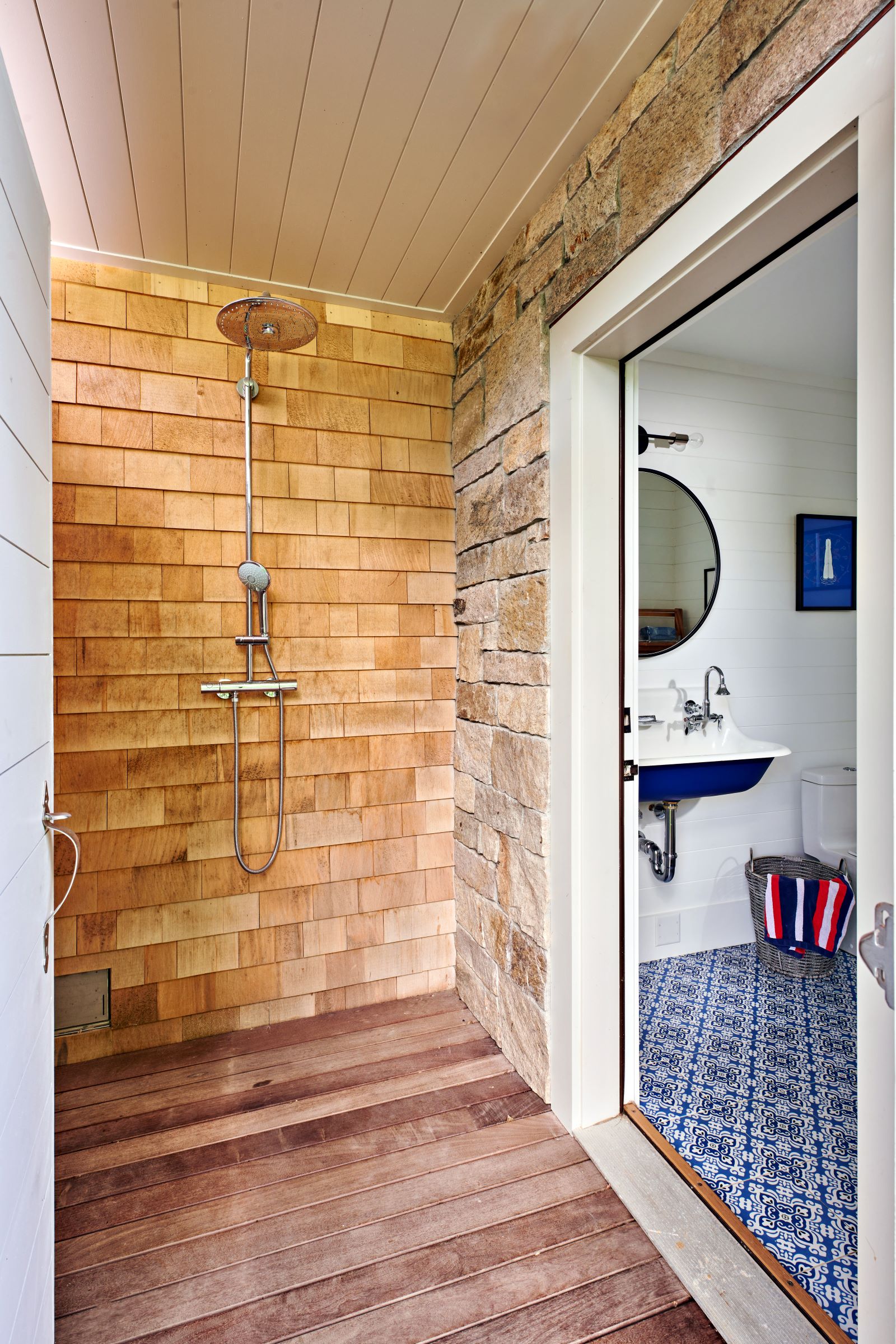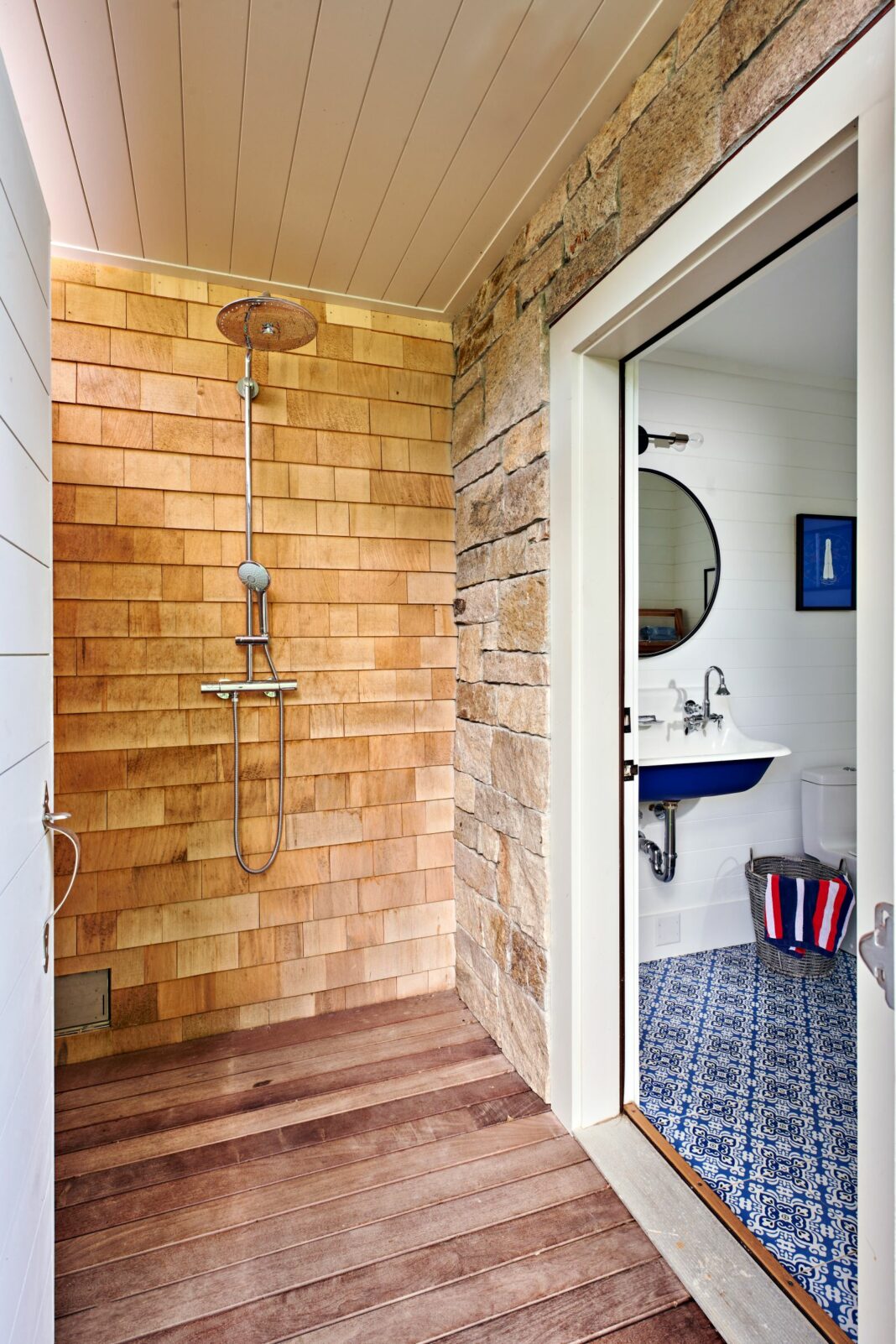 ---
Coastal Farmhouse Revival | Dennis, MA
Discover the rustic charm of this Cape Cod outdoor shower, situated on the side of a fully remodeled farmhouse in Dennis. This farmhouse-inspired outdoor shower boasts two shower bays, perfectly harmonizing with the home's aesthetic. This outdoor shower is the perfect addition to any coastal retreat.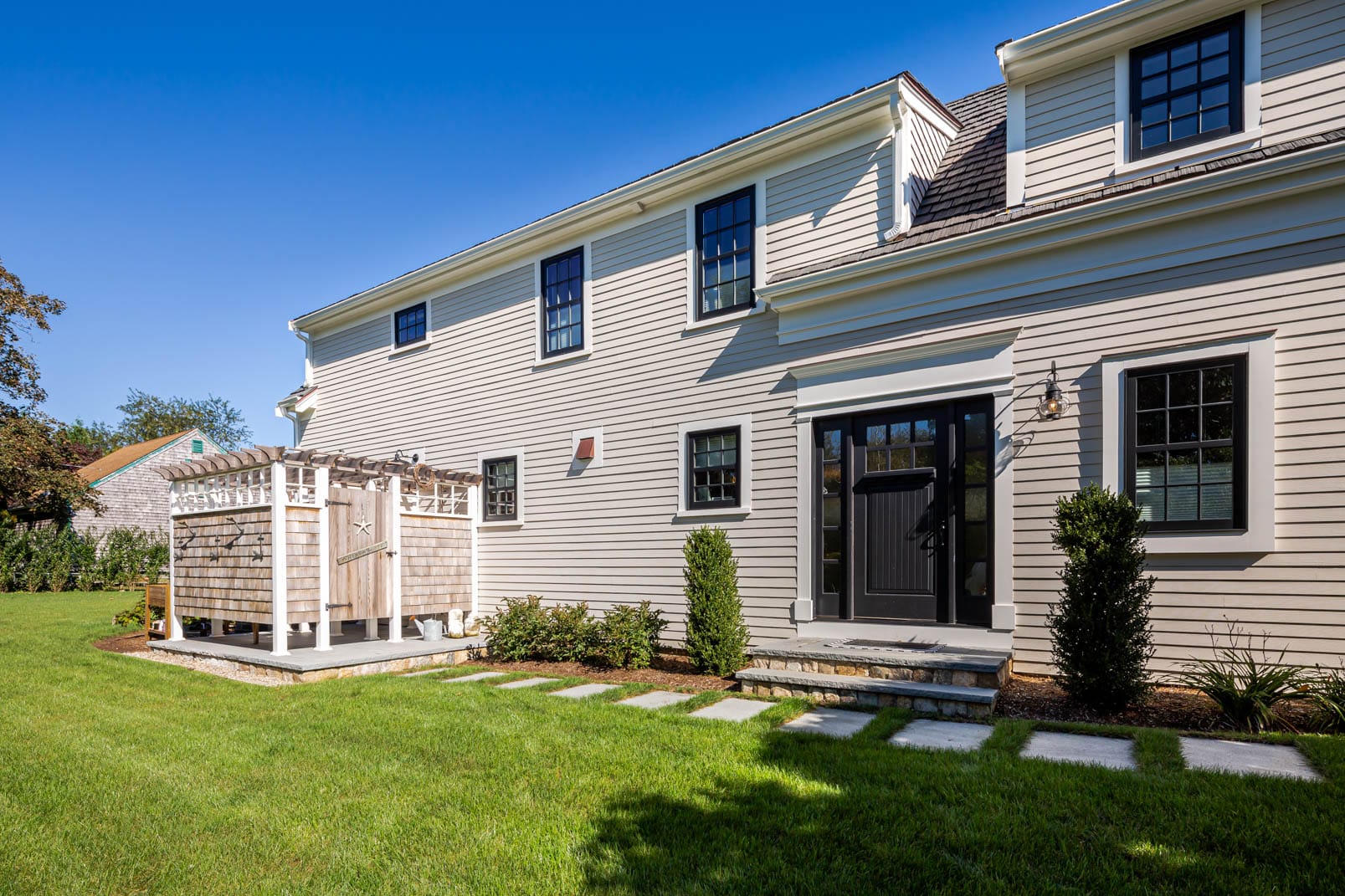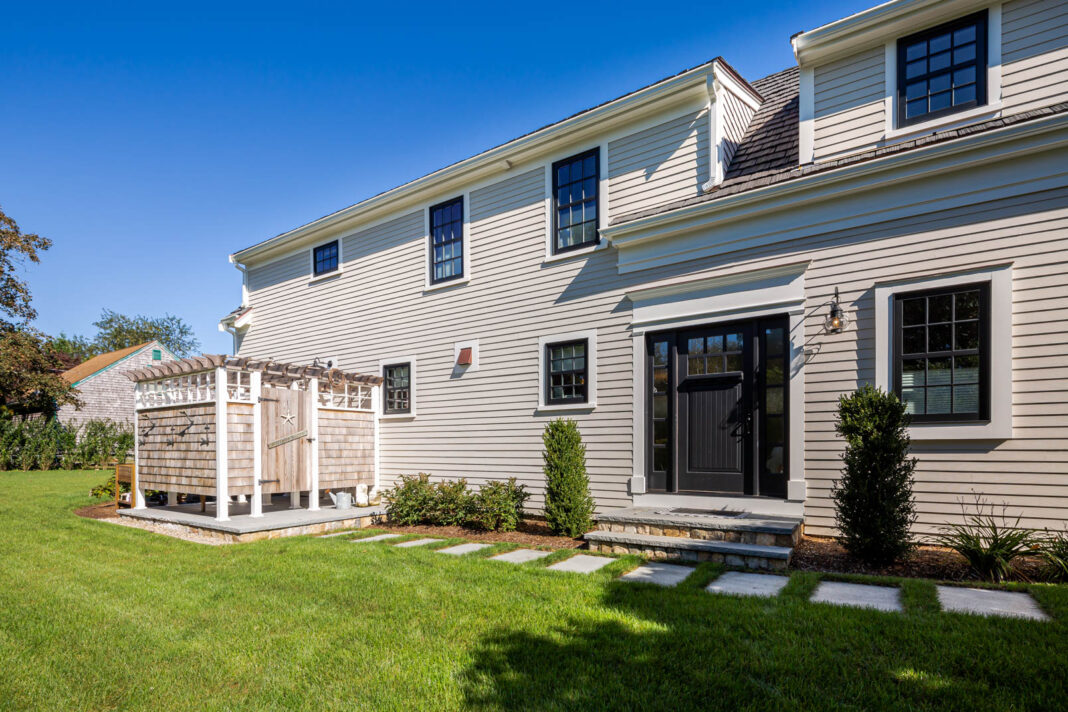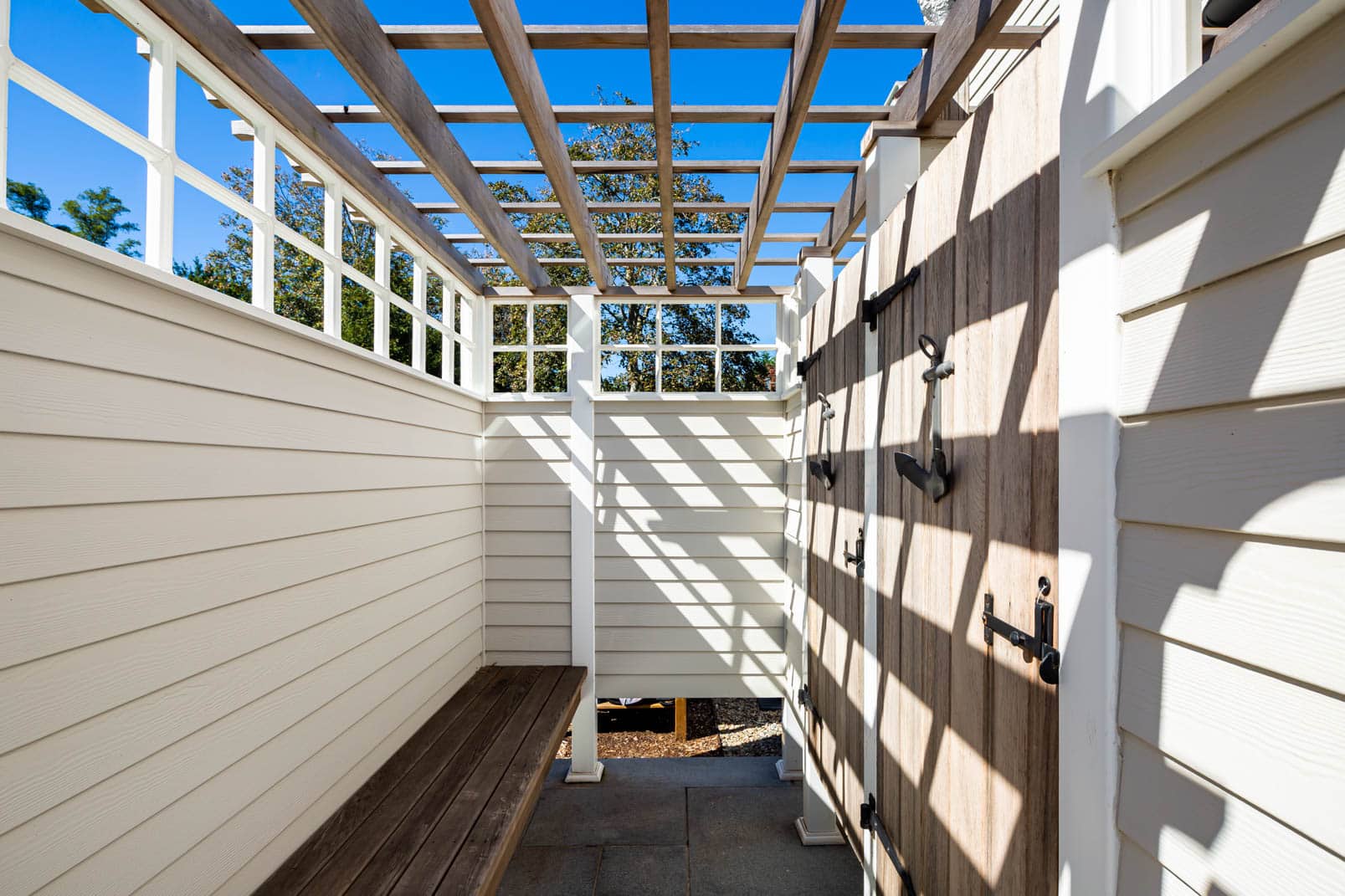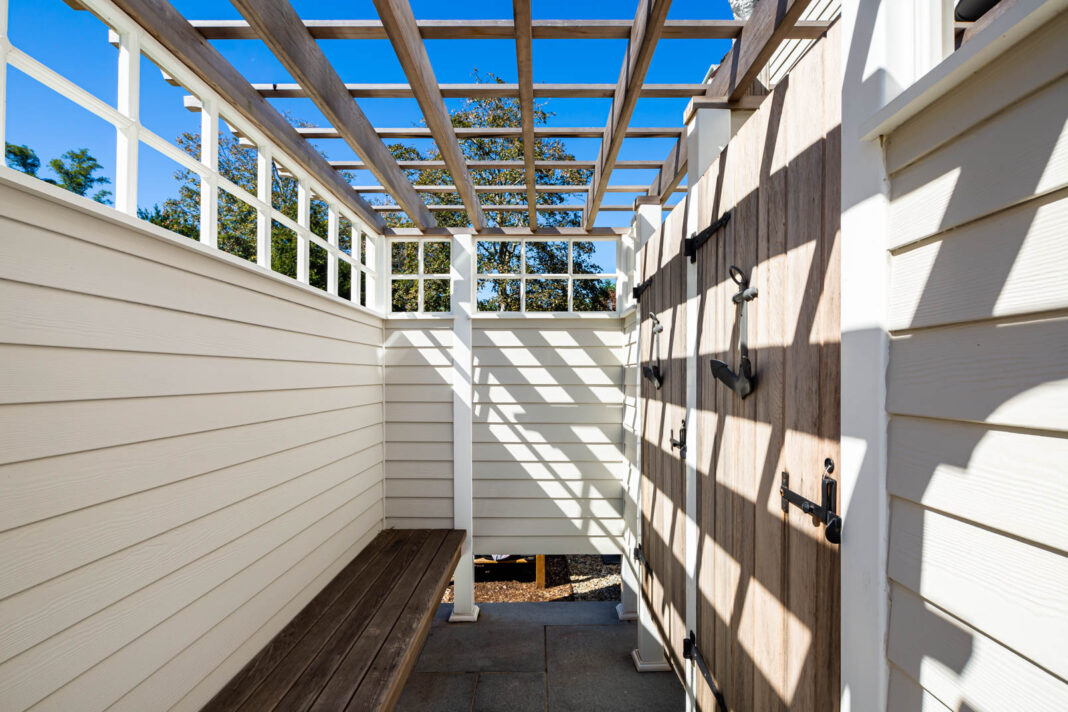 ---
Beachfront on Pilings | West Dennis, MA
Perched on a deck overlooking the breathtaking Hyannis Sound, this outdoor shower provides a unique, breathtaking experience with the tranquil backdrop of the ocean. The outdoor living space was designed with a second shower on the ground level for overflow.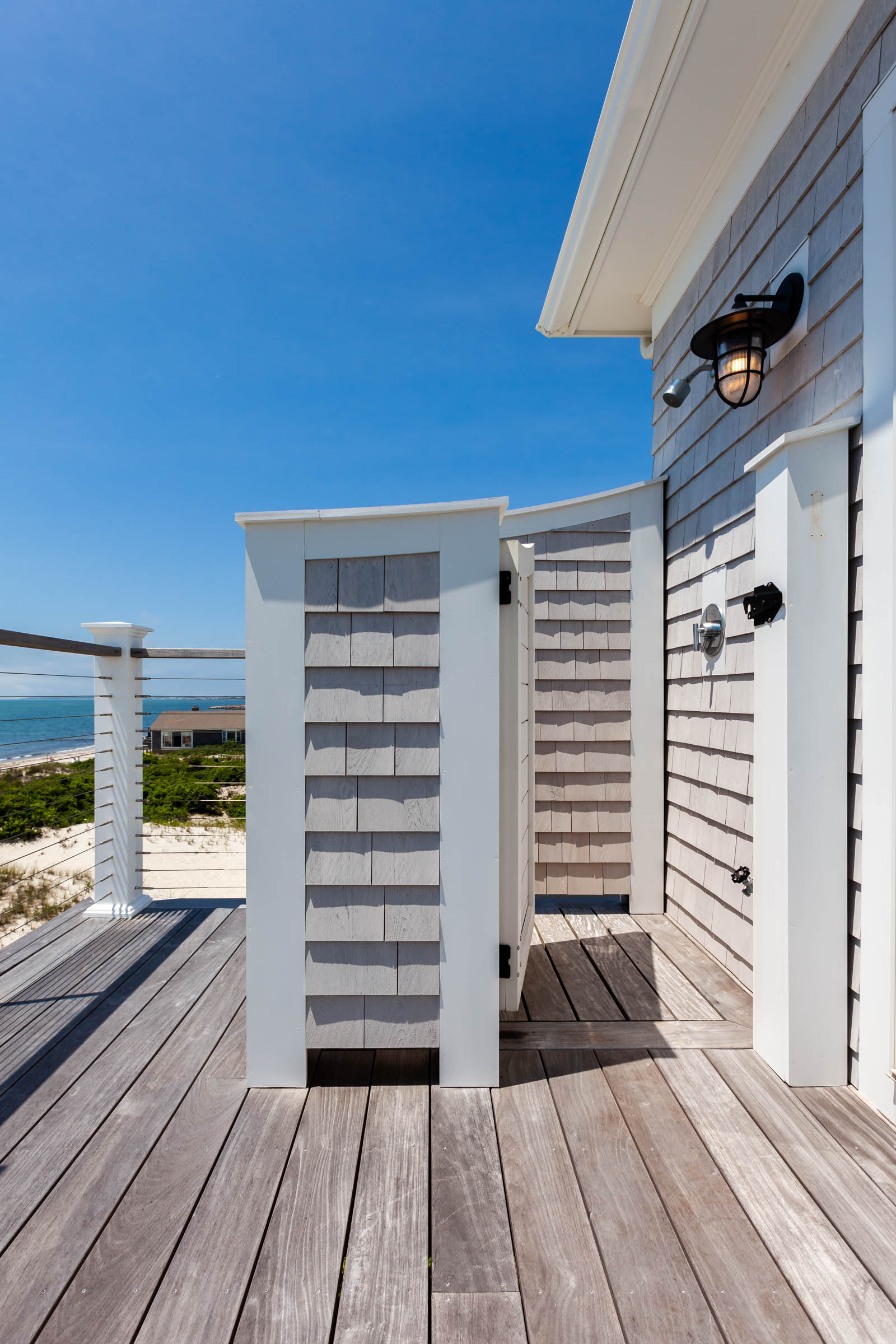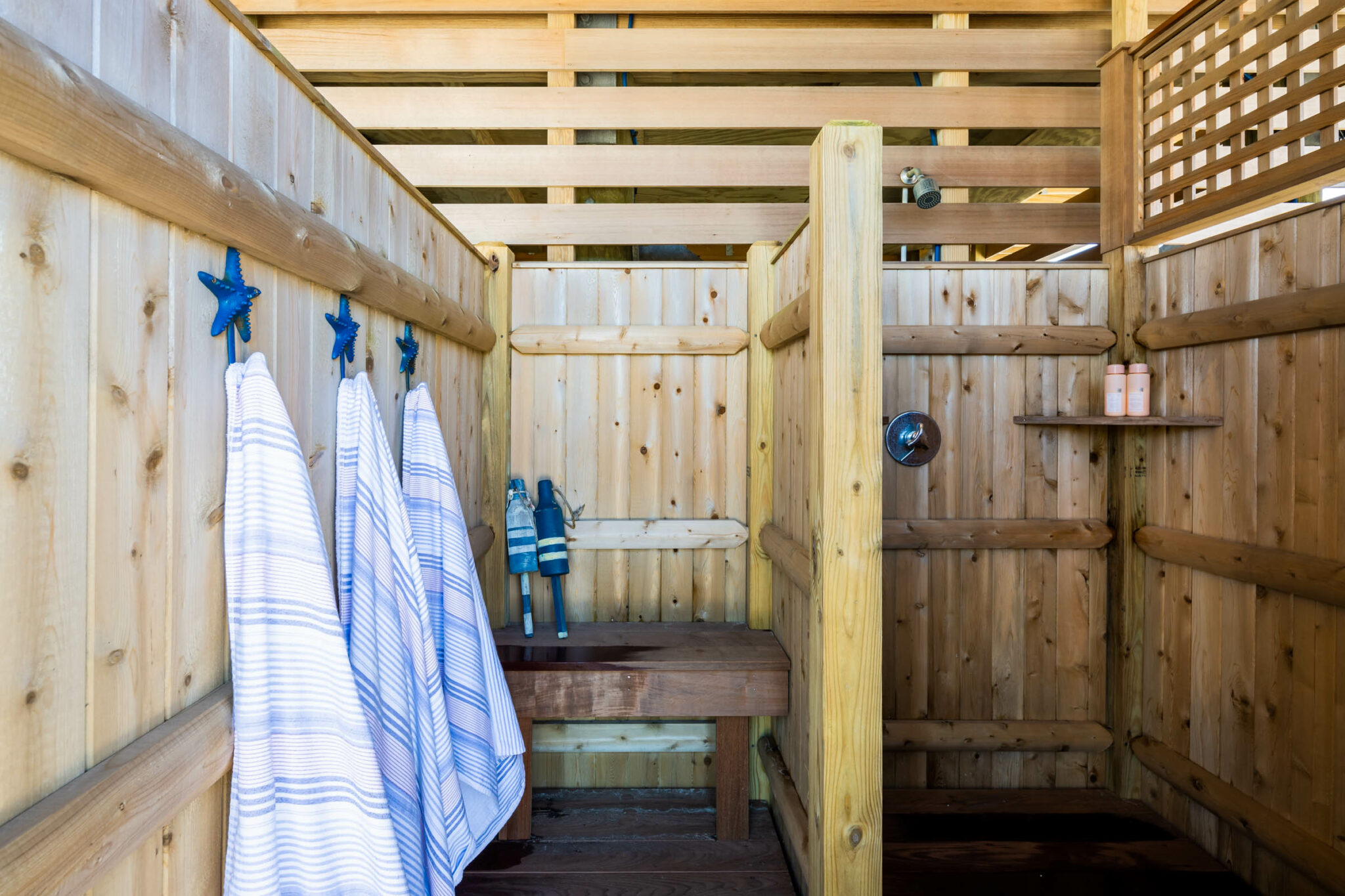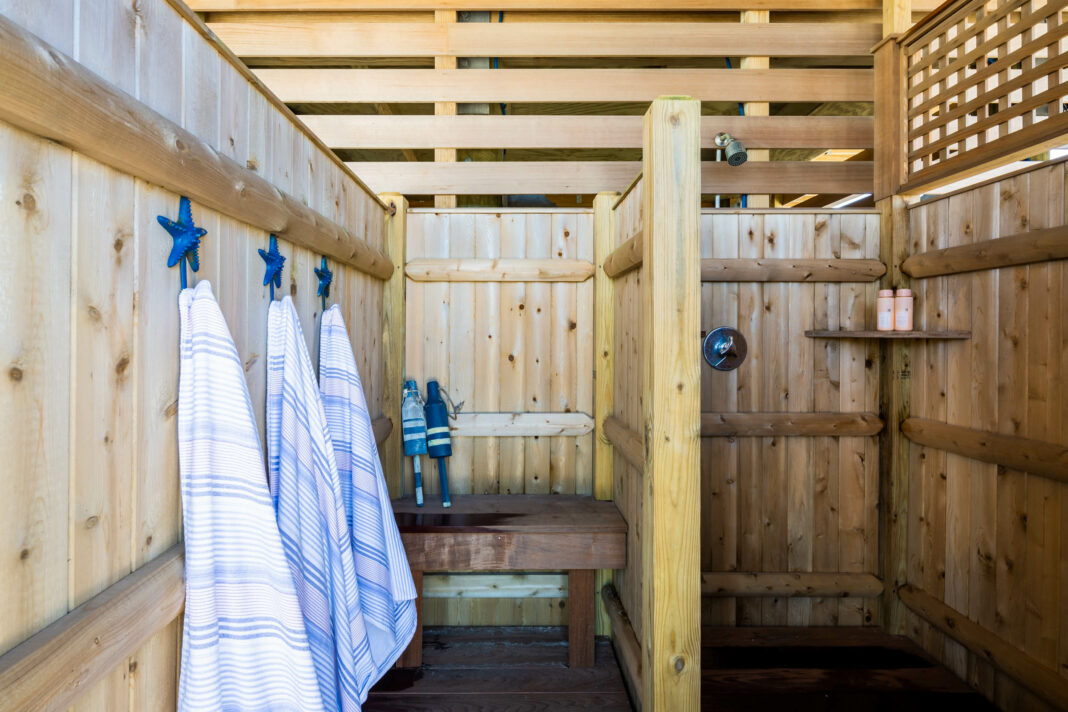 ---
Allen Harbor Jewel | Harwich Port, MA
Experience a coastal retreat with whimsical charm with this Cape Cod outdoor shower. The shower room features shingled walls and a shark design sculpted by a Cape Cod craftsman into its exterior, adding a local artistic touch. Stepping inside, you'll find sea-themed accents that transport you to the heart of the ocean.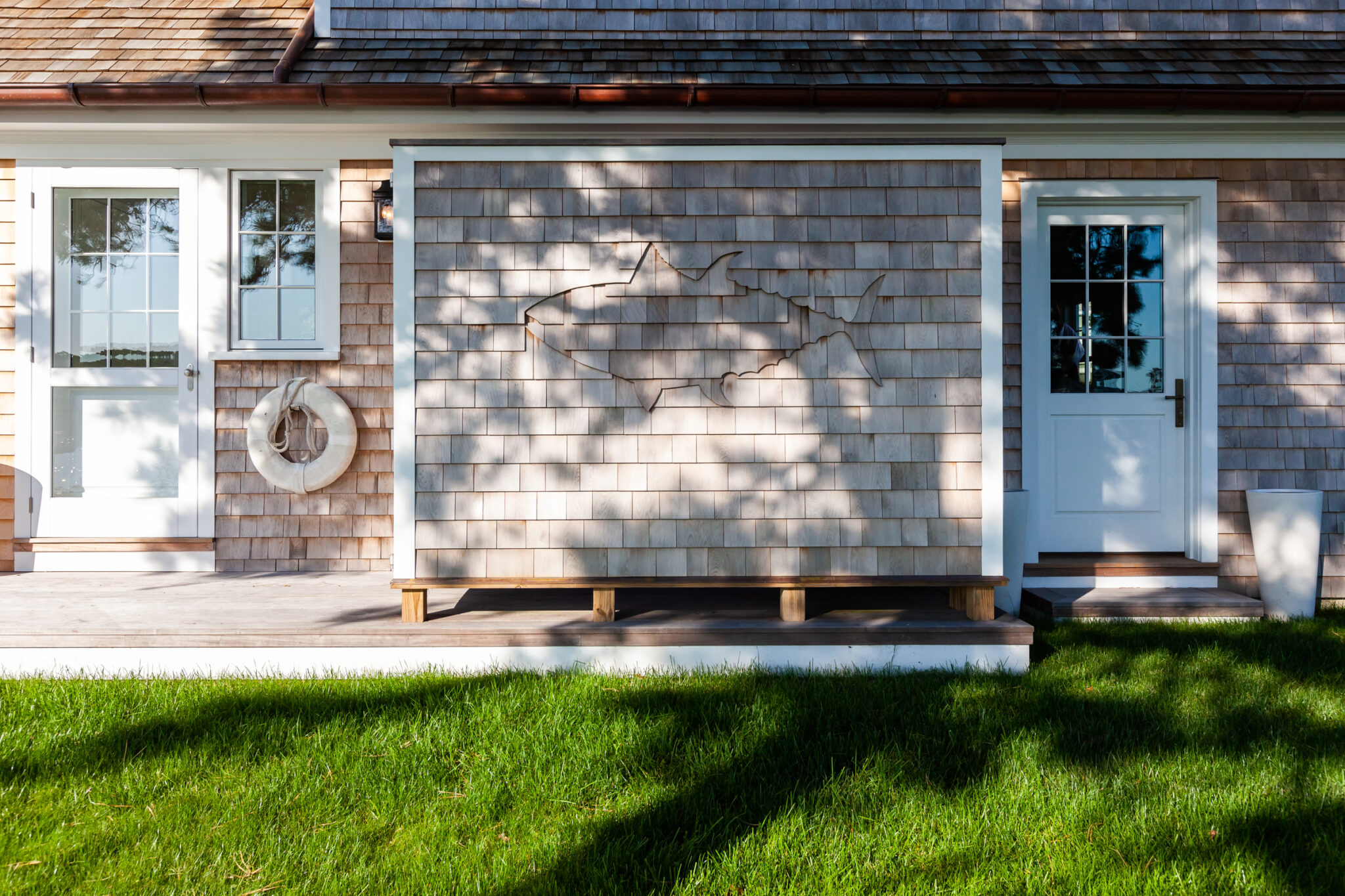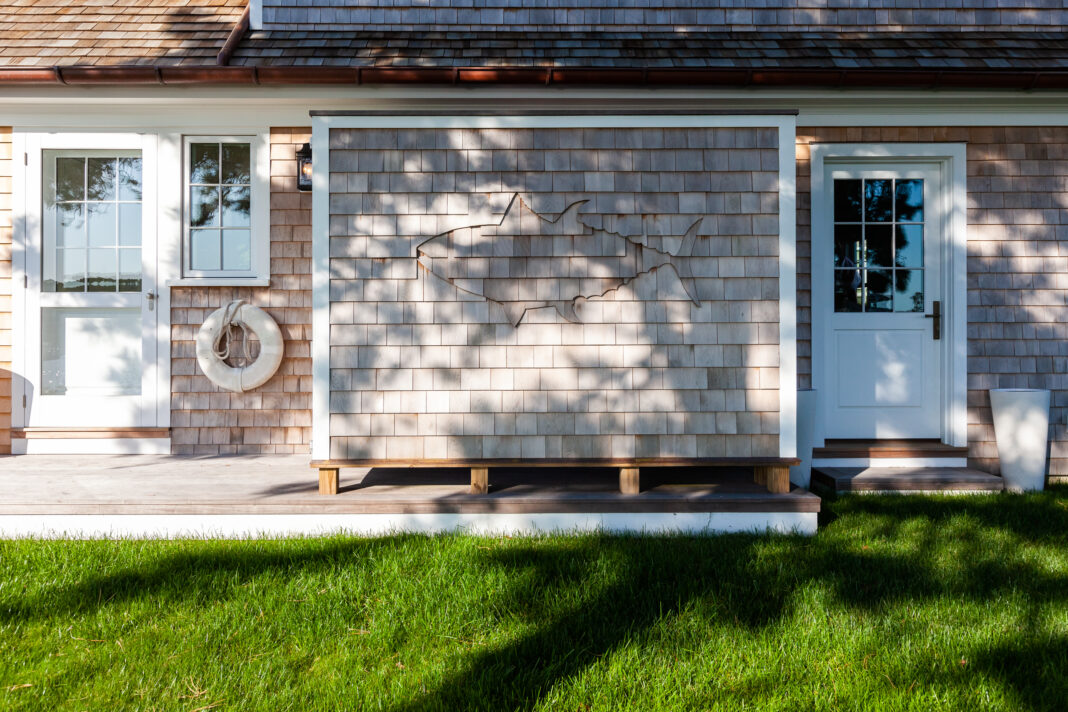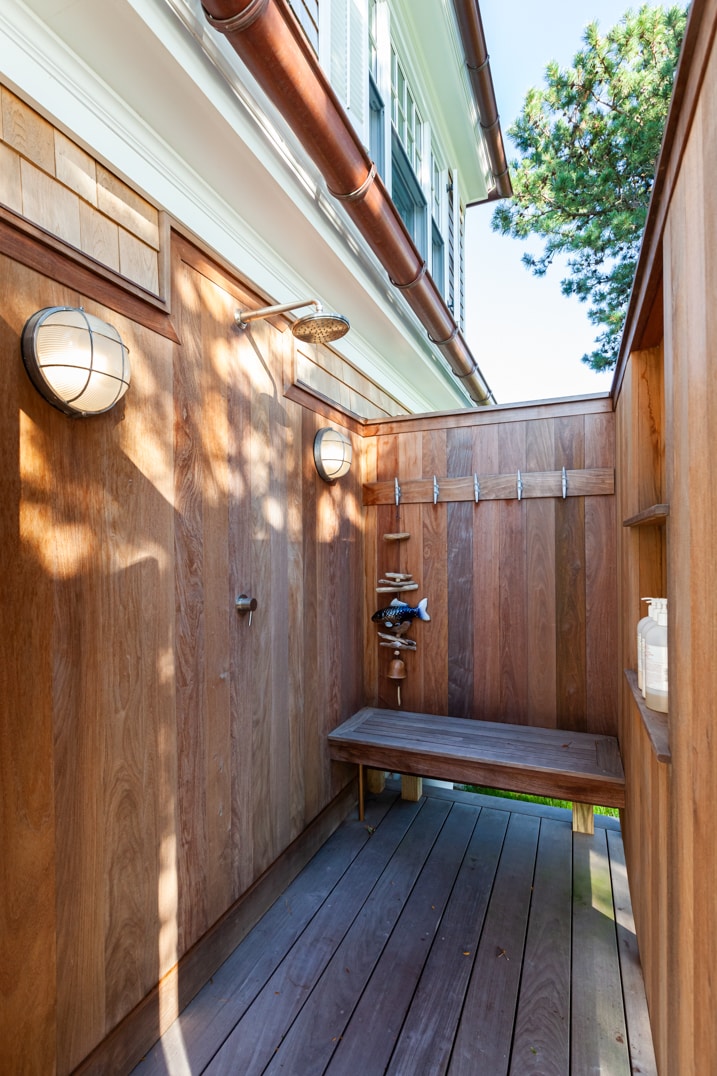 ---
Bay Breeze Oasis | Dennis, MA
Seamlessly integrated into the newly constructed pool cabana, this Dennis outdoor shower epitomizes convenience and luxury. If you're looking for a refreshing outdoor escape just steps away from the pool, this shower provides the perfect spot.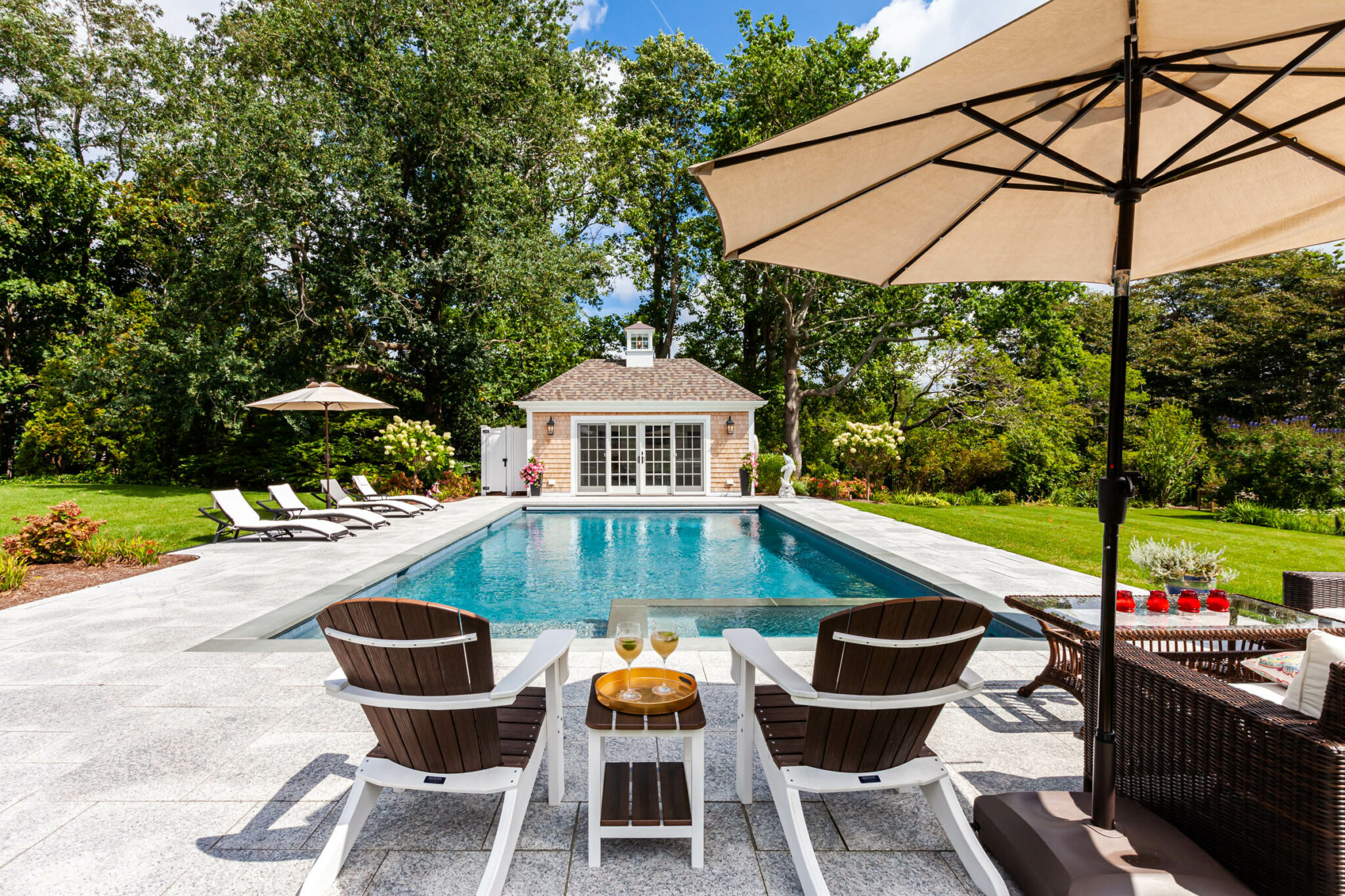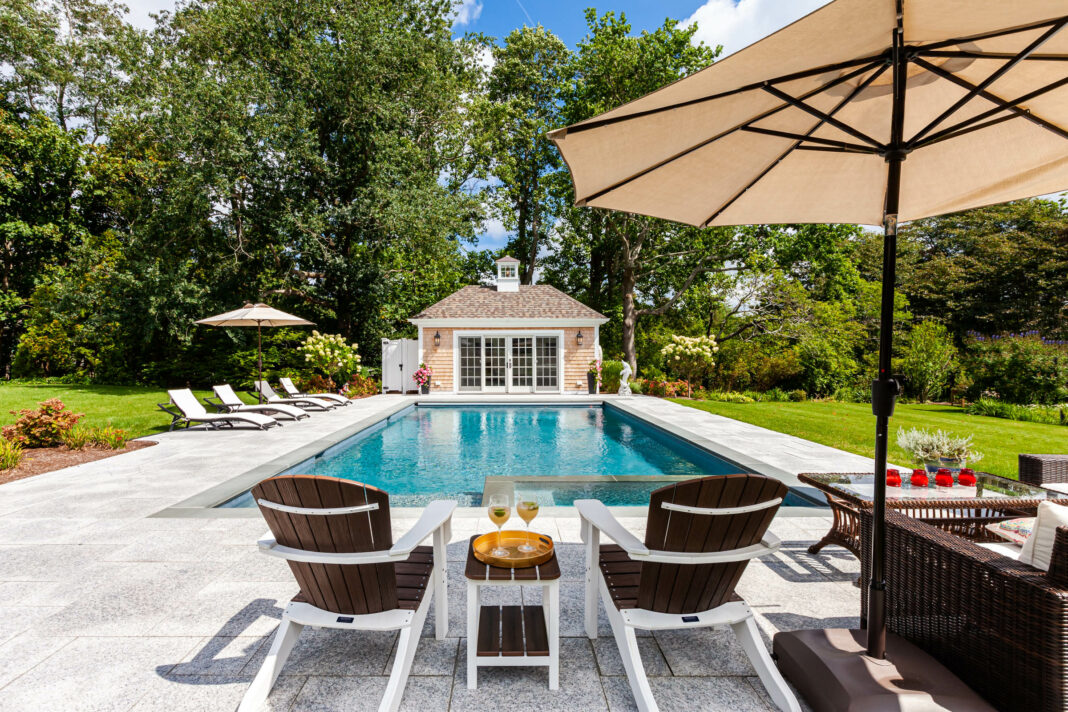 ---
Cape Shingle Style | Harwich Port, MA
Step into the quintessential Cape Cod experience with this outdoor shower in Harwich Port. Nestled within a classic Cape Cod home, this outdoor shower on a spacious deck embodies coastal charm and relaxation.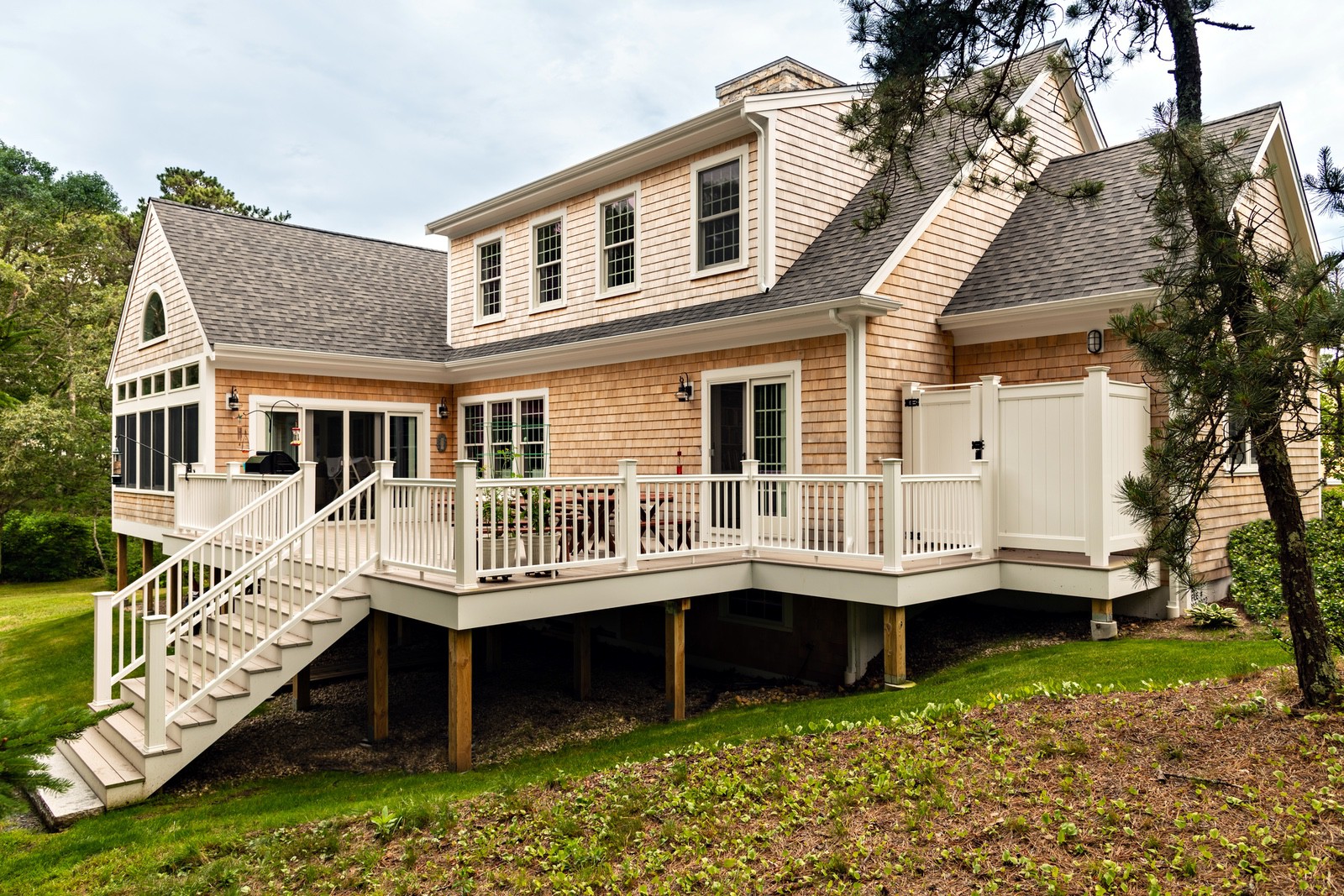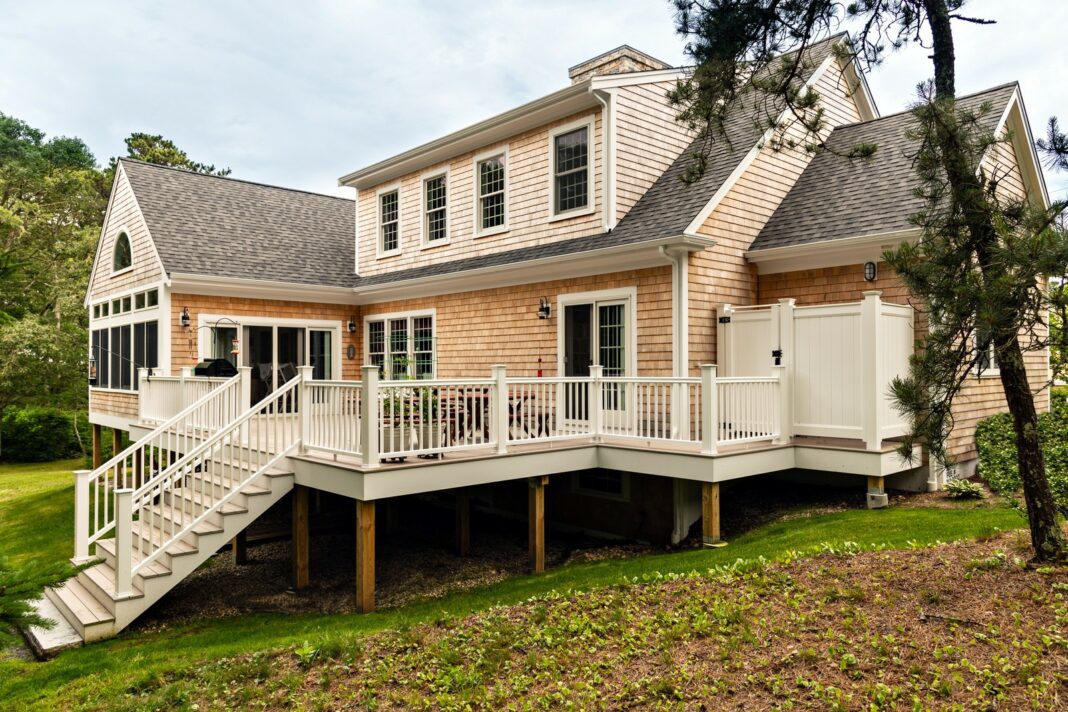 ---
38 Winding Oaks Lane | East Dennis, MA
Embrace the tranquility of East Dennis with an outdoor shower at the rear of this newly constructed two-level home. This oversized Cape Cod outdoor shower bay is a private oasis, offering a peaceful, natural setting. It's the perfect complement to your East Dennis getaway.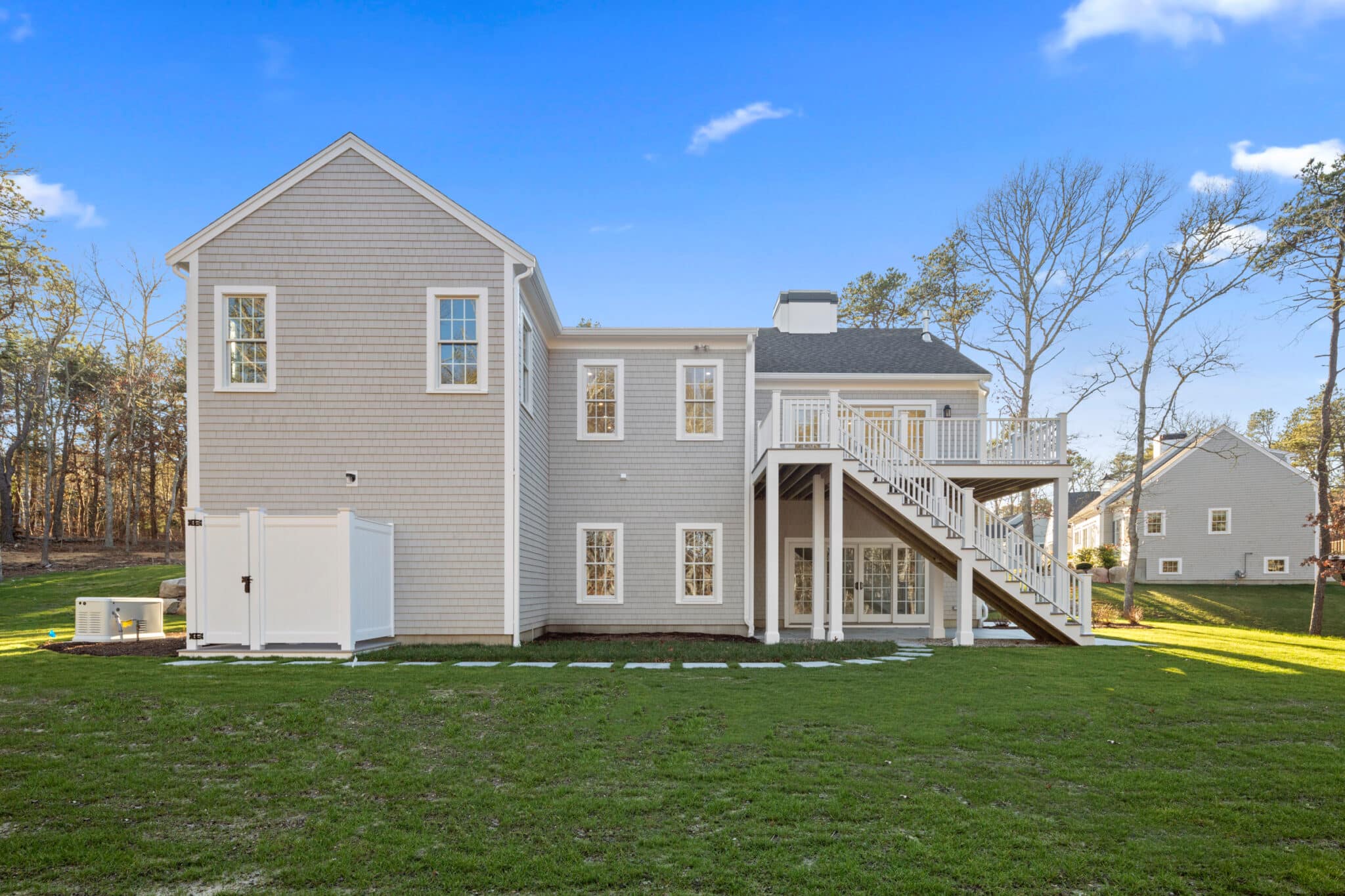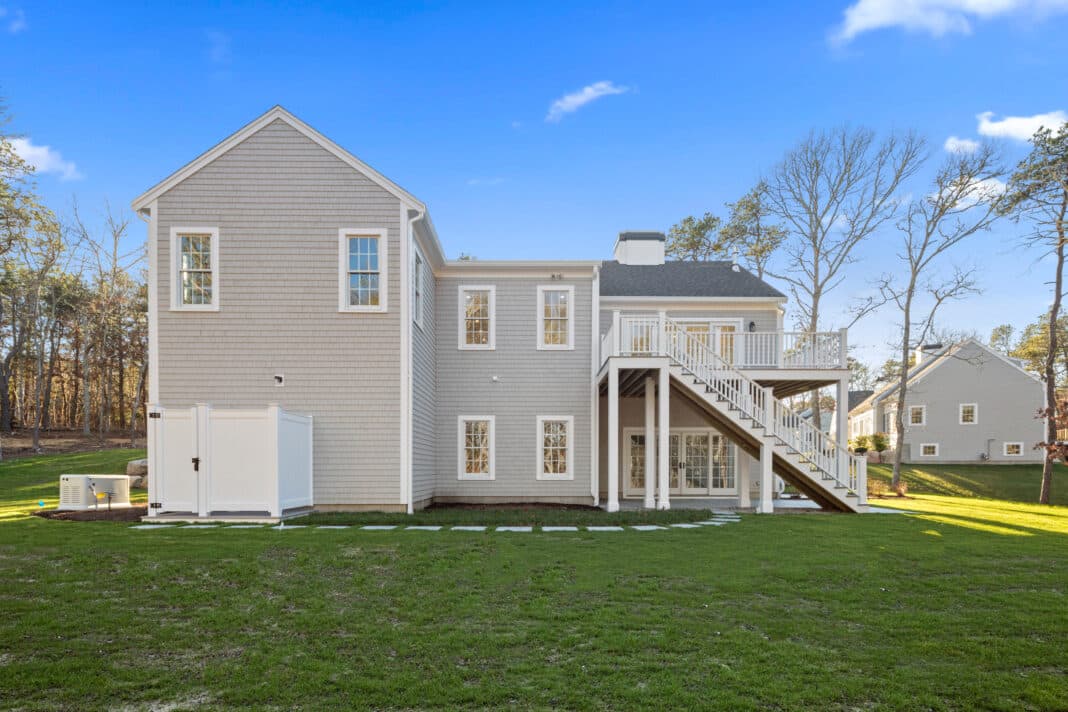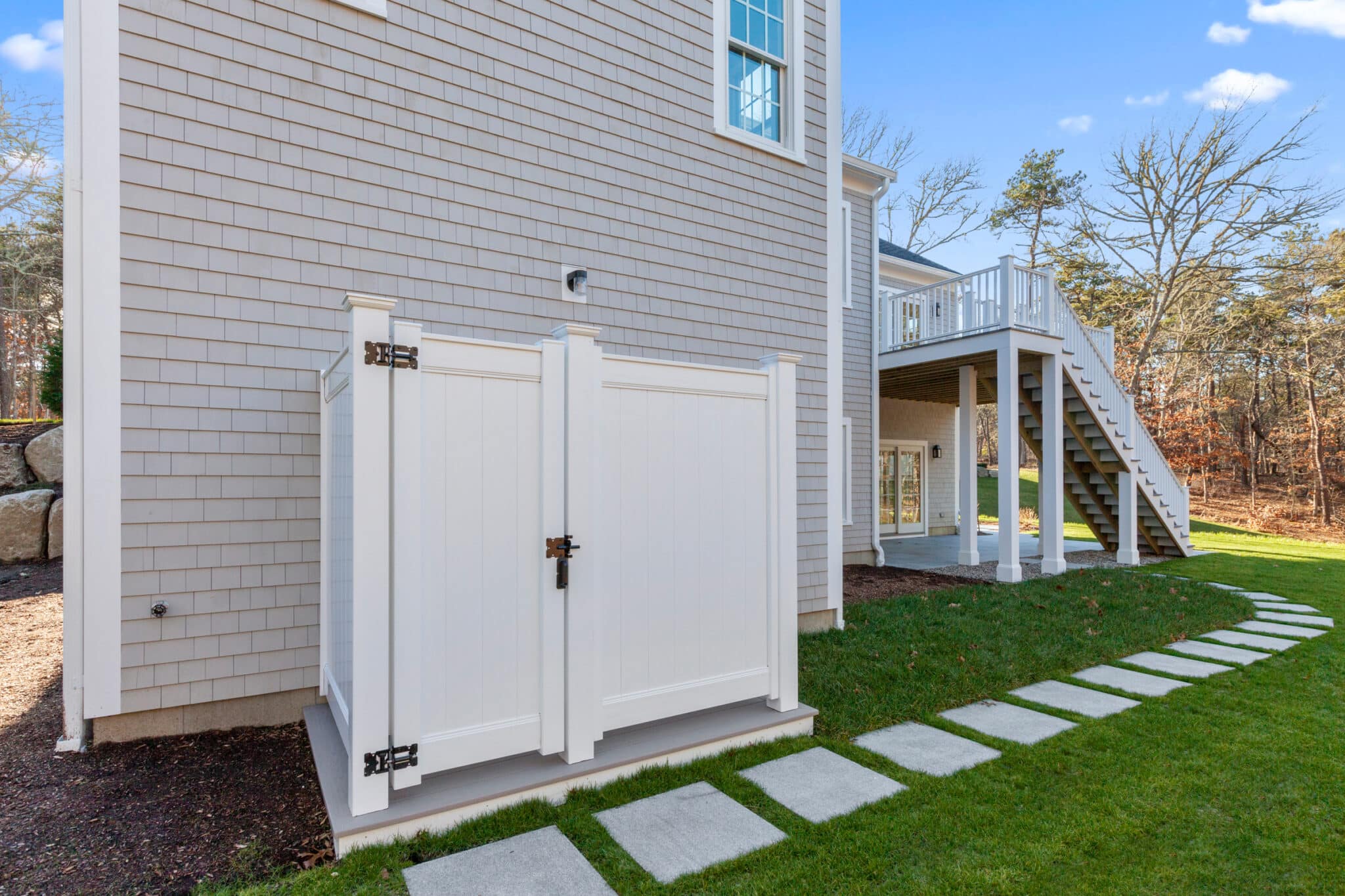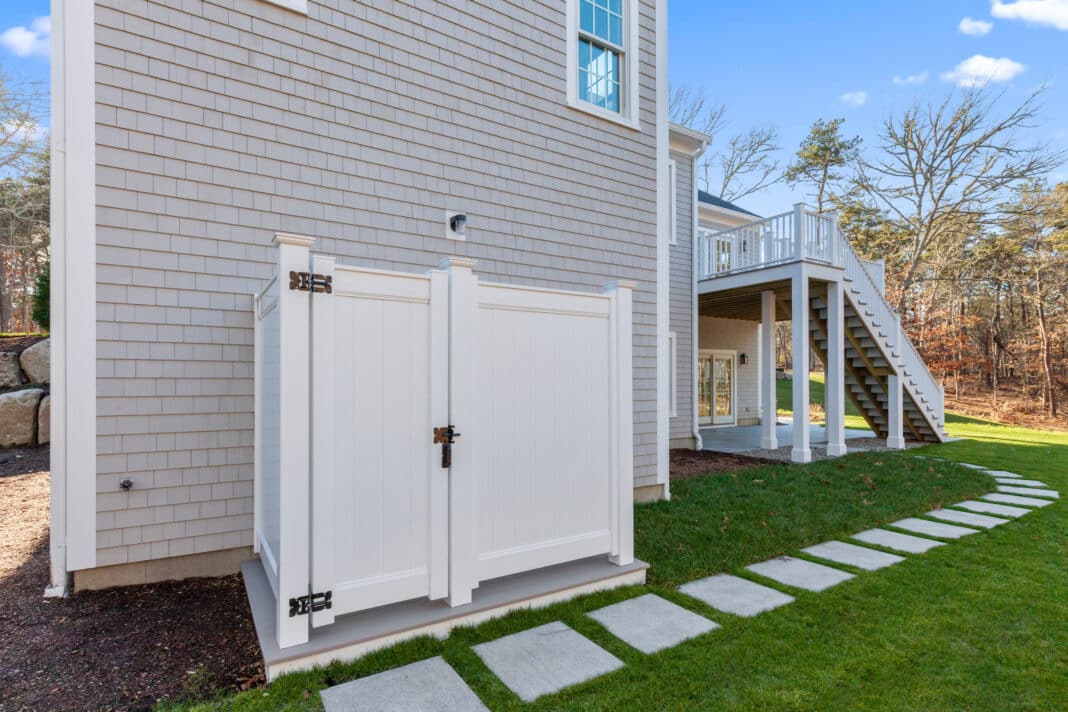 ---
Conclusion
Cape Cod outdoor showers are a quintessential fixture throughout Cape Cod and coastal New England, offering an invigorating post-beach or outdoor activity experience. Whether you're hosting summer guests, seeking a natural escape, or adding a functional design element, these showers captivate with their unique charm.