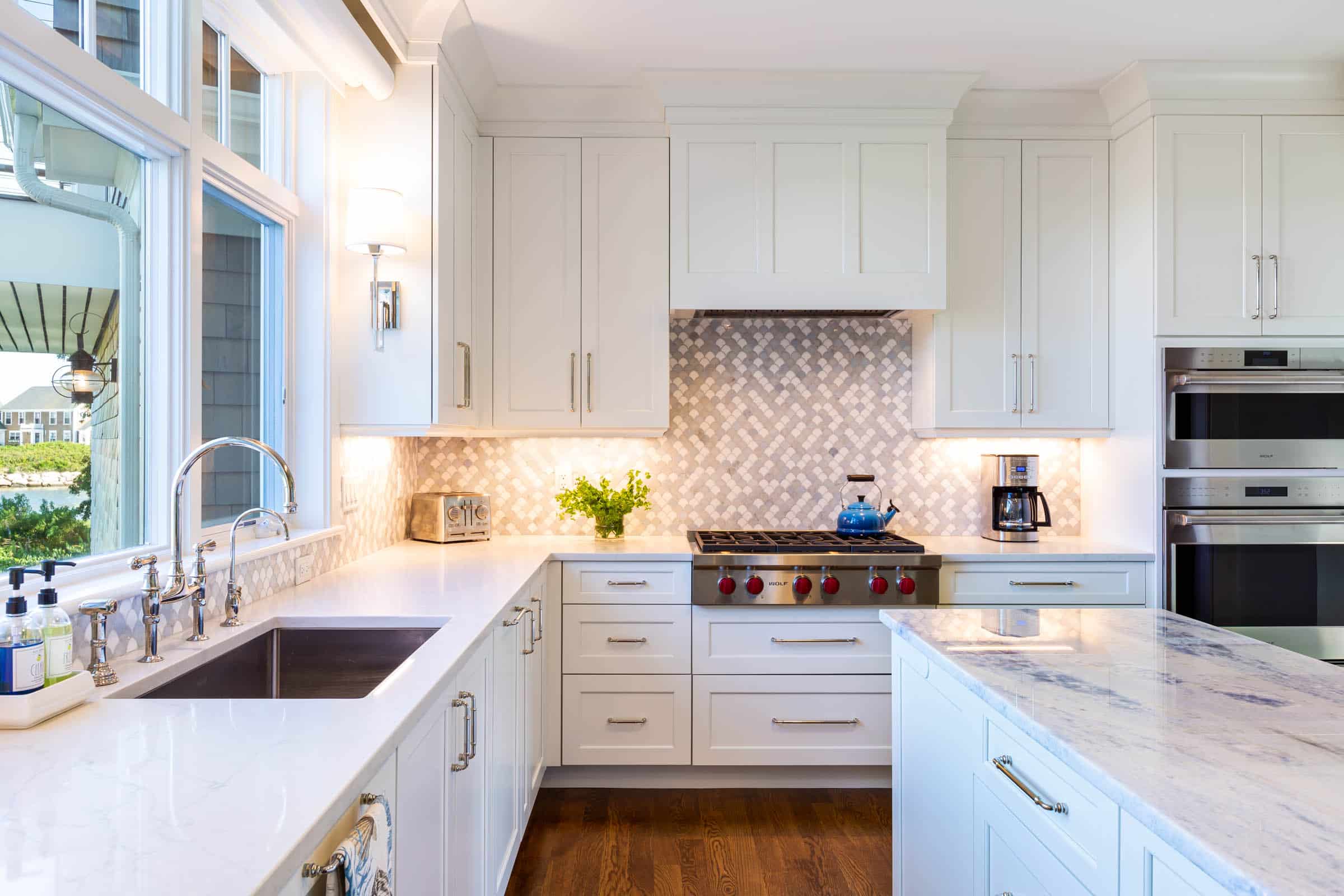 We all want a kitchen that is bright, beautiful, and functional. One of the most common ways to achieve this is by installing the best kitchen backsplash material on the wall behind your stove, sink, and under a cabinet. But with so many different tile styles and materials available, how do you know what will work best in your kitchen? This post will guide you through the pros and cons of ceramic, porcelain, marble, and glass tile. We also provide a few tips to help you choose the best kitchen backsplash material for your new home or renovation project.
Best Kitchen Backsplash Material
When choosing tile for your kitchen backsplash, it is wise to select a style that is not only appealing in color and pattern but one that is durable and easy to clean. Backsplash tile comes in an endless variety of patterns, colors, and materials, but it can vary considerably in both function and price. So, how do you find the perfect selection for your home?
Let's look at some of the pros and cons of each type of tile.
Ceramic Tile
Ceramic tiles are made from clay that gets fired in a kiln at very high heat. After the tile is created, it is glazed with another layer for color, finish or texture. Ceramic tile comes in many shapes, sizes, and styles. Generally, ceramic tile is durable and easy to clean.  Although, one disadvantage of using ceramic tile is that it may crack over time with heavy usage or high heat.
Porcelain Tile
Porcelain tiles are made from clay mixed with special material that creates a glazed look. This process gives porcelain tile its shiny, smooth surface and vibrant color hues. Porcelain has recently become popular in outdoor kitchen space because it can withstand rain and heat better than ceramic or natural stone. The downside of porcelain is that it can be difficult to cut and install, and tends to be more expensive.
Overall though, porcelain is an excellent choice for a kitchen backsplash because it is durable and easy to clean, and it comes in a nice variety of colors and styles. It is also resistant to staining and scratching, making it a good choice for high-use areas.
Glass Tile
Glass tile is a popular choice for kitchen backsplashes, as it is both stylish and durable. The beauty of a glass tile backsplash is that the color and texture of your wall can show through. With this characteristic, you can customize the vibe of your kitchen with your color choices. Glass tile is also easy to clean since it does not stain or absorb dirt as other materials do.
One downside to glass tile is that it may be prone to chipping or cracking, especially if it gets exposed to heat frequently. Glass tile is also more expensive than other backsplash tile options.
Marble Tile
Marble tile adds a luxurious, elegant appeal to a kitchen and can provide a stunning contrast to dark cabinets. Or, it can provide even more light to a contemporary, all-white kitchen. However, while it offers an appealing aesthetic, marble tile backsplash is more prone to scratching, acid etching, and staining and should be sealed periodically.
Trending Kitchen Backsplashes & Tiles
Here are samples of backsplash tile installations from some of our recent home renovation or new construction projects. We are obsessed with these tile collections and choices! These styles were selected by our interior design team or by our clients themselves. You will see how they elevate the design of desired home style (classic, modern, coastal, etc.)
Moroccan Zellige Tile by Cle
Company: Cle Tile
Material: Zellige Ceramic
Finish: Glazed
Photography: Cletile.com & Dan Cutrona Photography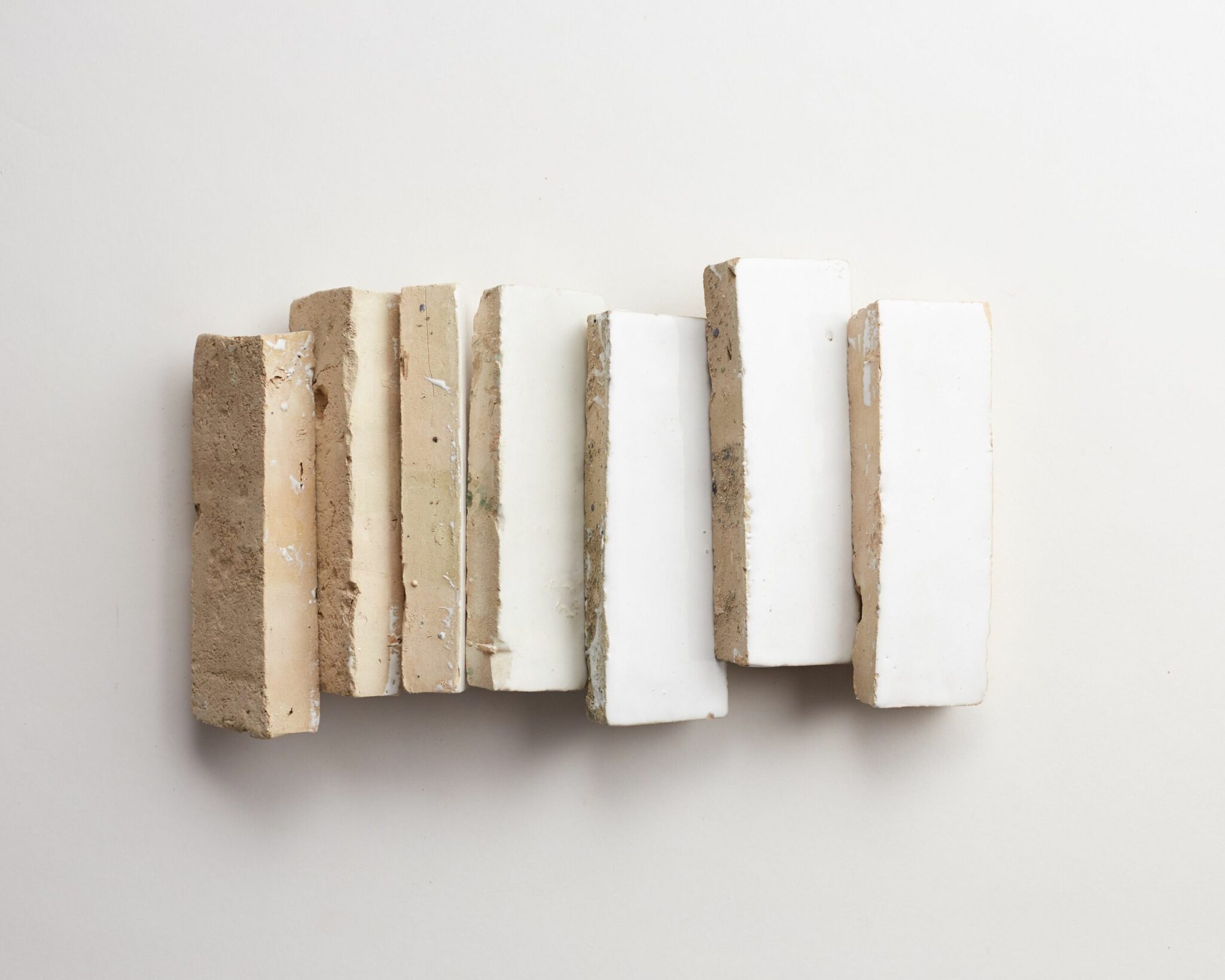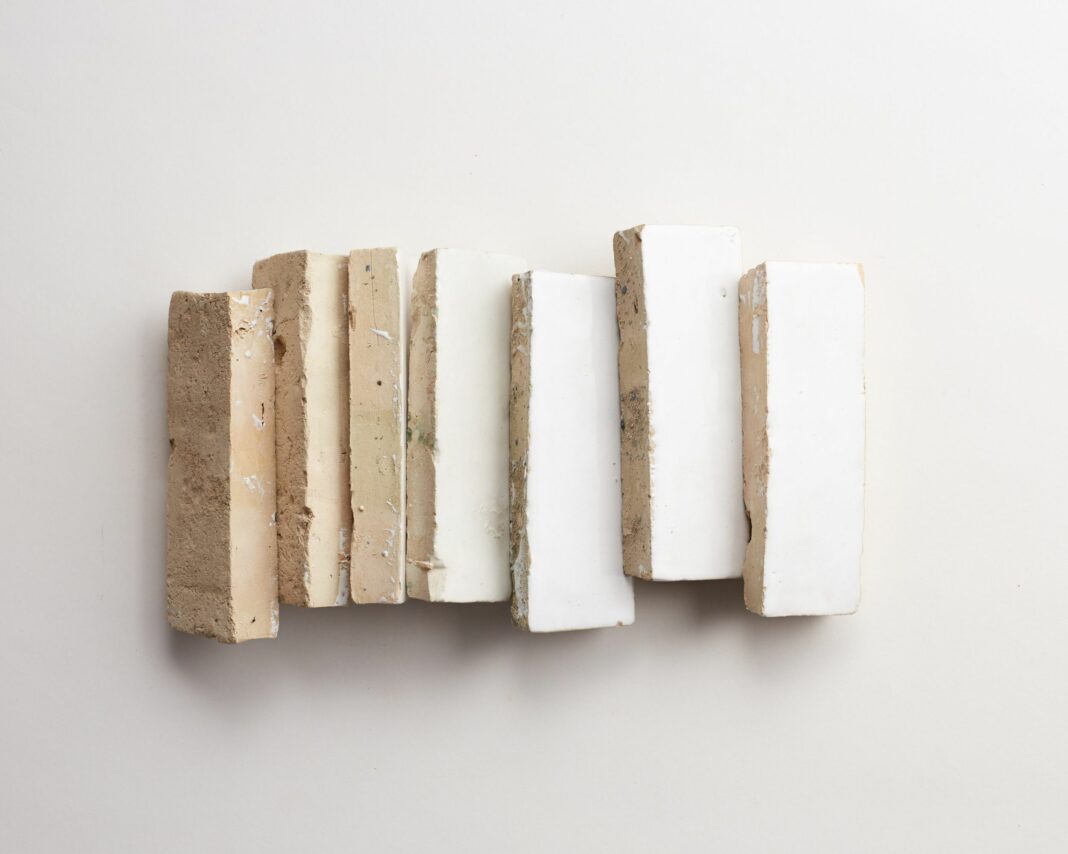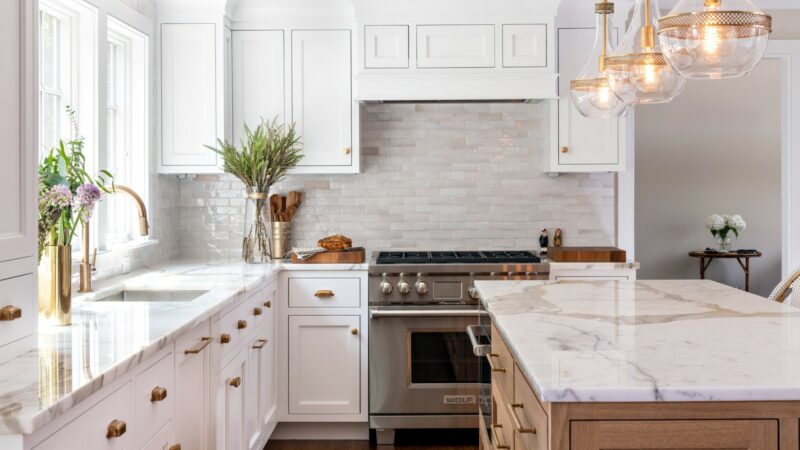 ---
Glass Subway & Arabesque Mosaic Tile by Anatolia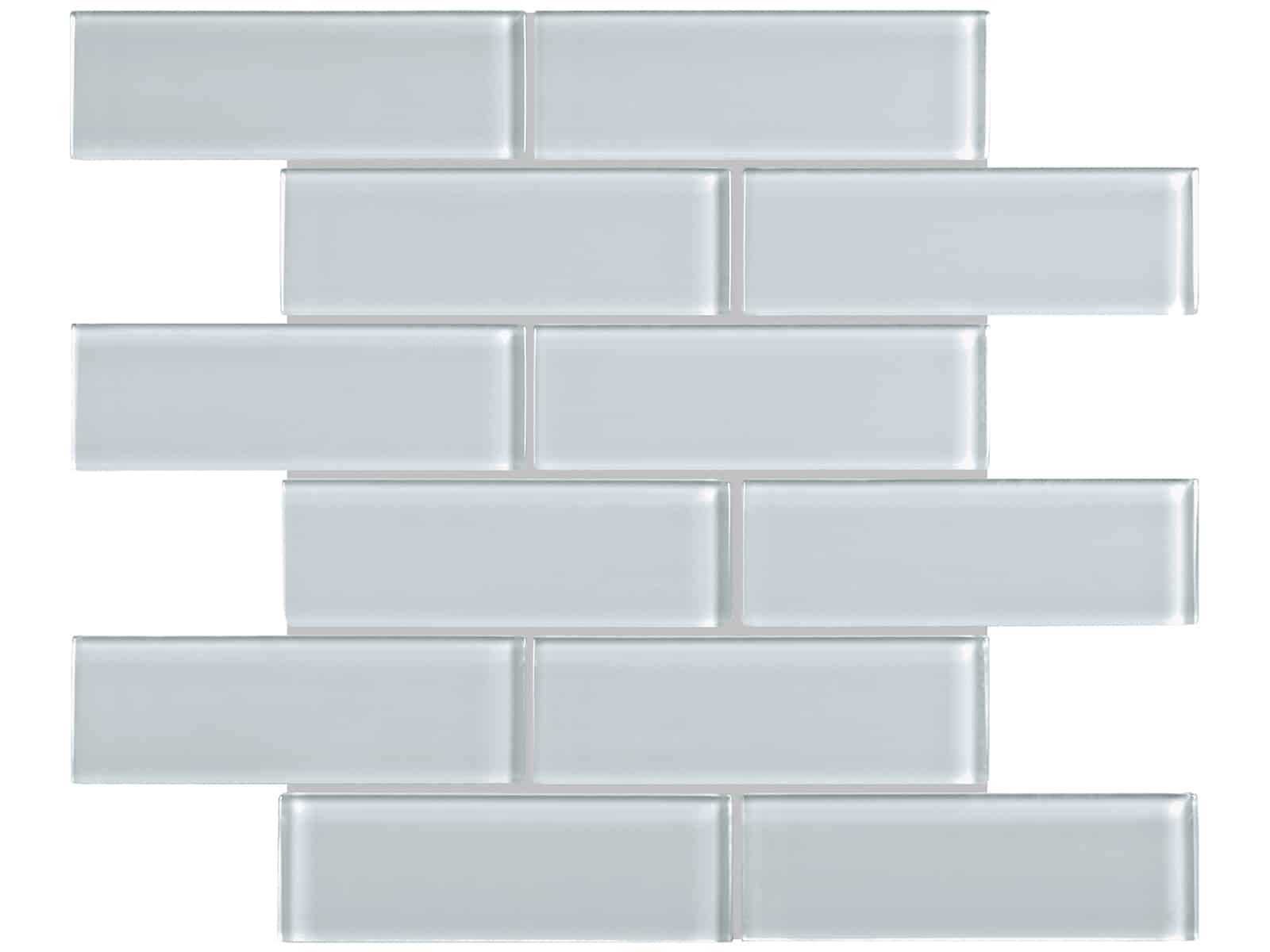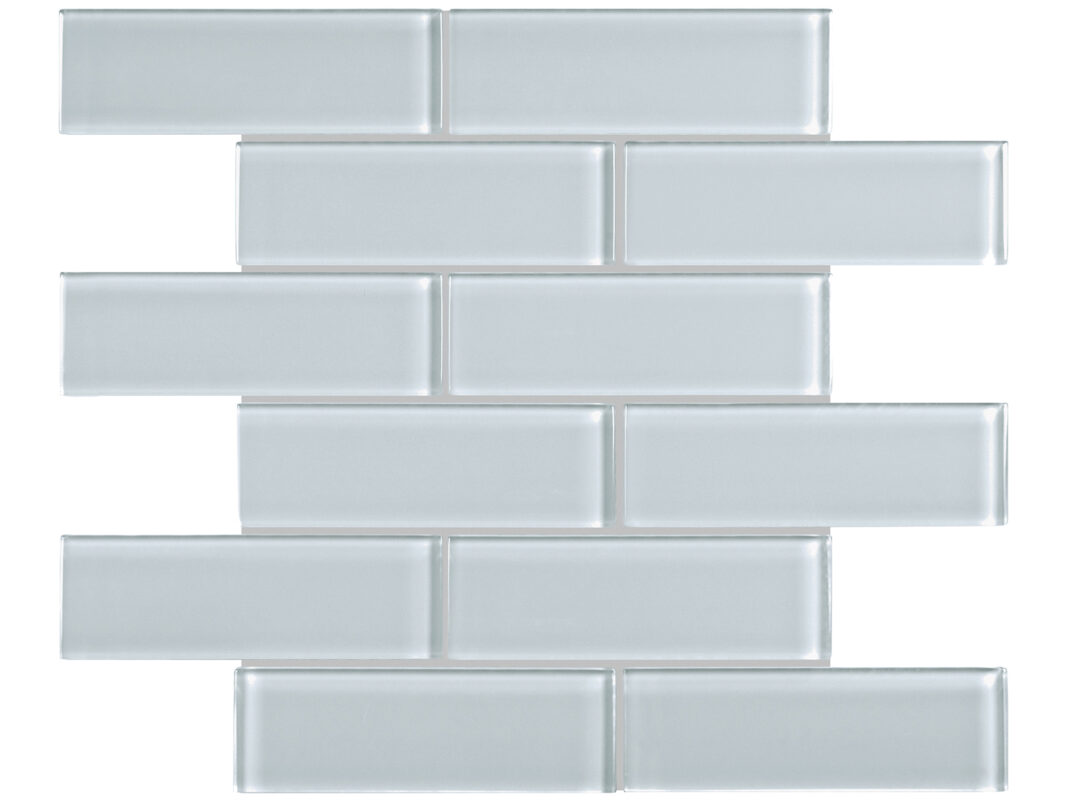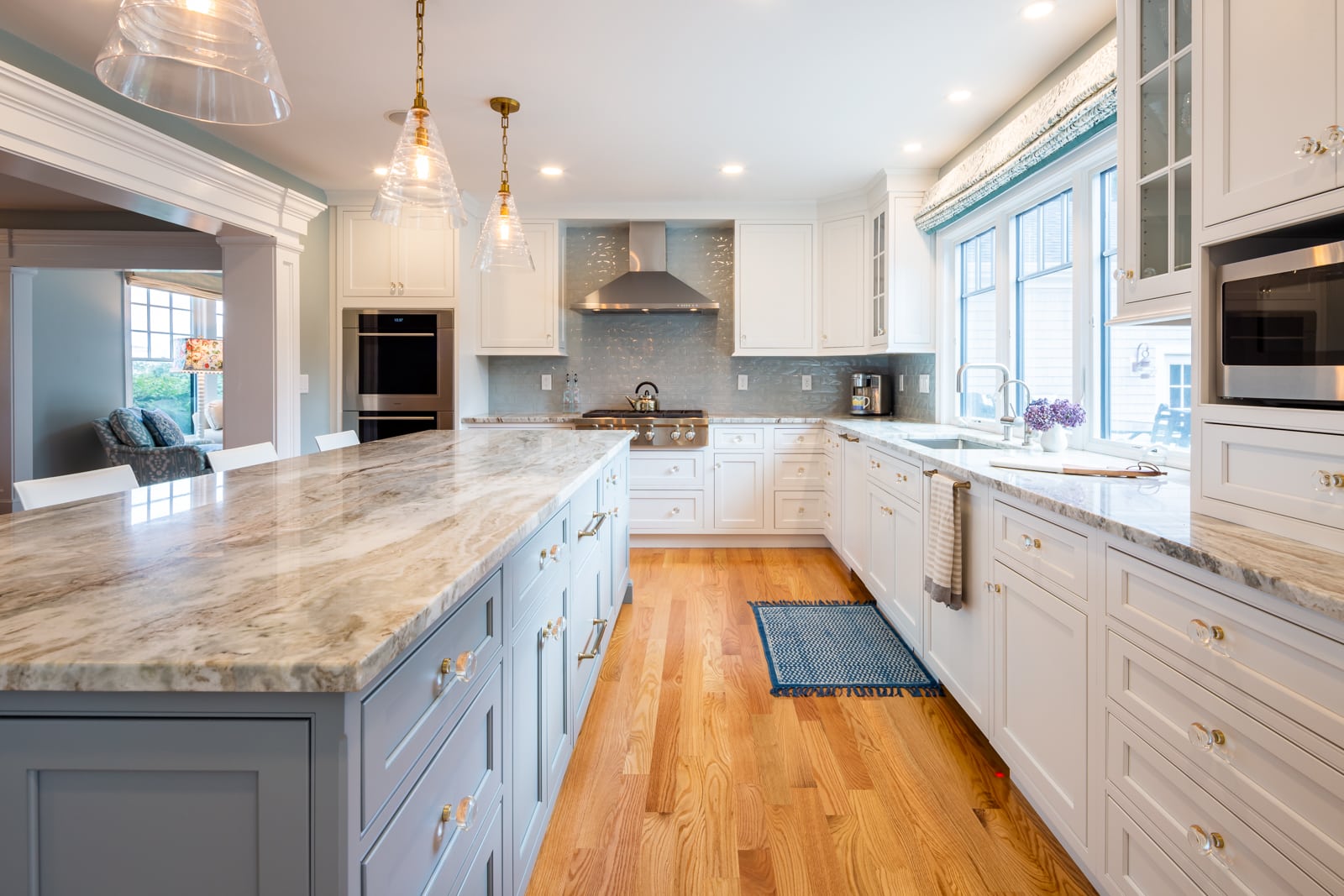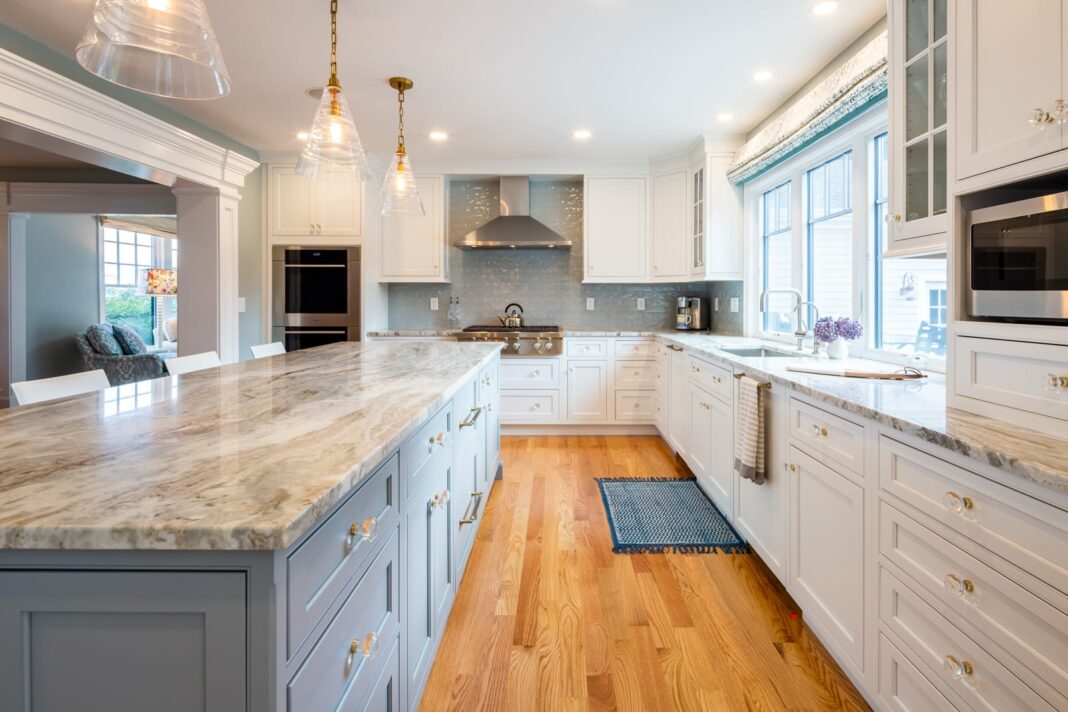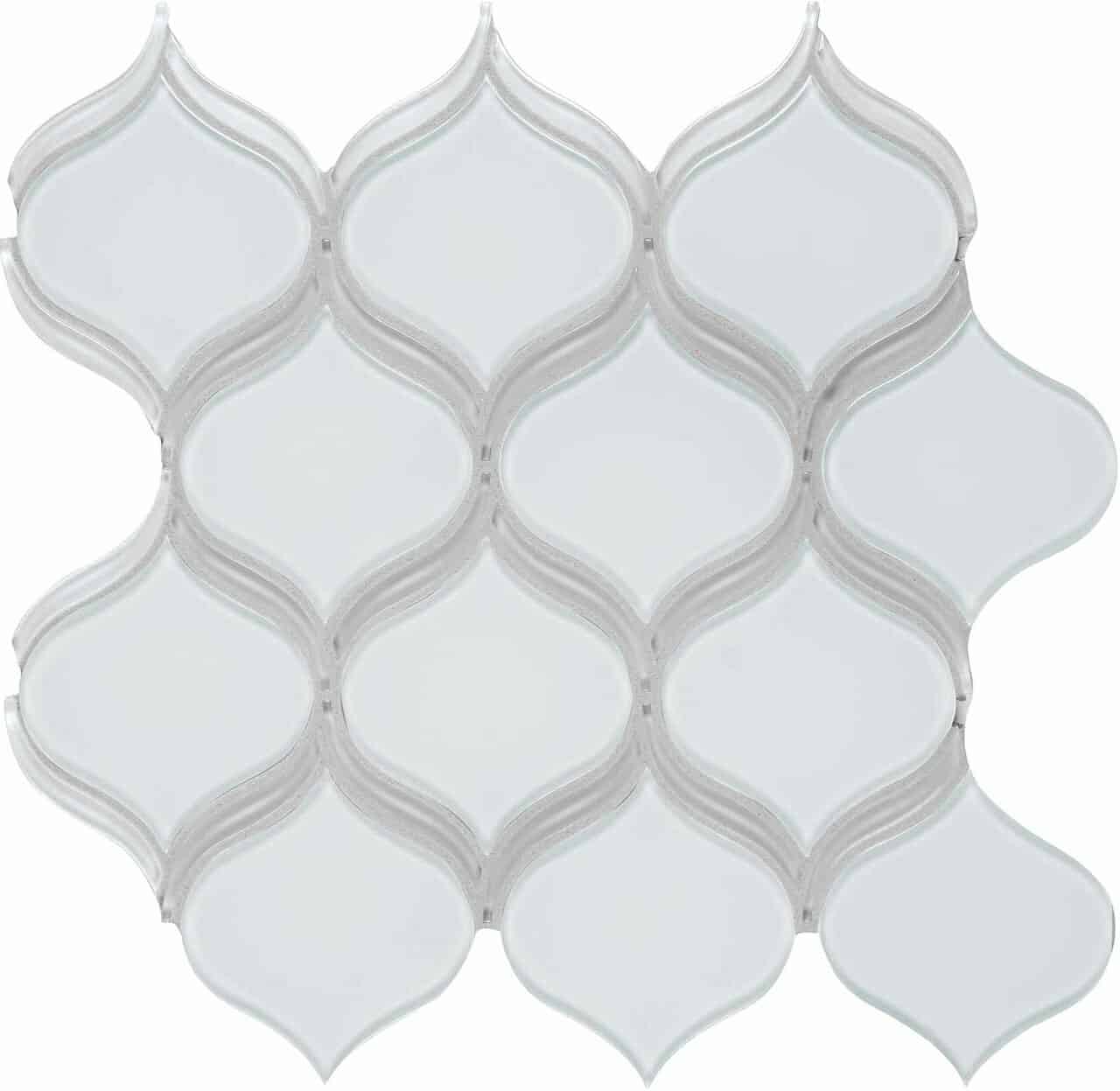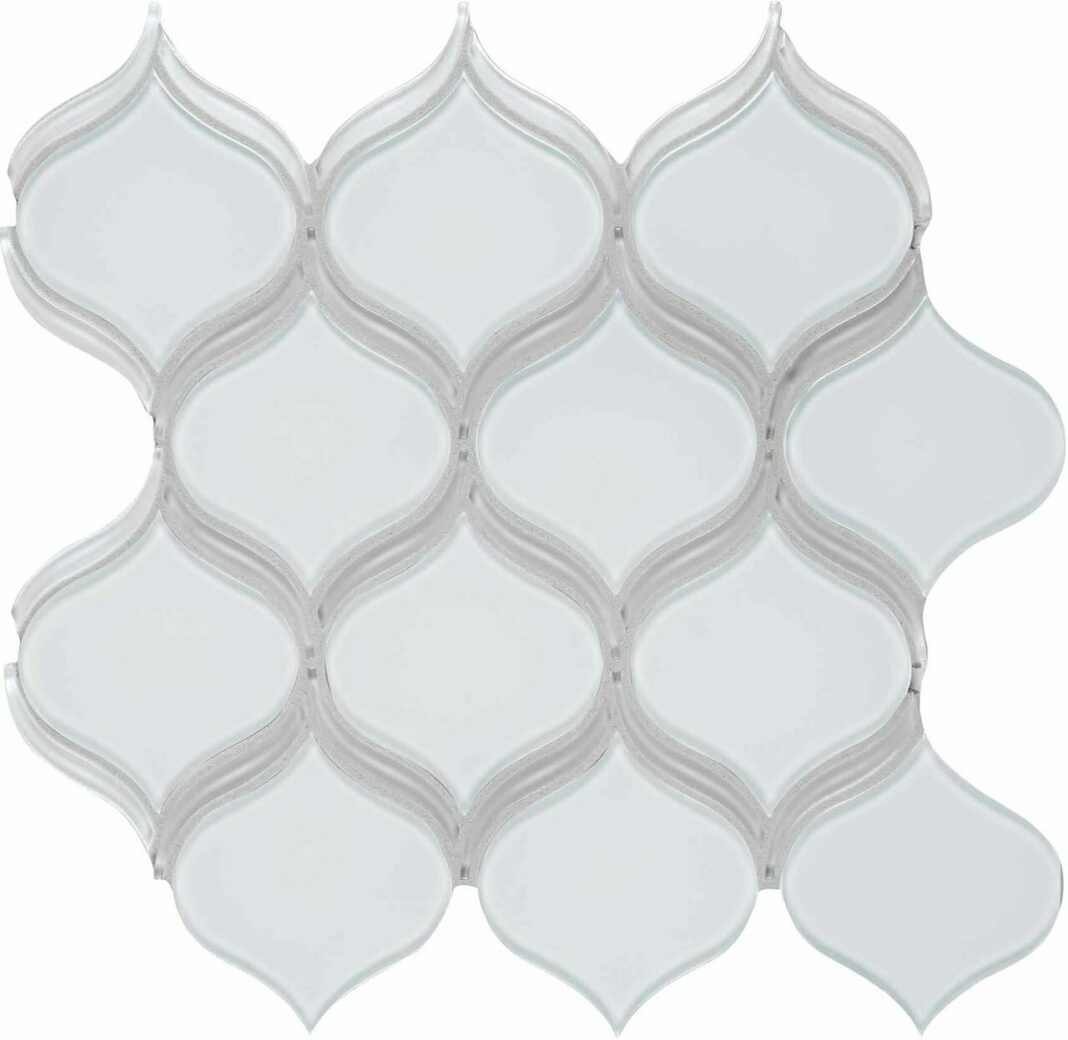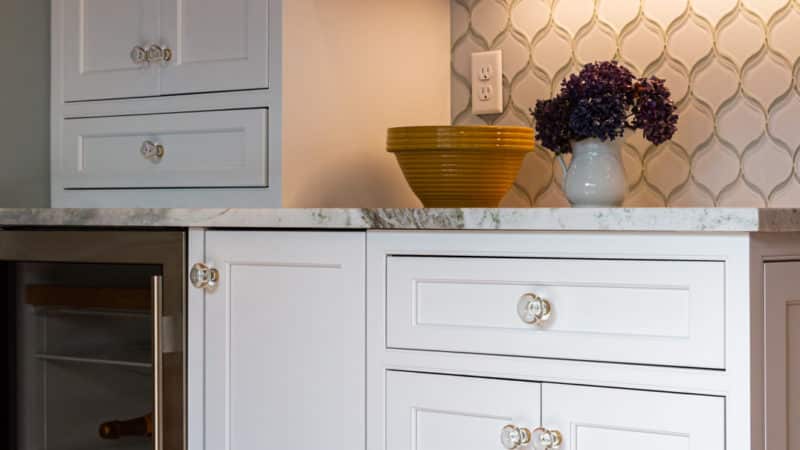 ---
Rumba Ash Blue Rectangle & Diamond Tile by Soho Studio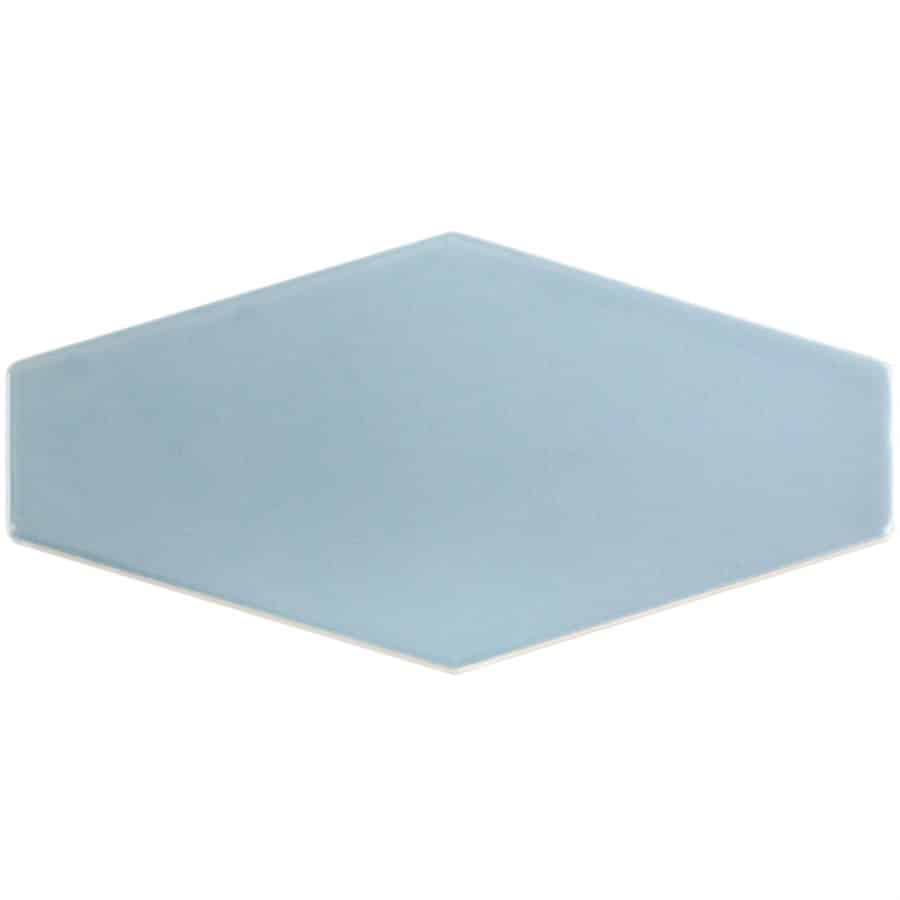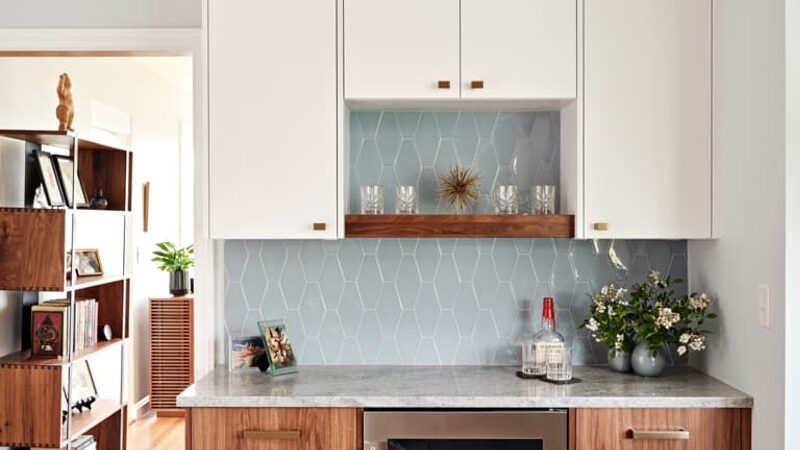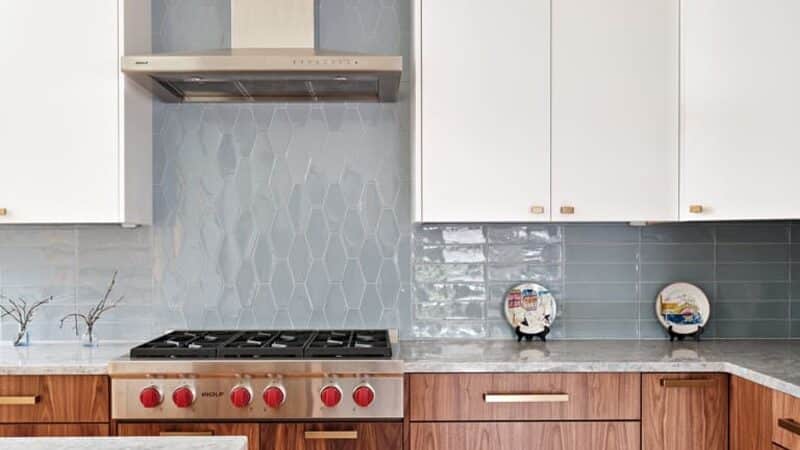 ---
Houlakia Mosaic by MIR Mosiac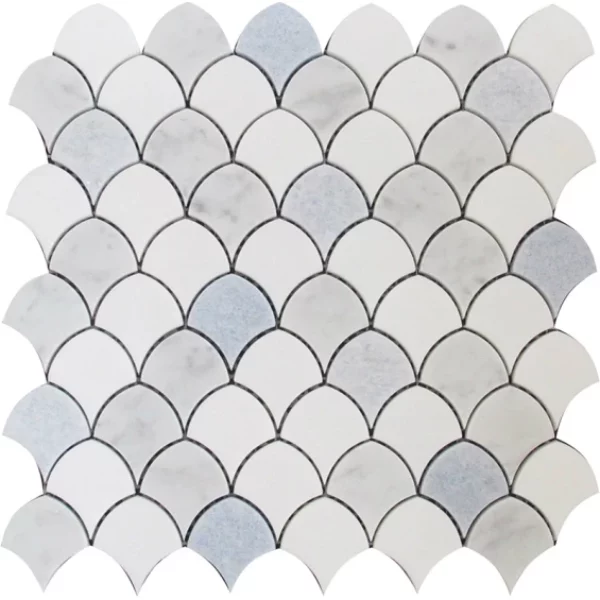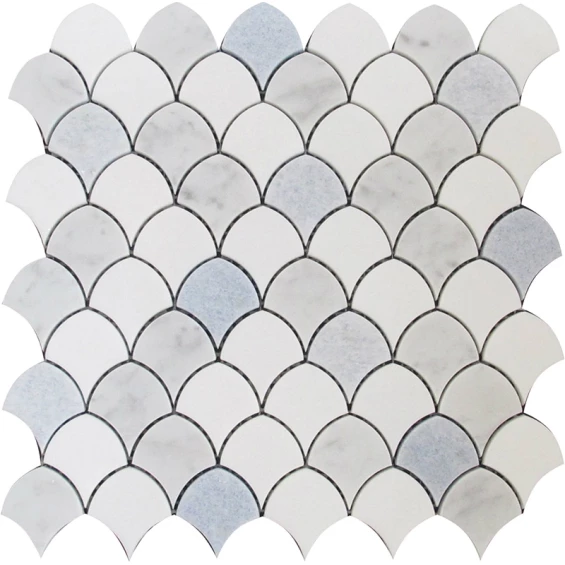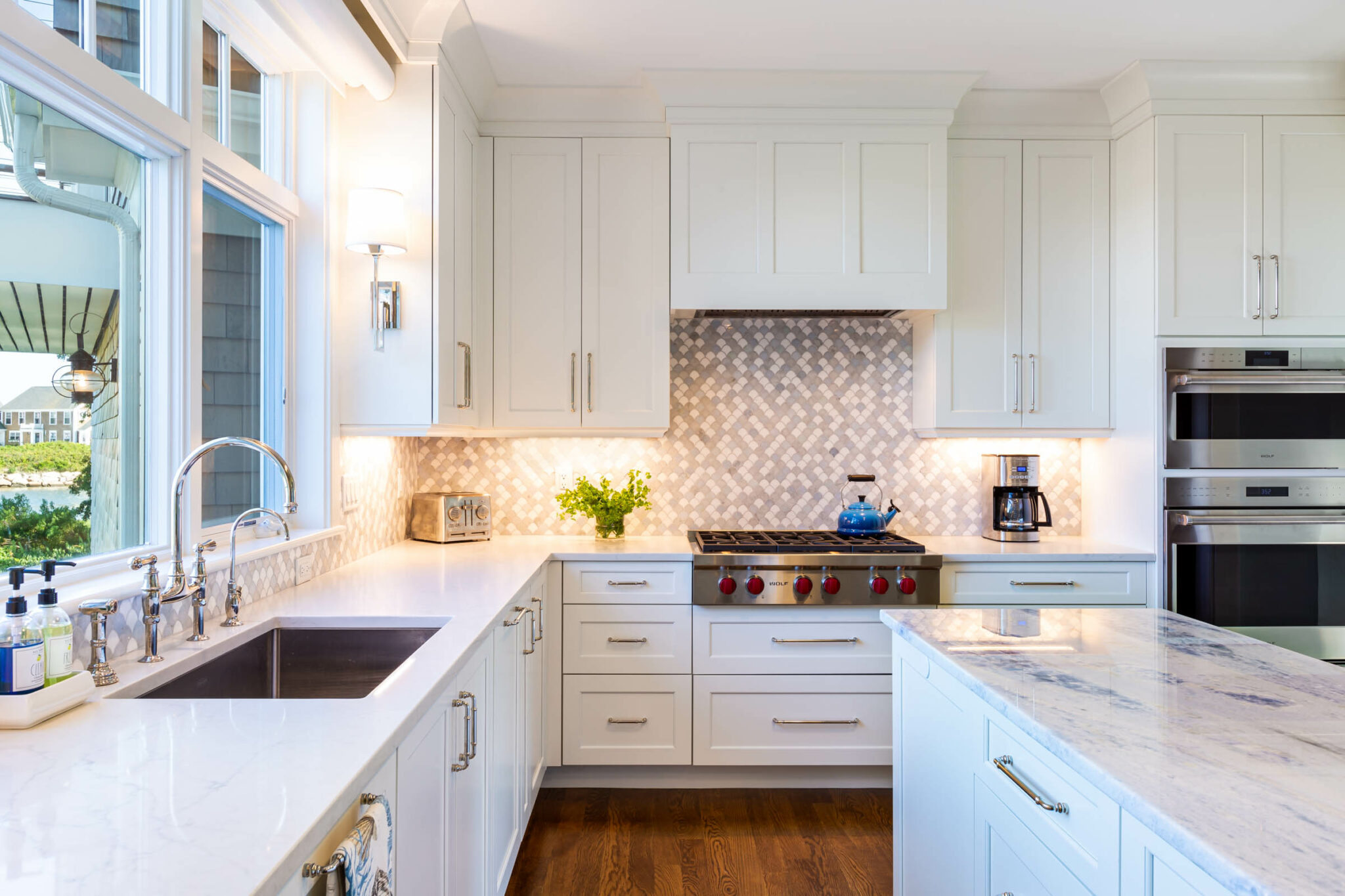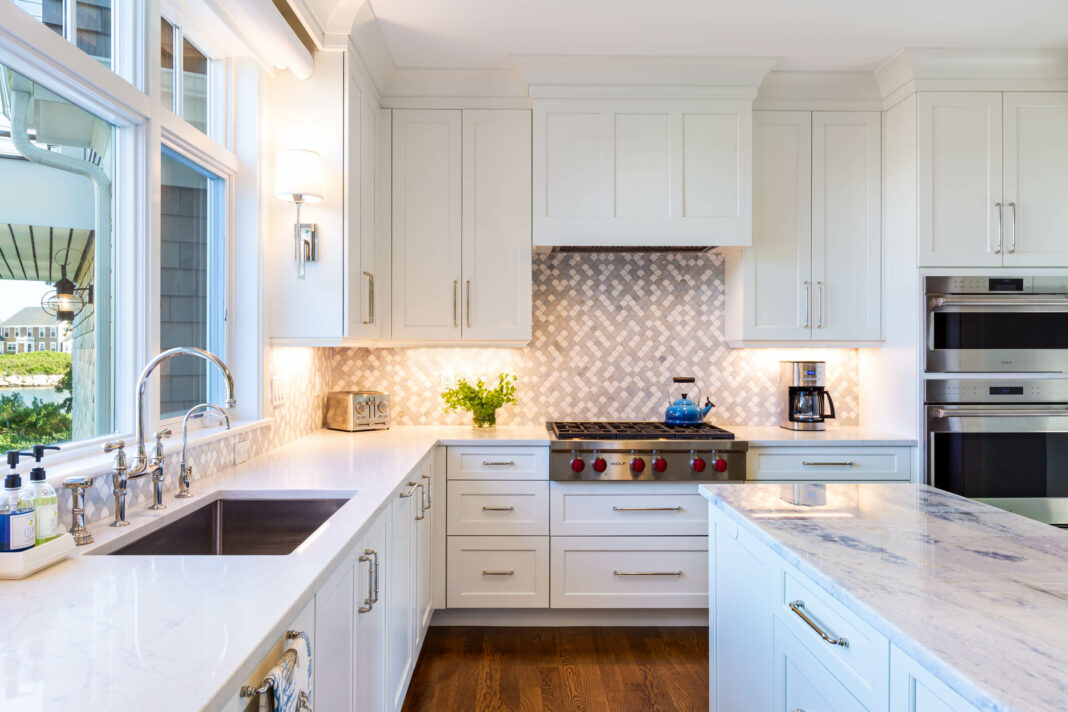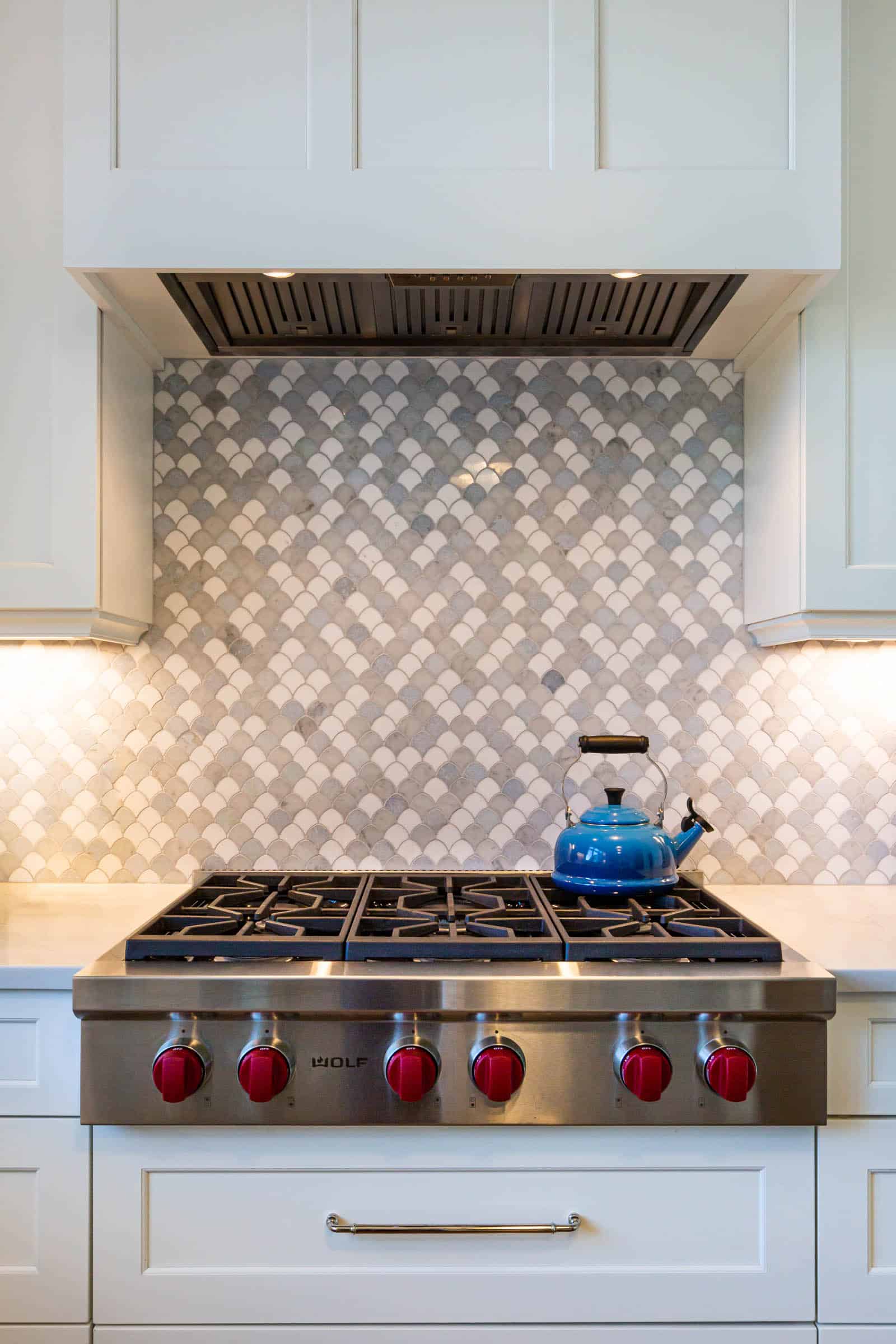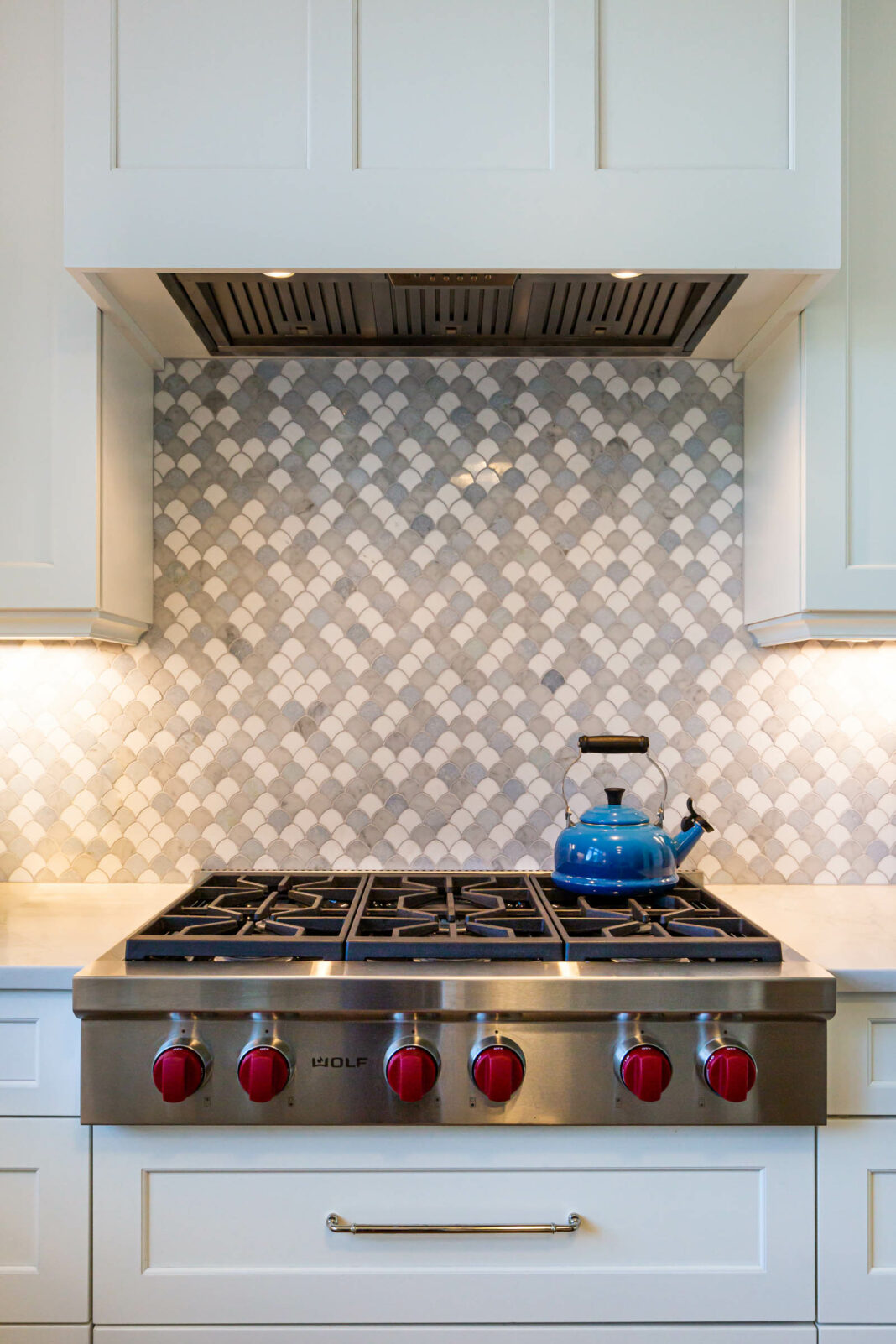 ---
Glass Mosaic Tile by Lunada Bay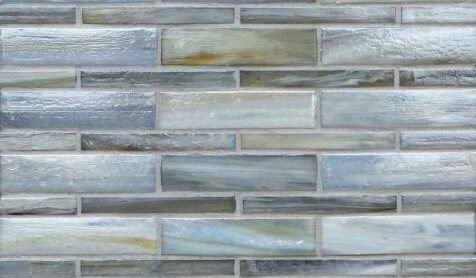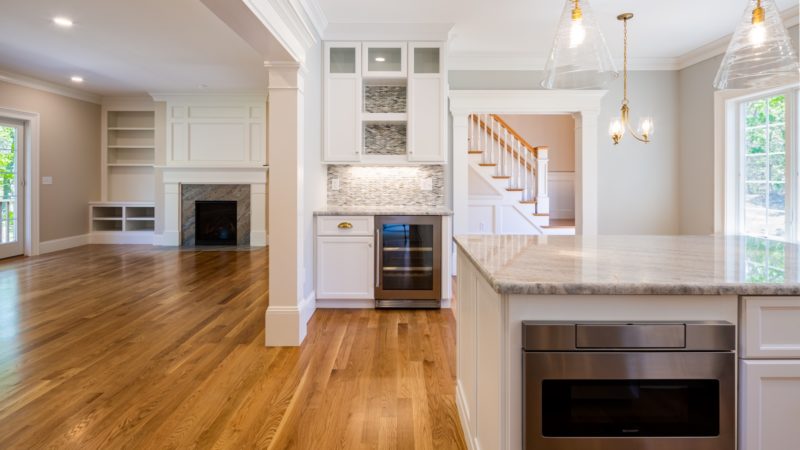 Tips for Choosing Your Kitchen Backsplash & Tile
So, now that you know a bit about ceramic, porcelain, marble and glass tile, how do you decide which type is suitable for your kitchen backsplash? Here are some things to keep in mind when making this choice:
Budget
It is imperative to consider your budget when deciding what material to use for your kitchen backsplash, as tile costs can add up – especially in larger spaces. Ceramic tile is generally more affordable than both porcelain and glass. And, depending on the style, marble can be very expensive. However, many tile manufacturers provide sheets of smaller tile clusters that can be more affordable than individual tiles with custom installation.
Durability
Another factor to consider is the durability of the material. That said, ceramic, porcelain, and glass tile are all reasonably durable. Marble is very durable but can stain, and glass is easy to maintain but may chip easier.
Ease of Cleaning
This is another crucial factor to consider. Generally, tiles with glossy surfaces are easier to clean.
Style
Lastly, choose a style and color that complements and embellishes the design of your kitchen. Tile comes in an abundance of color, shape, and size. Visit the web sites and Instagram pages of your favorite manufacturers or interior designers and start saving ideas. Create a mood board with your cabinets, counter, wall color and backsplash ideas that helps you visualize the end result.
Visit McPhee Associates Gallery of Homes for more inspiration.
Related Posts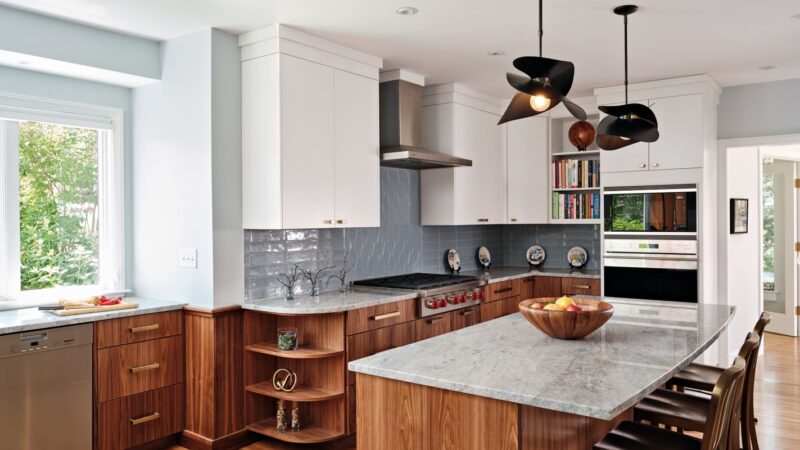 The Ultimate Guide to Home Fixtures and Selections
Everything you need to know about home fixtures. From examples to essential questions. Learn how to select the right fixtures for your home.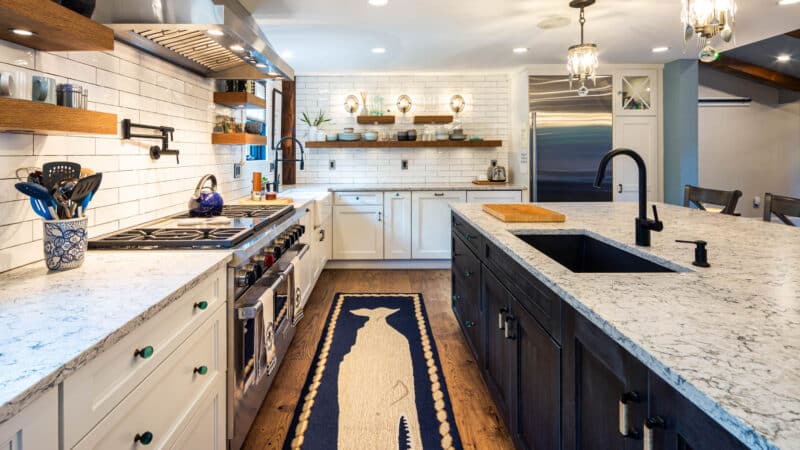 How to Choose Quality Kitchen Cabinets
Choose the best kitchen cabinets for your remodel. Learn about quality cabinet construction and the elements that impact their durability.