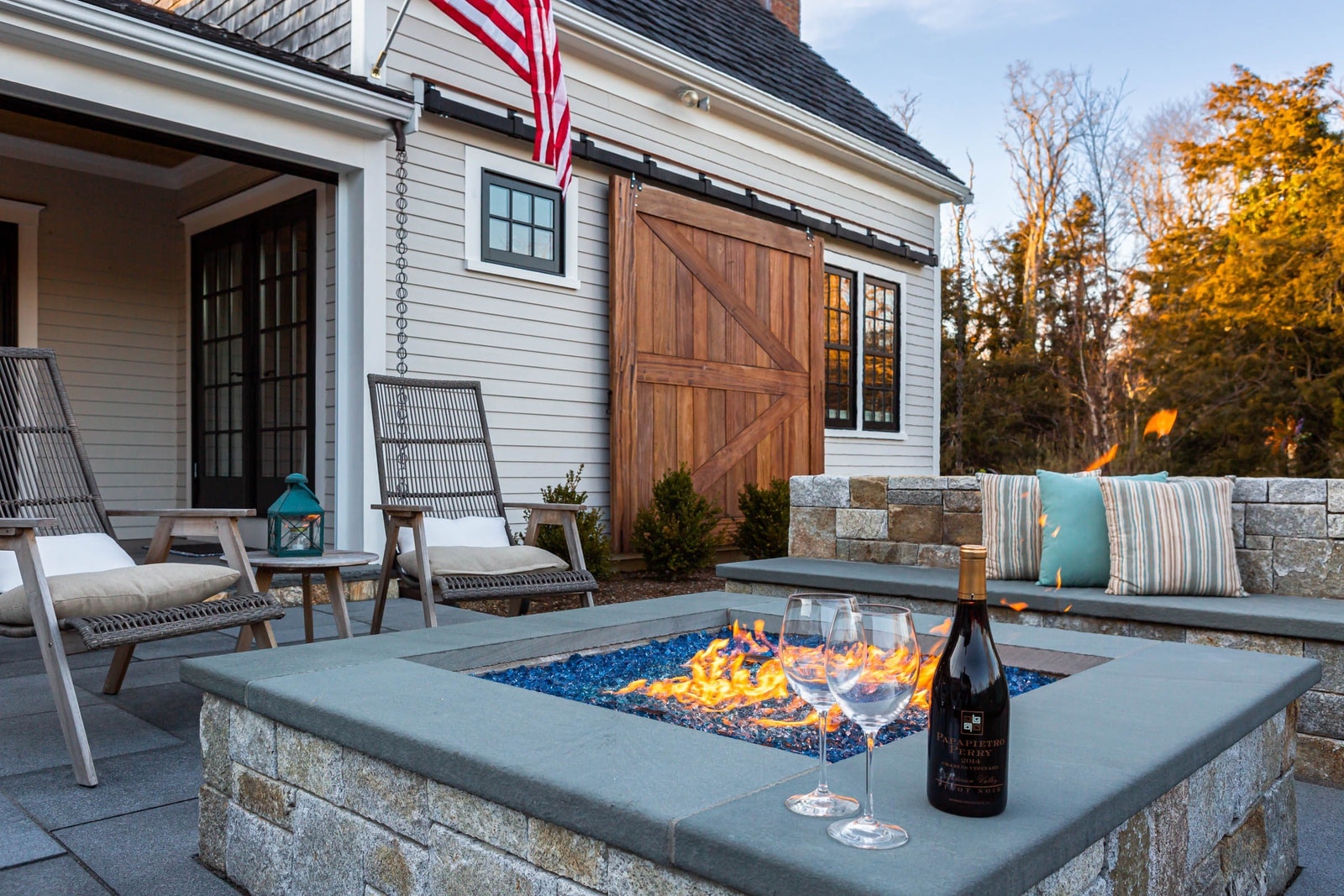 Whether or not you live near the beach, you can bring the feel of coastal living into your home with the right coastal farmhouse design and decor. For good reasons, the coastal farmhouse style has been popular in recent years. This style blends a fusion of traditional farm life with the ease of carefree coastal living. Whether you're building, renovating, or simply looking to incorporate some design elements into your space – we have you covered. Inspire your next project with these coastal farmhouse decor and design ideas.
What is Coastal Farmhouse Style?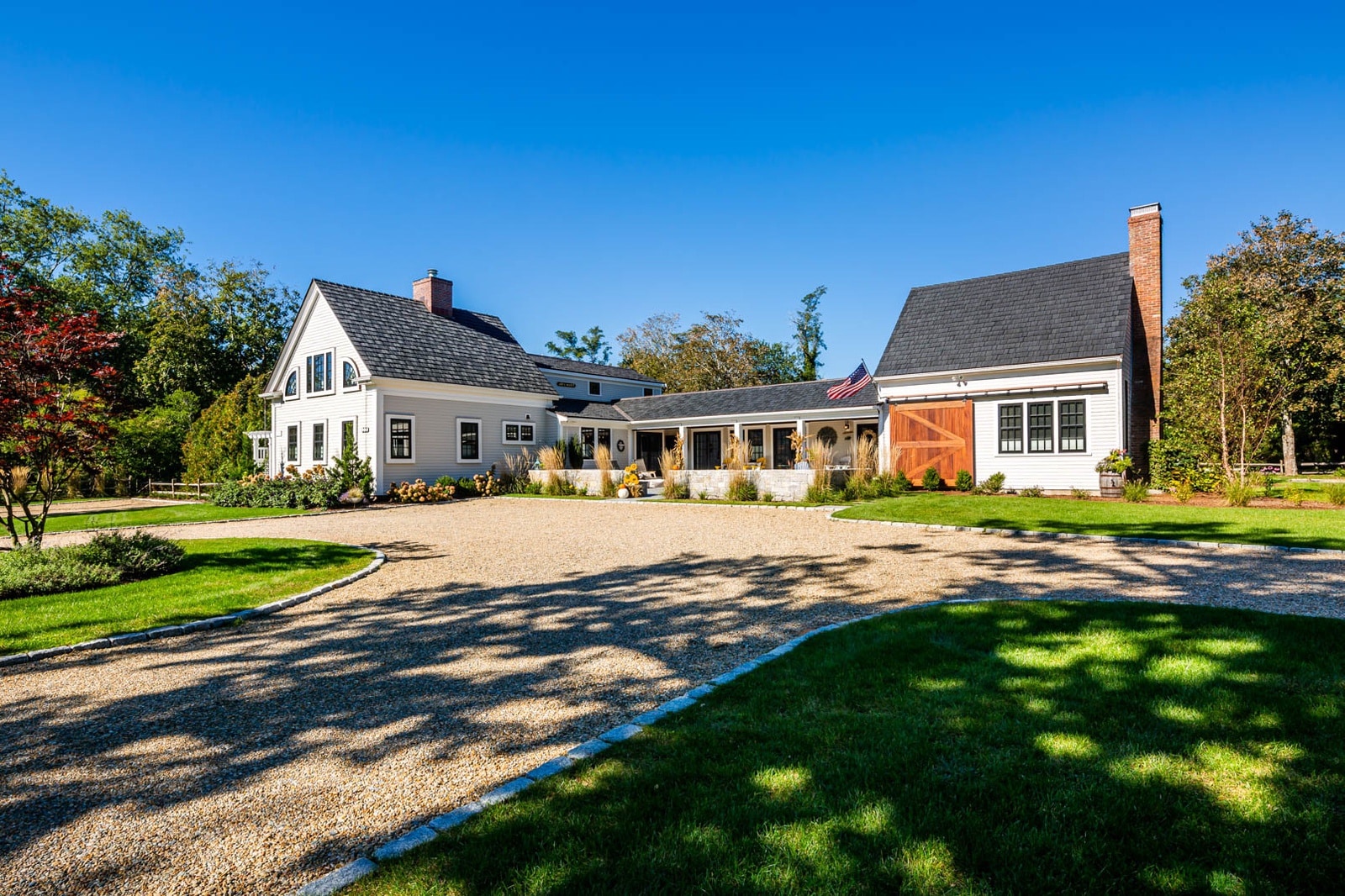 As a decorative aesthetic, the coastal farmhouse style resembles the modern farmhouse style. However, the coastal farmhouse style usually has design elements influenced by coastal color schemes, natural elements like driftwood, and old beach cottages. While this look may be more common in homes near the ocean, the coastal farmhouse aesthetic brings a nautical flair to any farmhouse-style home.
The History and Evolution of Farmhouse Style
The style of the coastal farmhouse has roots from earlier times. Inspiration for the farmhouse aesthetic dates back to farm homes of the 1700s, mimicking the look and feel of days past. During colonial days, houses functioned as protection from the elements and storage for the functional items needed for daily living. Every object served a distinct purpose. People generally built farm houses from wood because it was readily available and didn't require a deep knowledge of construction to build structures.
Before defining the characteristics of farmhouse style today, it's important to note that they aren't static. Home styles are fluid and continuously evolving, and the farmhouse style will overlap with other architectural and interior trends.
Farmhouse Characteristics and Style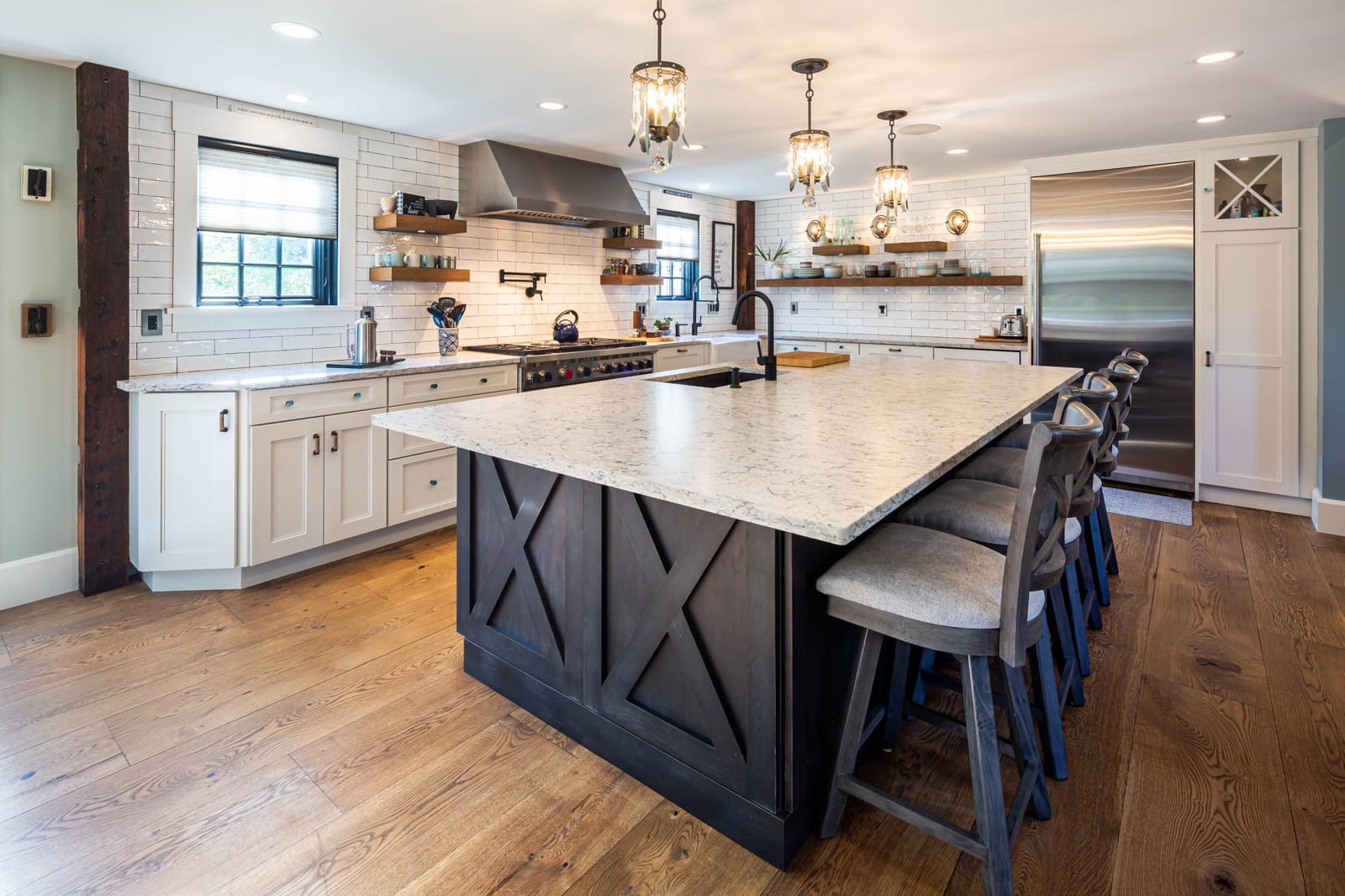 Classic Farmhouse
Classic farmhouse design generally includes rustic wood elements, paned windows, visible wood grain, and imperfect lines. Characteristics also typically include large porches that extend the length of the home. Spacious kitchens are a hallmark of the classic farmhouse, featuring minimalist wood shelving and elements with purpose.
Modern Farmhouse
When we look at the typical modern farmhouse style, we see a blend of current trends combined with rustic home features (classic farmhouse). Joanna and Chip Gaines from HGTV's ''Fixer Upper'' series greatly influenced this fusion style. Design experts predict that the trendy modern farmhouse style is starting to fade. However, many people continue to seek classic farmhouse architectural traits in renovation and custom homes. As a result, we see interior characteristics change as new interior style trends emerge.
The characteristics of this style include airy, open spaces with plentiful natural light—tall ceilings, exposed beams, linear paneling, large porches, gable roofs, layered textures, open shelving, and light/neutral color palettes.
Coastal Farmhouse
The coastal farmhouse aesthetic combines the laid-back essence of coastal living and the rustic appeal of the farmhouse style. Coastal style can include rustic farmhouse elements like distressed wood and vintage furniture alongside classic coastal colors, prints, and accessories. A cohesive mix of seaside and countryside typically defines its characteristics. Here are a few trends to consider if you want to incorporate the coastal farmhouse aesthetic into your home:
Coastal Design Ideas by Space
Kitchen
Rustic-Style Flooring: This flooring lends a beachy vibe while complementing a farmhouse decor's rustic feel. Lean into a rustic aesthetic with unfinished, hickory, and vinyl plank hardwood options.
Exposed Structural Beams: The exposed structural beams are a classic accent in farmhouse interiors. You can also leave your wood distressed, or paint it white, to elevate the coastal aesthetic further.
Matte Finished Hardwoods: The coastal look isn't about achieving a sleek and perfect look, so avoid shiny metal and opt for flat, matte finishes.
Rustic Table and Chairs: Incorporate rustic elements into your eating space, such as a painted picnic table and chair set.
Large Kitchen Island with Pendant Lighting: A large kitchen island is a staple feature in any coastal farmhouse space. Enhance the farmhouse aesthetic with textural wood accents, matte materials, and signature farmhouse patterns such as shiplap and X-braces. You can further elevate the area by including pendant lighting, such as a farmhouse-friendly light fixture. Think iron-clad, bronze, rope, or seashell glass.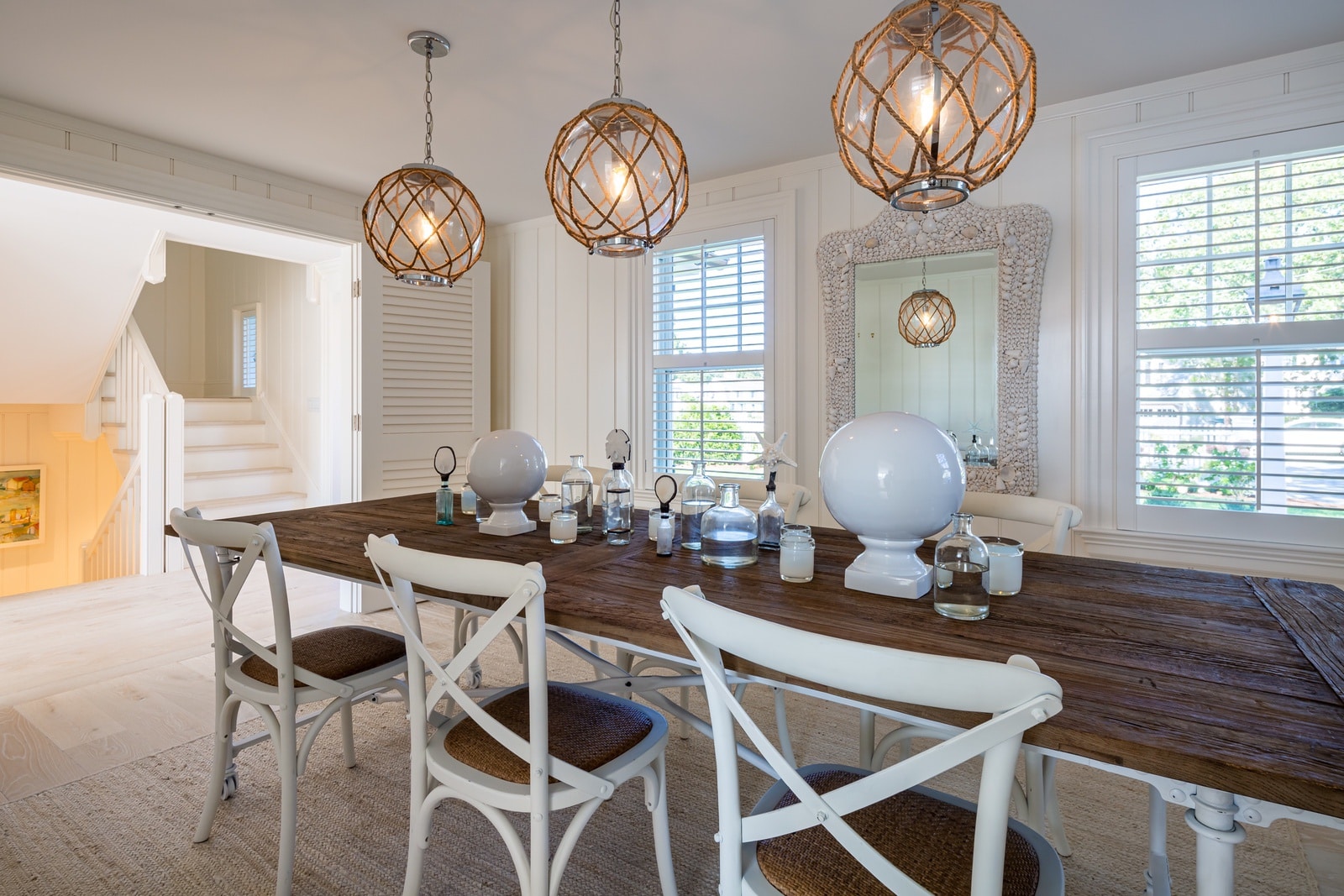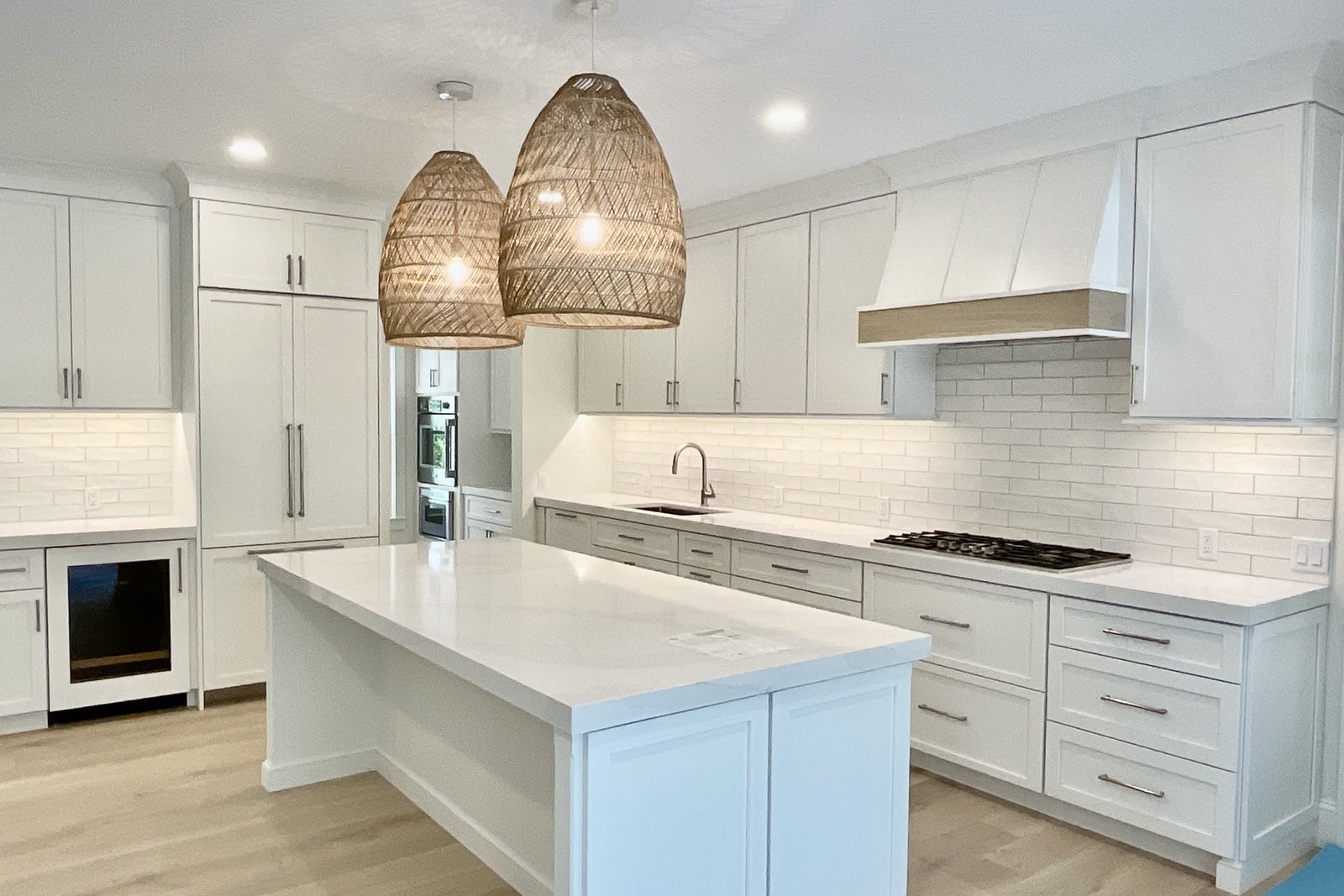 Living Room
Rustic Pieces: No farmhouse interior is complete without a handful of key rustic pieces. Examples to draw inspiration from include: decorative wood bowls, a wooden wall clock, wooden coffee tables, woven baskets, and rustic vases.
Vintage Elements: Although coastal interiors are generally relatively modern, adding vintage pieces can elevate your farmhouse aesthetic. Visit your local thrift store to find some vintage gems and antique statement-makers.
Slipcovered Sofa: This type of sofa is the perfect cozy accent. Although a typically coastal aesthetic, it's versatile enough to pair with your farmhouse favorites to create the perfect harmony.
Combined Textures: Don't shy away from loading up your space with textures – it will give your coastal farmhouse décor even more depth and personality. You can consider materials such as wicker, rattan, and light-weathered woods.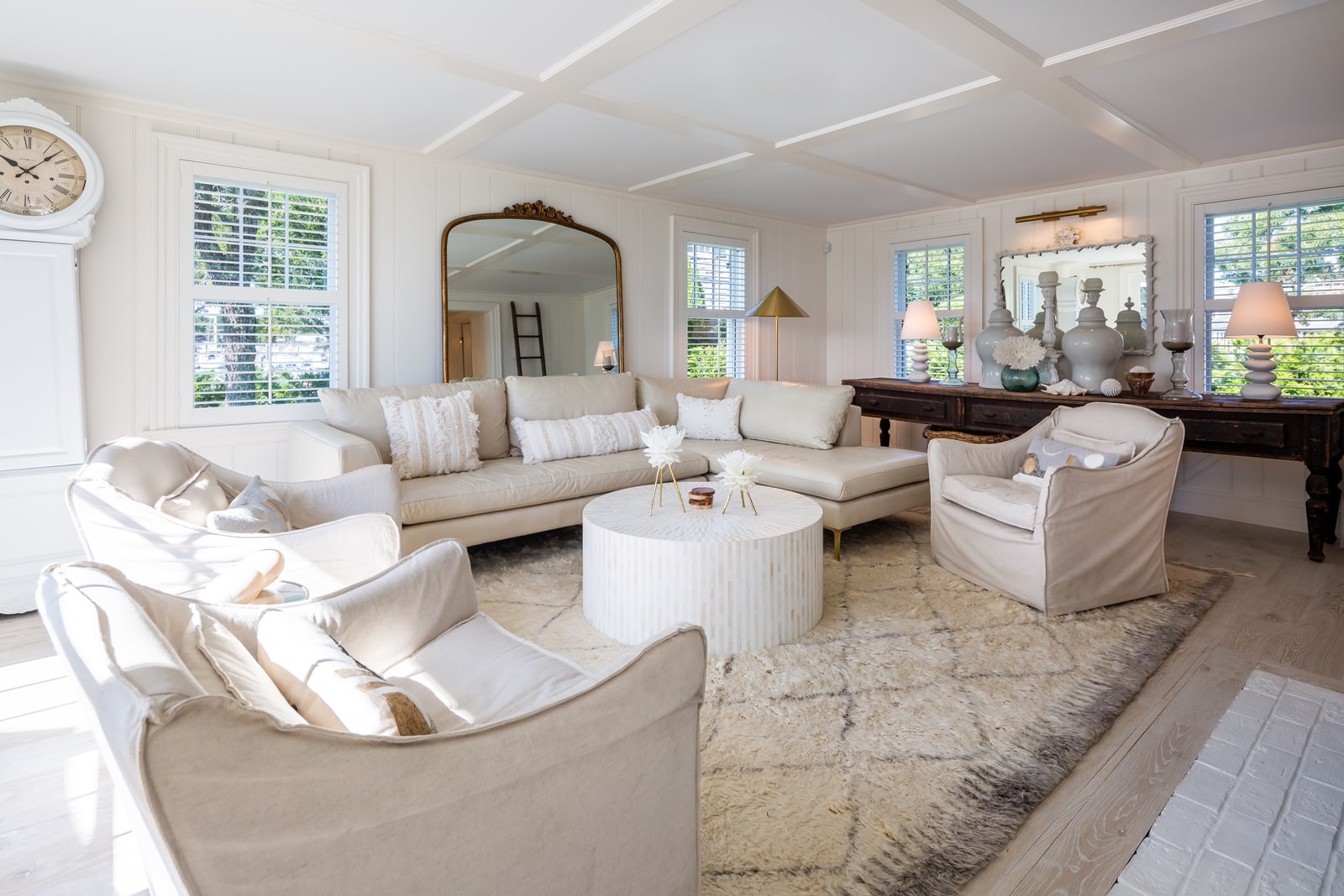 Bedroom
Decorative Accents: Nothing says farmhouse coastal like the right accents! Consider filling your bedroom with jute rugs and throw pillows, and combine these accents with distressed metals and rustic woods.
Textured Rugs: Keep your bedroom extra cozy by adding a soft textured rug. Consider a neutral color to make your space feel warmer and more inviting.
The Right Paint Palette: Transform your bedroom into a light and airy haven with a coastal farmhouse-friendly shade of paint. Classic examples include a warm white or a sandy beige.
Abstract Coastal Artwork: Abstract artwork can look stunning in a coastal farmhouse space. Consider pieces that combine blue and white elements to give a seaside feel and complement this palette with tans and beiges.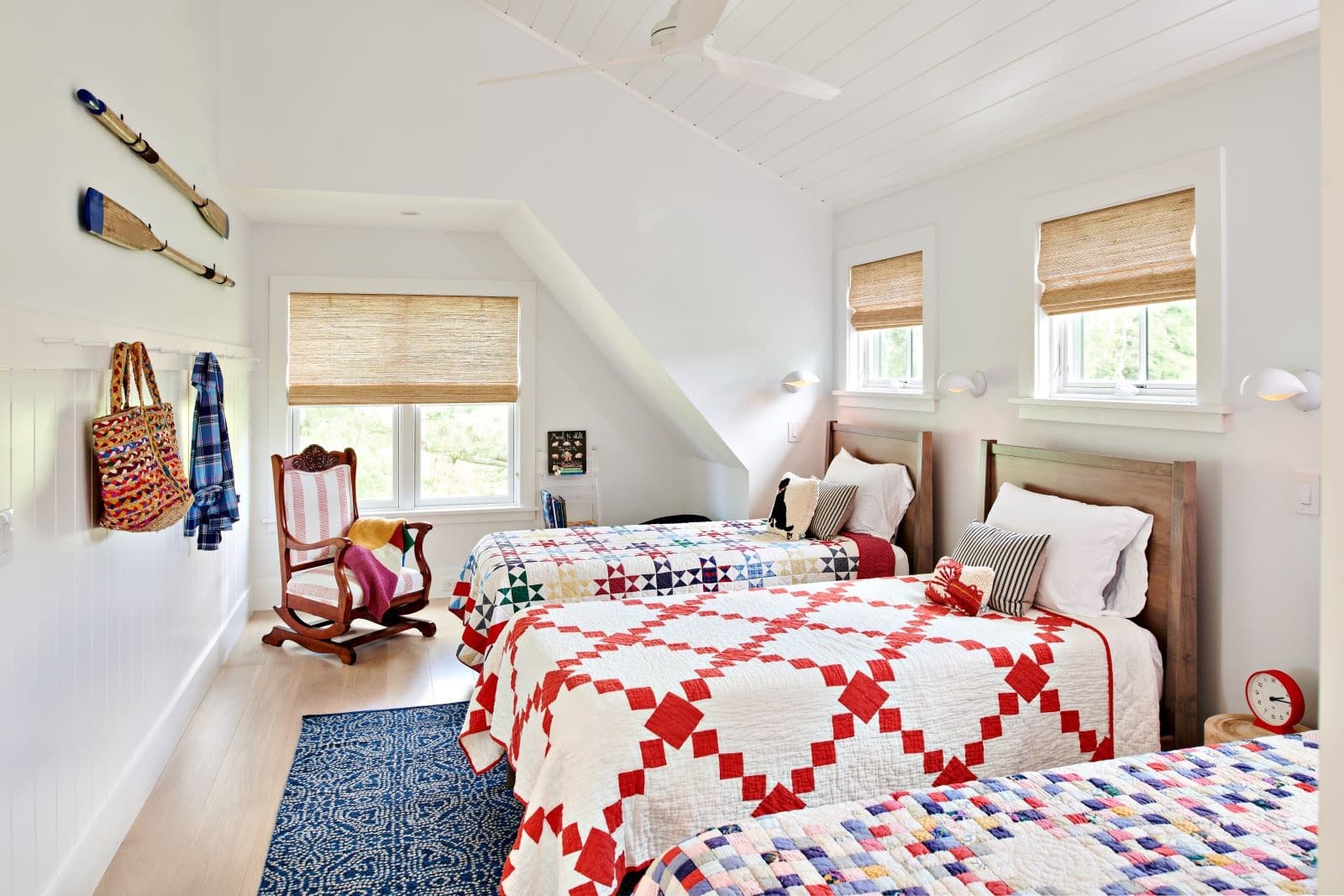 Exterior
A Dutch Front Door: A Dutch door (also known as a stable door or half door) is divided so that the bottom half may remain shut while the top half opens. Once you've settled on a coastal farmhouse palette, incorporate a Dutch door, which has become popular in farmhouse décor trends.
Lap and Board and Batten siding: This type of siding starts with wide vertical planks (boards) joined by thin vertical strips (battens) to cover the seams. Reminiscent of 19th-century American farm homes, this siding adds plenty of character to any home.
Single-Gabled Roof: The gable roof style is a timeless classic and a favorite in the farmhouse architecture tradition. It has two downhill-sloping sides and one with walls from the bottom of the eaves to the top of the ridge.
Additions And Outbuildings: Although areas such as patios and screened-in porches are sought-after features in many homes, they take on a new meaning in coastal farmhouse homes. To make the most out of your outdoor space, incorporate seaside-inspired elements into your outbuildings, such as rocking chairs or a cozy chaise lounge.
Wrap-Around Porch: This type of porch creates the perfect country-style feel and adds a farmhouse aesthetic to your home's exterior. An ode to Southern US homes, it adds a ''home sweet home'' vibe that is perfect for dining al fresco.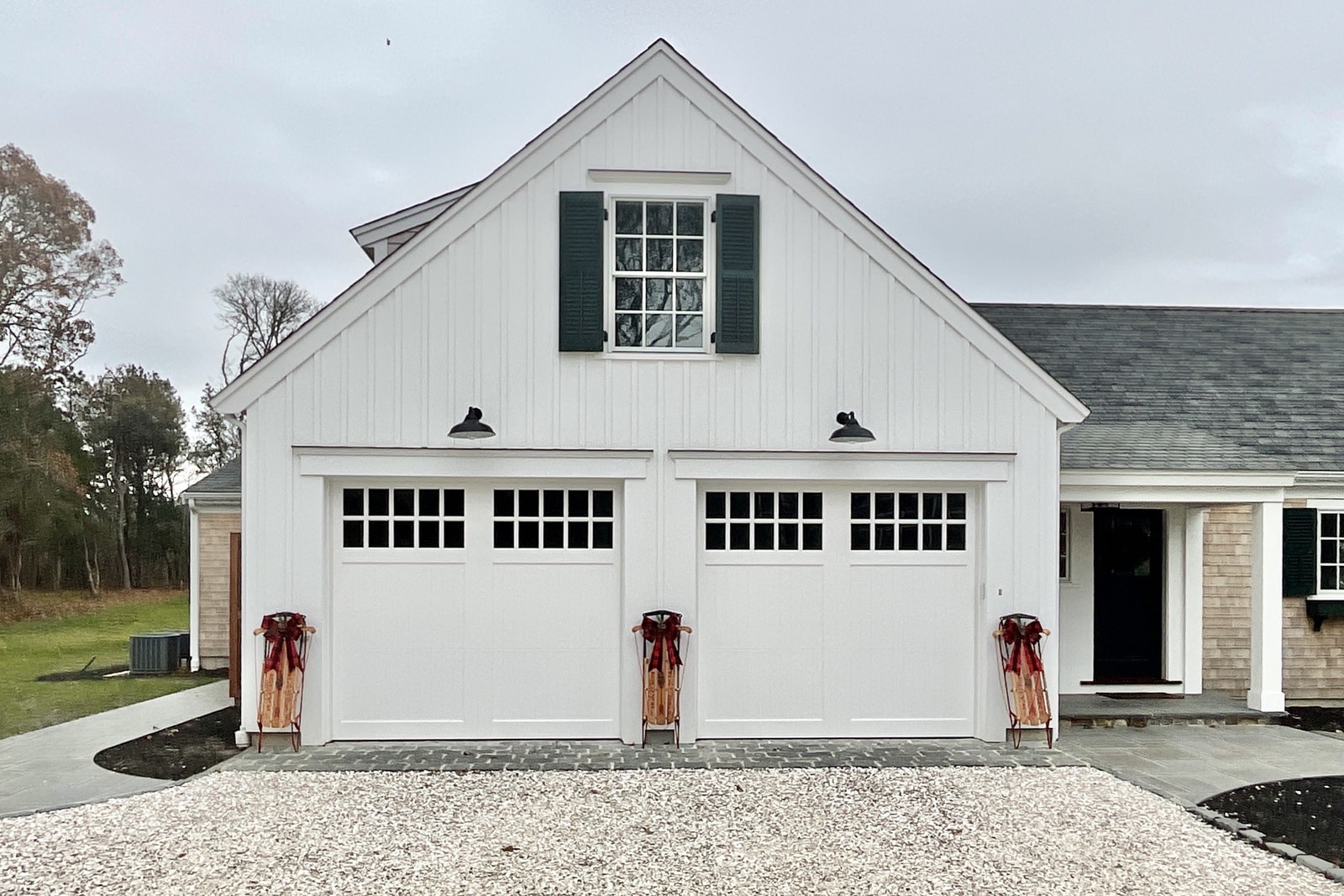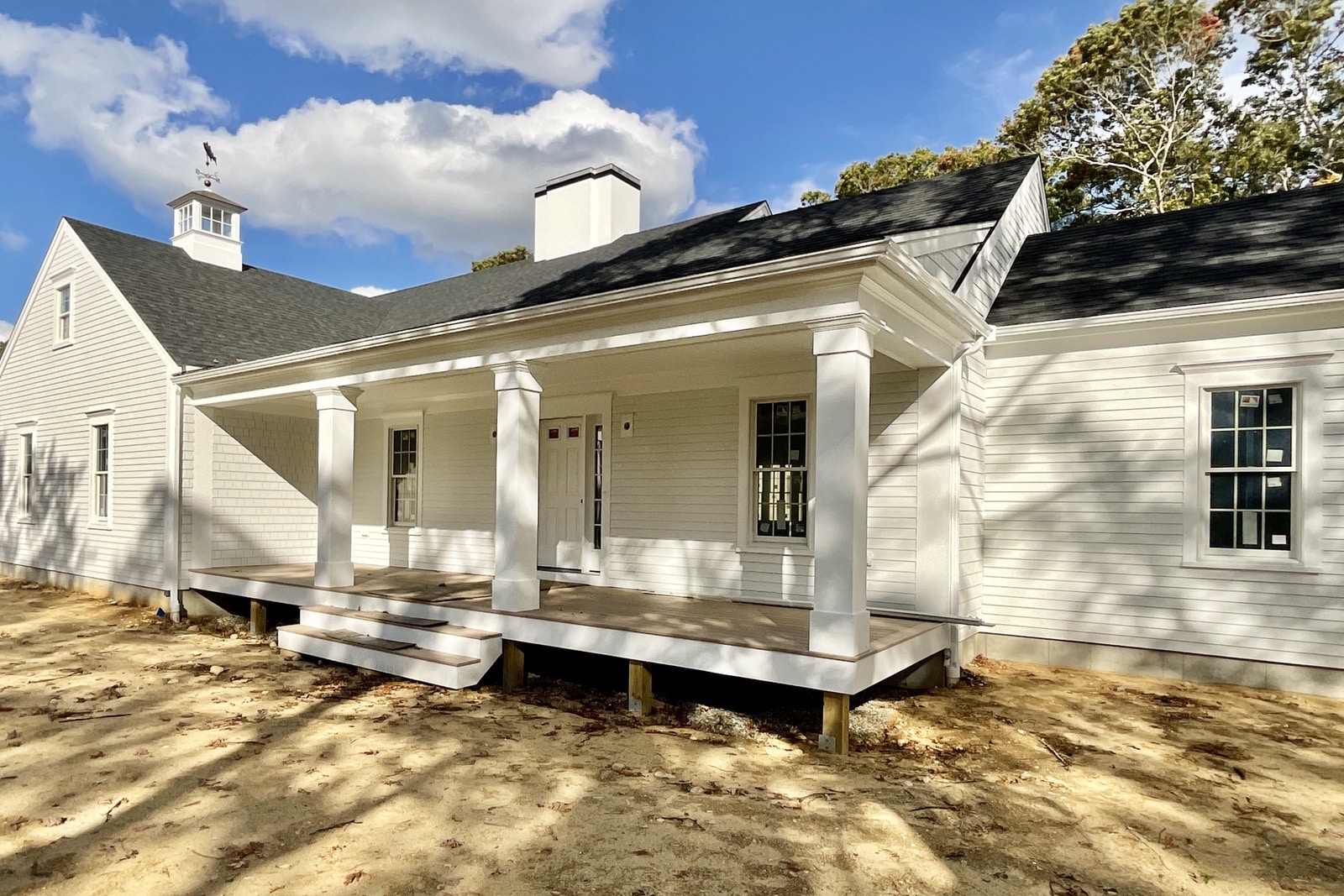 Trending Coastal Farmhouse Decor
Coastal farmhouse trends have evolved, and even though there's no "one-size-fits-all" style, we think you'll love some of the following ideas:
Functional, Comfortable Furniture: One thing that never goes out of style is comfort! Farmhouse decor is all about comfort and warmth, so focus on cozy furniture that will make you feel snug. Some common characteristics of farmhouse sofas include: Tufted back sofas, slipcover sofas, solid wood chairs, rustic wood coffee tables, and distressed wood tables.
Neutral Color Schemes: Using neutrals such as whites, creams, and beiges brings the perfect balance to a coastal aesthetic. Furthermore, using neutral color schemes, you can create a stunning contrast between your blue and navy tones to amp up the coastal vibes.
Simple Patterns: Consider steering clear of bright and flashy patterns. Instead, incorporating simple patterns will help your accents, fixtures, and furniture make a true statement.
Mix and Match Materials: Combining materials such as wood, metals, and fibers will create harmony and character in your home.
Natural Elements and Fibers: Nature-inspired elements are common in coastal and farmhouse décor. A beautiful way to capture elements of both earth and sea, you can combine elements such as woven décor with rustic wood.
Industrial Accents: Industrial accents such as iron or wooden beams form the foundation for an edgy yet beautiful style. You can also use wood and metal accents to combine the farmhouse and industrial aesthetic.
Black Matte Fixtures: The perfect contrast against a neutral backdrop, black matte fixtures are a trendy staple in many coastal homes.
Floating Shelves: Floating shelves are a core feature in many coastal farmhouse homes. Not only are floating shelves practical and pretty add-ons, but they're also perfect for displaying your best items.Think wicker baskets, seaside-inspired ornaments, and vases to elevate your coastal aesthetic.
Jute Rugs: These are durable, easy to maintain, and sustainable. The jute material's natural, earthy hues make it the ideal addition to creating a chic coastal farmhouse look.
Light Fixtures: Light fixtures such as wrought iron, metal, and wood are popular in farmhouse spaces and can add depth of light to your kitchen or dining space.
Natural Light: The coastal farmhouse home needs natural light to work, so try to let in as much as possible and layer it with fixtures to make your space brighter.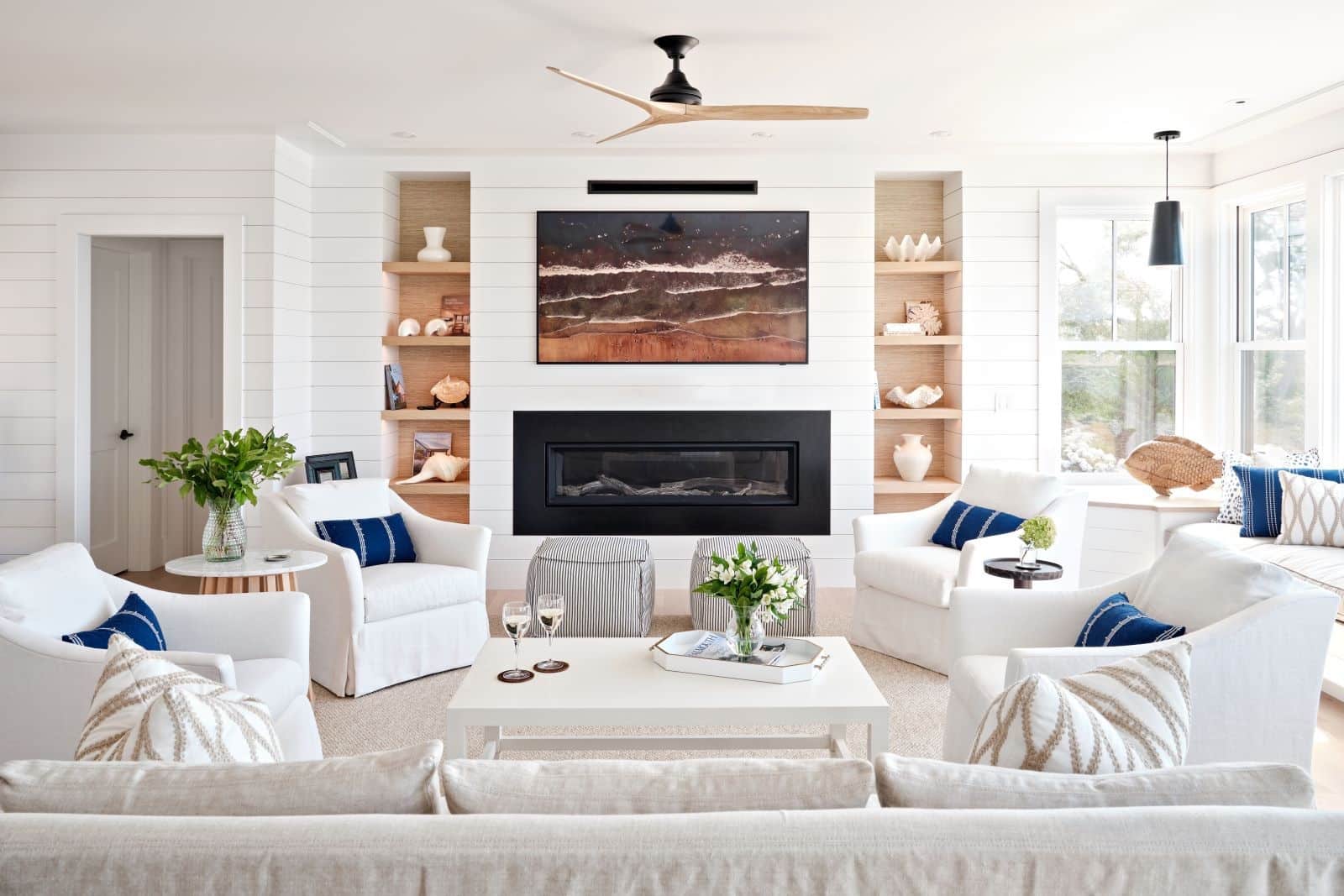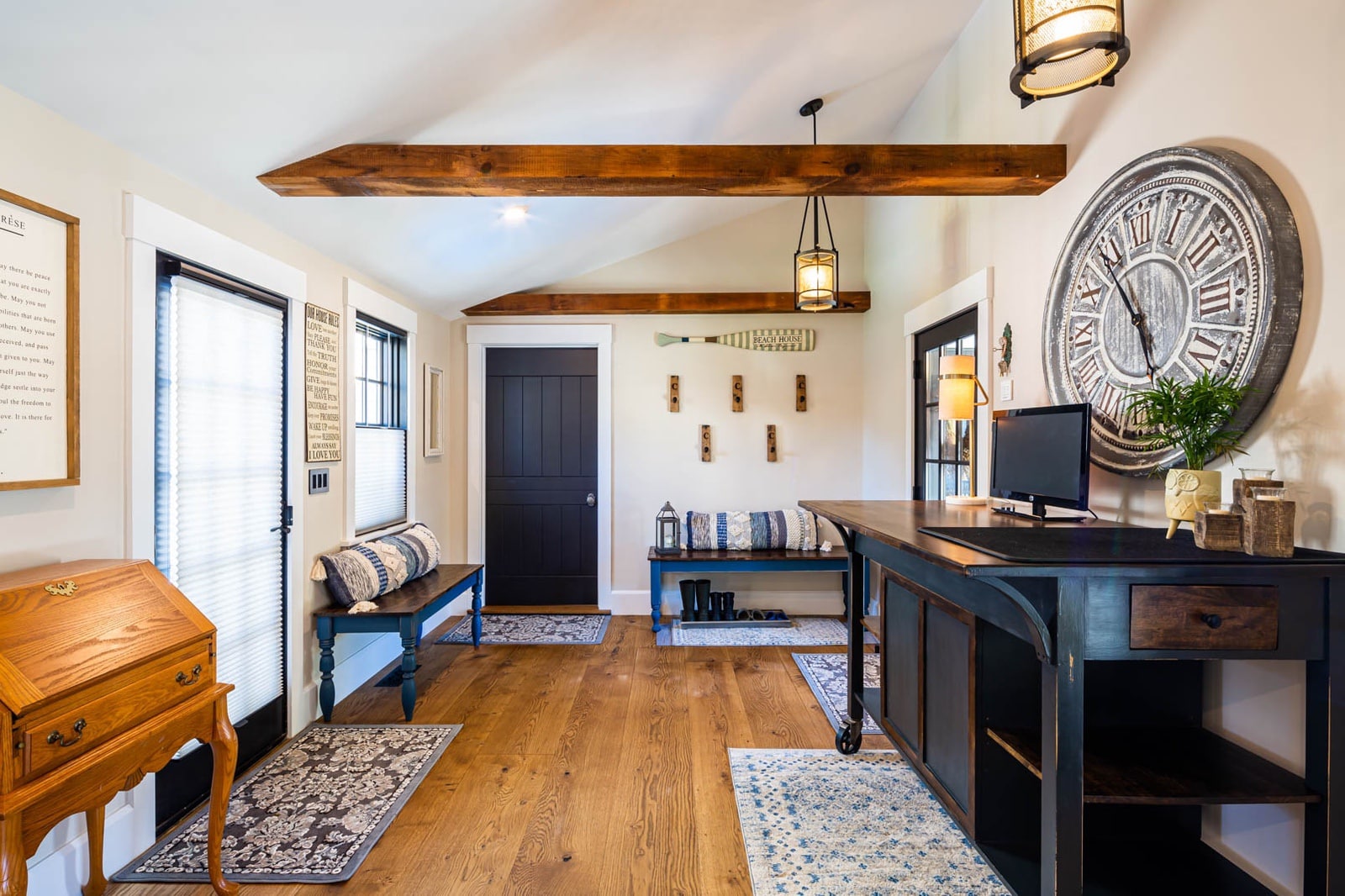 Conclusion
We hope this information has helped inspire you to create a coastal farmhouse home. Whether you need assistance renovating, building, or designing, the McPhee team is here to help you. Contact us today to learn more.