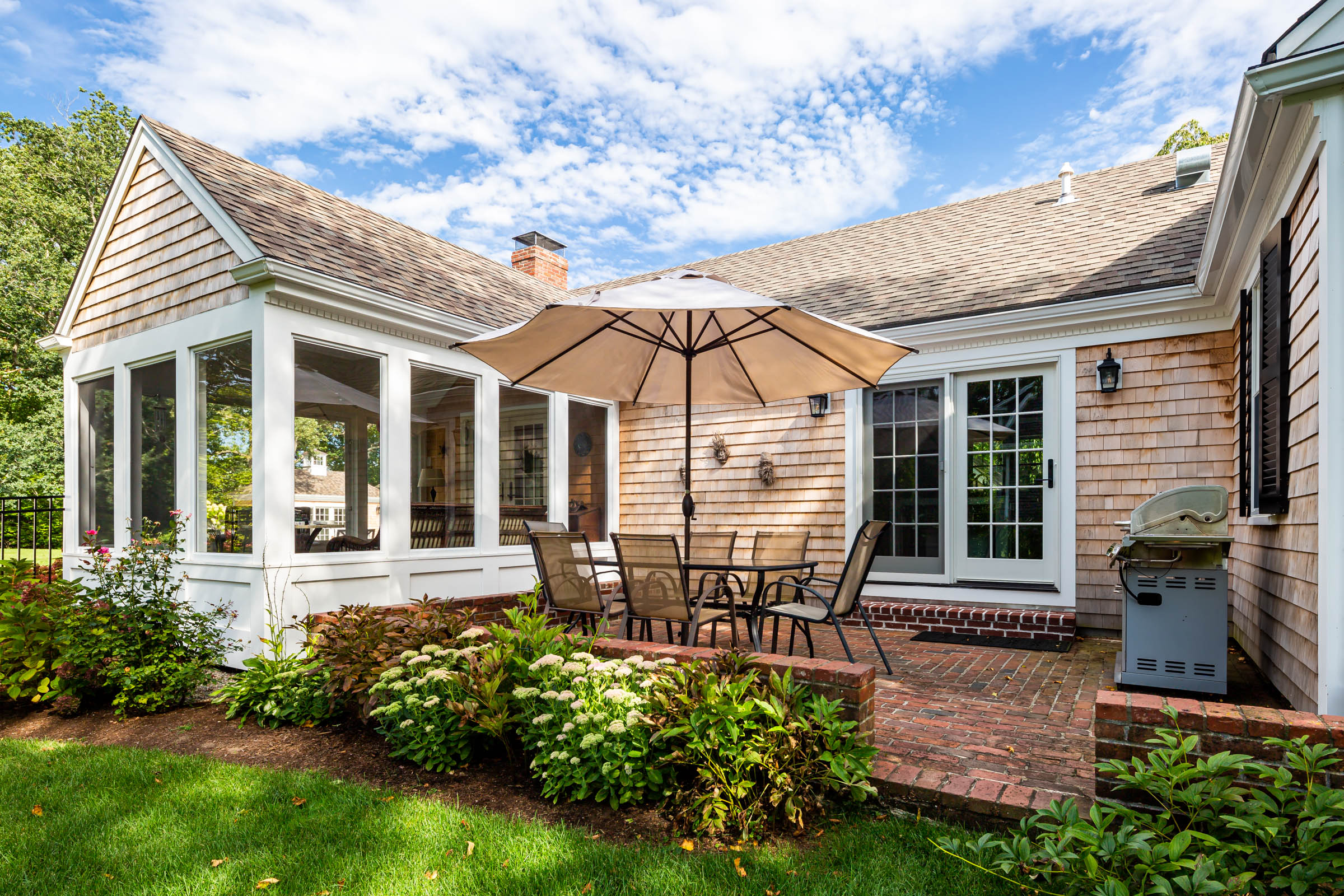 Are you looking to plan or design home additions for your Cape Cod dwelling? If so, we have some excellent suggestions for you. Keep reading to discover more about Cape Cod home additions and how to find the perfect fit for your needs.
What is a Home Addition?
A home addition is a significant home improvement project that adds finished living space to an existing home. Many homeowners will consider an addition at some stage. Even homeowners with large houses may want to add an extra bedroom, a larger bathroom, or another unit to their space.
What is a Cape Cod Home Addition?
The traditional Cape Cod home style is a favorite among New England homeowners, with a symmetrical exterior, centrally-located chimney, and weathered cedar shingles. Despite the charm of a Cape Cod-style home, many homeowners struggle with its modest size and the unconventional layout of its floor plans. This traditional style isn't ideal for large families or entertaining guests, which is typical for seasonal homeowners or vacation rentals on Cape Cod. So, many homeowners expand or add a home addition to gain extra space.
Regarding Cape Cod home additions and the style of Cape Cod homes, there are a few characteristics to note:
The traditional Cape Cod home typically has a center staircase, with little or no space at the front entry. It also has a separate dining room, living room, and kitchen.
Many Cape Cod homes include a first floor with a kitchen, a bedroom, and a bathroom. Upstairs, you'll typically find two small bedrooms and often a full bathroom. The upstairs bedrooms may have sloped roof lines, but are generally still usable when renovating or designing a home addition.
Some Cape Cod homes lack insulation upstairs and may have minimal ventilation. A typical Cape Cod home will have limited closet and storage space and may not include a full basement or a garage.
Many Cape Cod homes have low ceilings making expansion tricky.
Types of Cape Cod Home Additions
When planning a Cape Cod home addition, there are many options for adding space. Typically, we see Cape Cod residents focus on kitchen, primary bedroom, garage, and accessory dwelling unit additions:
Kitchen
There's a whole lot that goes into a kitchen addition or expansion. This room probably involves the most choices and interior selections to make. Let's take a look at what you need to consider:
Shape and size
The available outside space and the existing foundation (see below) largely dictate your kitchen addition's size and shape. You will also have to consider the desired functionality of the space for cooking, storage, entertaining, and dining.
Interior elements
Your kitchen addition will involve making several cohesive selections. These selections include flooring, cabinets, countertops, backsplash, cabinet hardware, fixtures, sinks, appliances, lighting, and wall and ceiling paint color.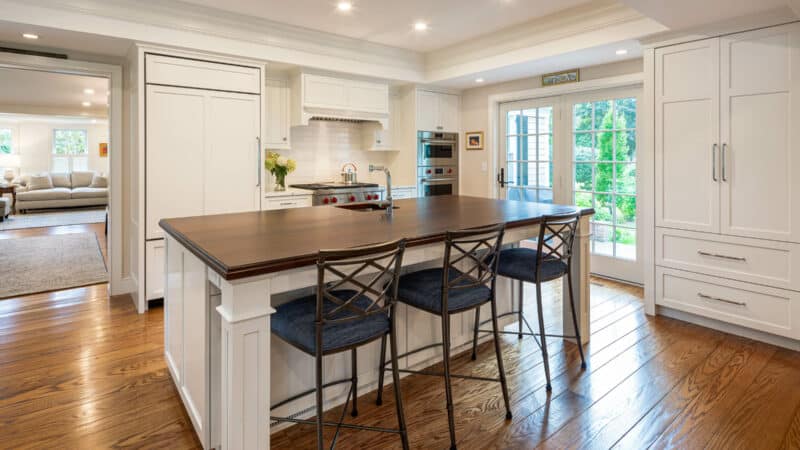 Primary bedroom
Before you begin the construction or planning of your primary bedroom addition, consider the following:
Location
Consider how your addition will relate to your existing home's layout. Is a main-level primary suite your goal? Or, will an addition to the second floor, such as a room above your garage, make more sense? Either way, you will need to factor additional costs that may include upgrading plumbing and electrical requirements into your home's existing structure.
Privacy
Is your home on a noisy main road?  What is the proximity to other homes? You will need to factor the addition's location and the windows' orientation into the equation.
Storage
If you are going to undergo this process, be sure to consider your storage needs. Will you want a single walk-in closet or his and hers? Determine these needs before you start.
Exterior Features
Any addition should blend into your home's environment seamlessly. Talk with your design-build firm about the roof line, facade, shingles, siding, exterior trims, and windows for your primary bedroom exterior.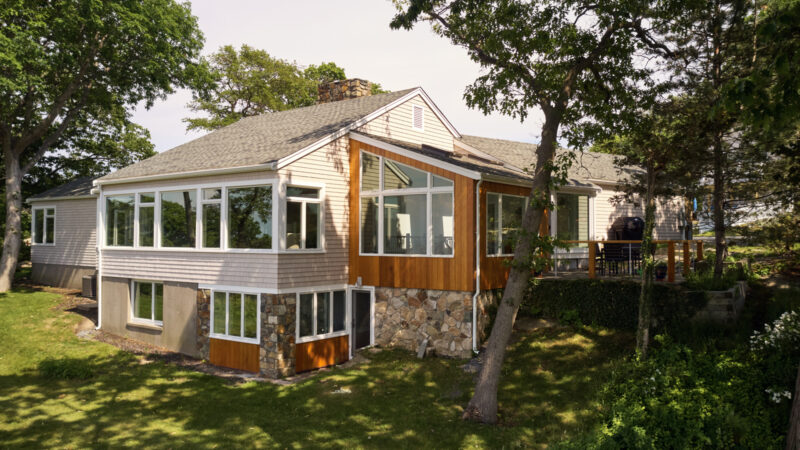 Garage
The addition of a garage offers many benefits. You can add a garage to your existing home or build one as a separate structure. An attached garage usually costs less, and it wins on convenience. And, it's easier to use part of the space as a pantry, mudroom, laundry area, or another extension of your house. On the other hand, a detached garage can offer advantages to the aesthetic of your home, maintaining light and creating a separate private space.
Here are some considerations with the exterior and interior of your garage addition:
Location and sizing
Once zoning and coding are permitted, you can decide on the size of your garage addition. Be careful when determining the size, as a garage can dominate a large part of your home's exterior. To avoid this, consider adding windows to the street-facing side that match the style of the rest of the house.
Electricity and Plumbing
Determine the electric power you need in the garage and its source. Another consideration is plumbing if you want access to running water.
Wall storage and Cabinetry
Consider elements such as slat wall panels to make the most of your garage addition. These clever add-ons eliminate the need to use additional wall-hanging systems that can detract from the unified look of the room. Garage cabinetry provides a dual benefit of functionality combined with aesthetic. You can easily store away any items that may otherwise clutter your garage space.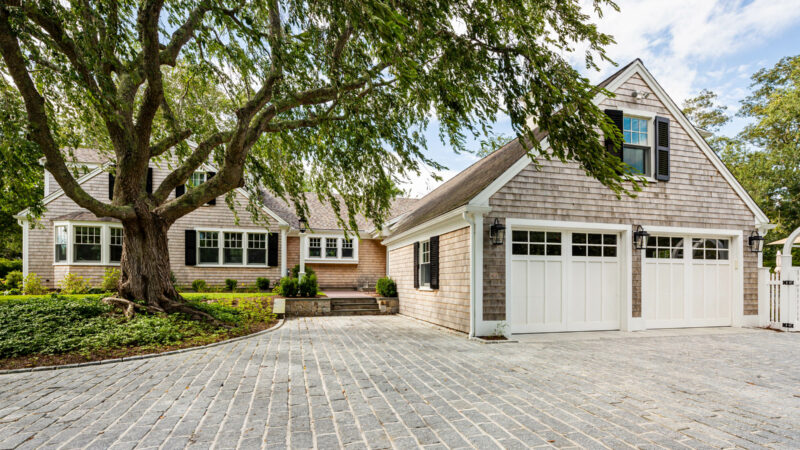 Accessory Dwelling Unit
An accessory dwelling unit (ADU) is a residential unit located on the same lot as a single-family home. These self-contained homes have an entrance, a full kitchen and bath, and a living and sleeping space but are much smaller than the primary residence. Homeowners on Cape Cod often use ADUs as guest houses or summer rentals. If you are considering an ADU home addition, it's essential to keep these factors in mind:
ADU zoning regulations and building codes
ADUs cannot be built on any property; they must adhere to local building and zoning codes. Although regulations have broadly expanded to allow these dwellings, some areas still require zoning approval before moving forward with permit applications.
Privacy
It is crucial to consider your privacy needs and those of future unit occupants. Be sure to cover all privacy bases, including physical, noise, and visual privacy.
Design considerations
When designing an ADU addition, homeowners typically opt for either a build-to-blend or a modern counterpoint. A build-to-blend design matches the main house, whereas a "modern counterpoint" is more contemporary and stands out in bold contrast.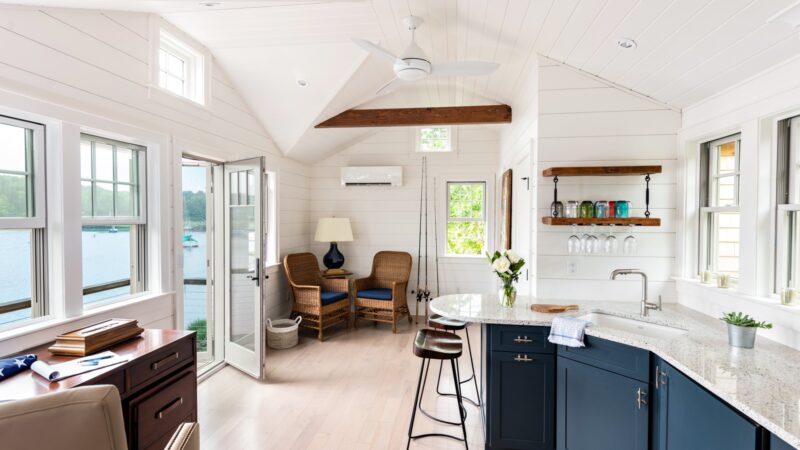 How to Plan For Your Cape Cod Home Addition
Design
Getting started with designing a home addition can be overwhelming. The best way to start is to sketch out your ideas. For inspiration, browse Pinterest or preview home design magazines and websites to get ideas for the planned new space's design, layout, and functionality.
Once you have your ideas organized, we recommend working with a design-build company, like McPhee Associates, to create a design plan. When you hire professionals, you can achieve a design with supporting blueprints that complements your current floor plan. Furthermore, the design-build company has an experienced understanding of limitations and aesthetic considerations you may need to know.
Permitting and Zoning (with towns)
As you begin your Cape Cod home addition process, zoning restrictions are an essential consideration. Restrictions include lot usage – the percentage of land used for, and the height of, the building. Restrictions also pertain to proximity to protected land, shorelines, or wetlands. Working with a contractor or experienced design-build company will give you information on the permitting and zone laws you need specific to your area.
Excavation, Demolition, and Site Prep
Excavation
When adding an addition, you'll need an excavation contractor to prepare the site. Before an excavation contractor brings in heavy machinery, a few essential preparatory steps need to happen:
A complete site visit with a thorough inspection by your contractor or builder.
A soil test to ensure the land is ready for the new structure of the home addition.
A utility line assessment to make sure all necessary safety steps are taken.
Demolition
Demolition is an integral part of any home renovation, which you should consider carefully. You can undertake DIY demolitions with the right tools, but know that they can be dangerous. Research demolition companies or consult your builder or contractor to guarantee better safety outcomes.
Foundation
One of the main reasons that building an addition can cost twice as much per square foot as remodeling an existing space is the foundation. Room additions almost always need the services of a foundation builder.
Here are some foundation considerations and the process you can expect:
Depth of the foundation
Regardless of your home's current foundation, your contractor will consult the regulatory guidelines for your area. These guidelines include soil conditions, weather, and other variables to determine your new foundation's depth. The contractor will also determine the exact height above the grade to align with the existing house structure.
Soil Excavation
Your contractor will bring in the necessary equipment to remove excess soil from the area of the home addition. In some cases, they will amend the soil by compaction or adding fillers. This process eliminates the risk of the foundation failing under the structure's weight.
Form building
Next, your contractor will build the forms. These contain wet concrete and hold it in shape until it sets. Insulated concrete forms can reduce the need for insulation after construction is complete.
Foundation materials
Your contractor will add reinforcing rebar within the forms and pour concrete to fill them. After they set the concrete, rows of cement blocks secure the foundation and build up to the desired height.
From here, the structure's framing begins, and the addition comes to life.
Roofing
You want your addition to blend seamlessly with the original parts of your house. To achieve this uniform look, focus on the roofing. Consider the following roof options:
Roof Extension
Extending the existing roofline will be quite easy and low-cost to achieve if you're adding to the gable end of your house. However, most additions tend to be in the front or back of the house rather than the sides.
Shed Roof
A shed roof is the easiest solution for an addition. As a single slope, it's attached to the original house at the high point and slants down to the outer wall. Although it's a budget-friendly option, homeowners need to be cautious, as shed roofs can look like obvious add-ons, which diminishes the property's value.
Gable Roof
Rather than a single slope, a gable roof consists of two slopes that meet at a peak running down the middle of the roof. A gable room can be a perfect option for your home addition. When matched to the angle and proportions of other rooflines on the house, it adds visual interest, uniformity, and character to your home.
Dormers
A dormer is a small gable roof that projects at a 90-degree angle from the main roof, usually to house one or more windows. If you're expanding the top floor of your home, a dormer can be effective as it raises the ceiling where you otherwise have low eaves.
Cape Cod Home Additions Projects
Want to discover some Cape Cod home addition transformations? Browse our stunning projects below:
Masterful Haven in Windward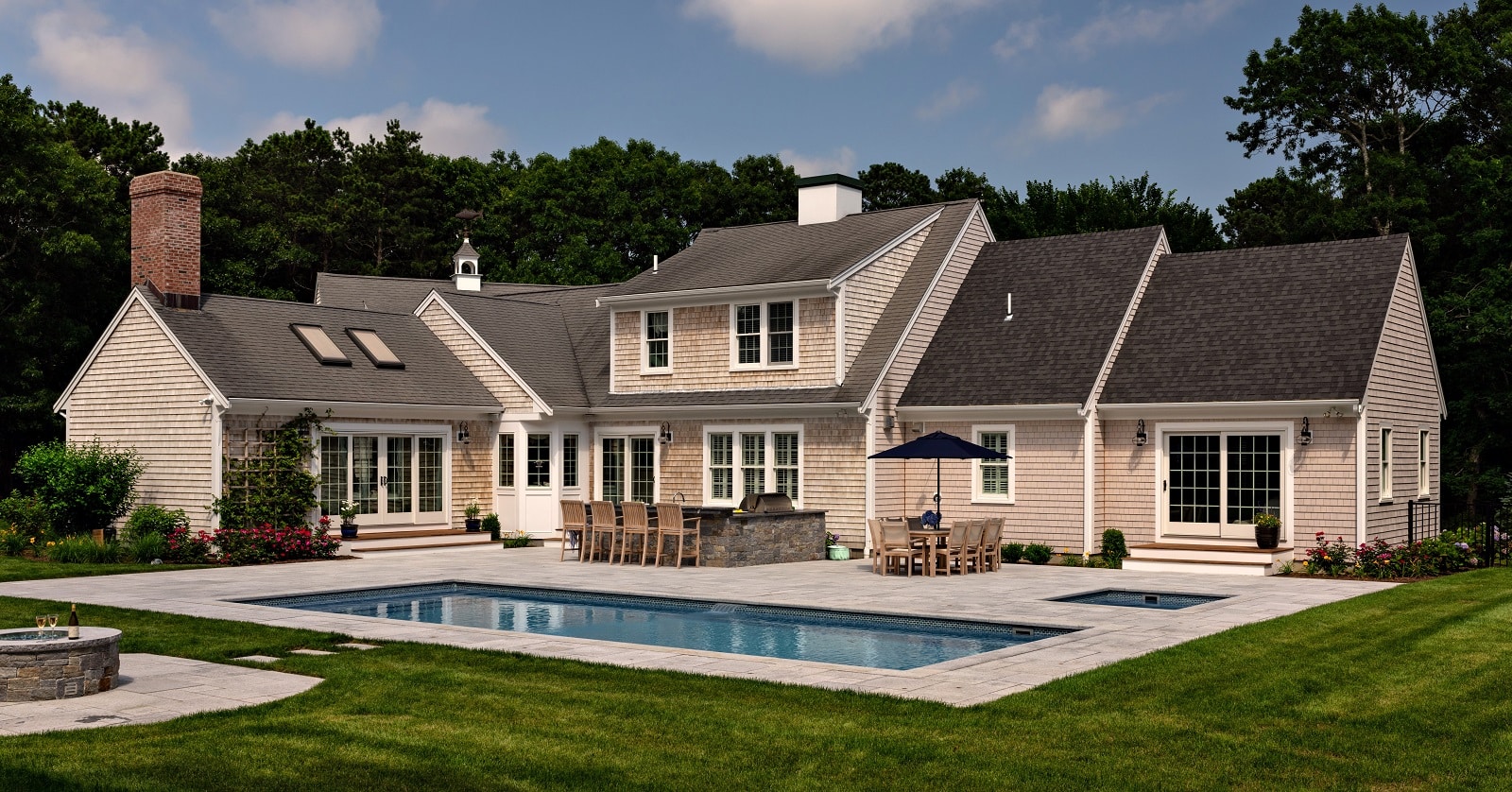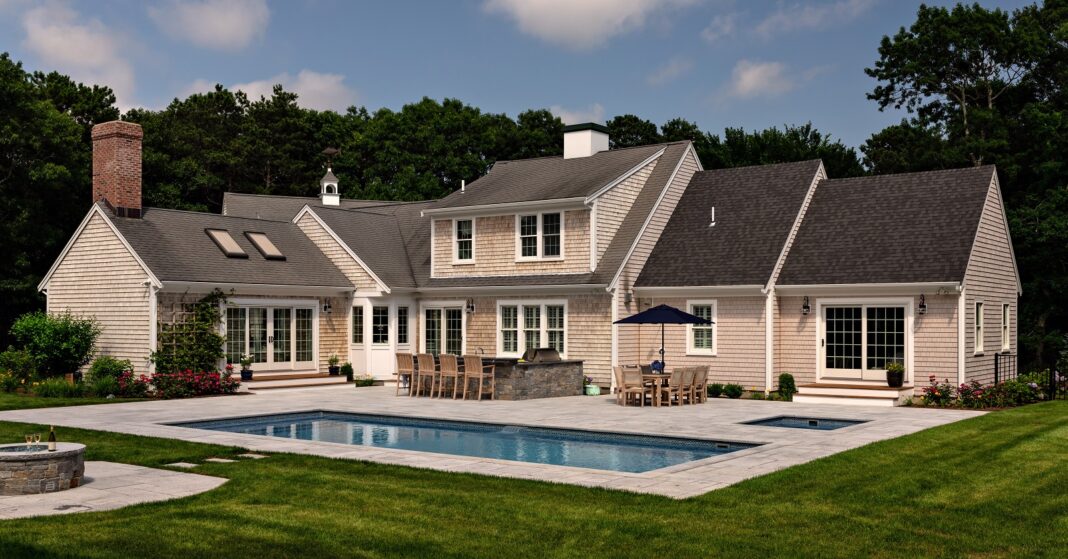 This home addition by McPhee Associates added a primary bedroom and bath along with outdoor living space to this timeless Windward East property.
Beautiful Boathouse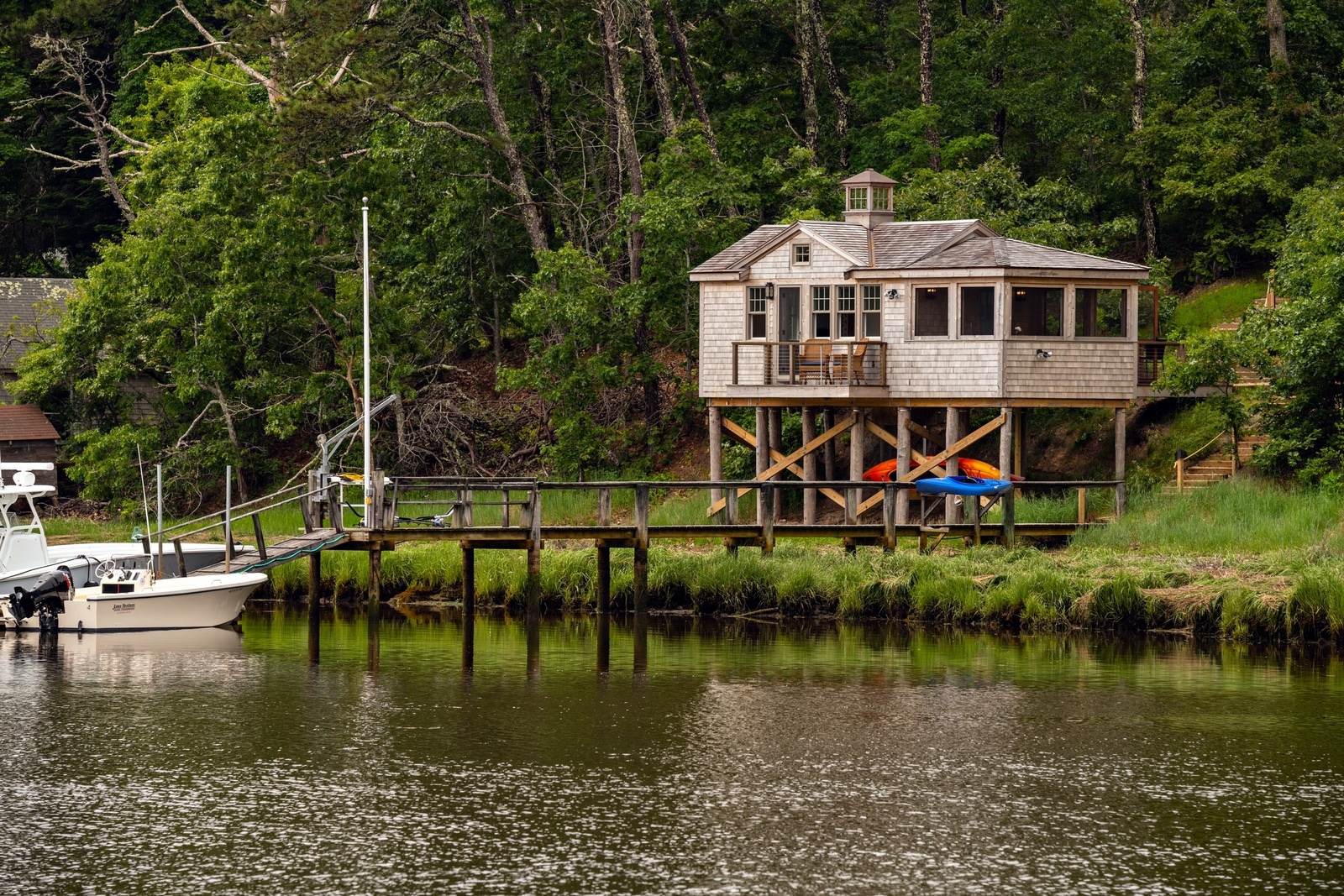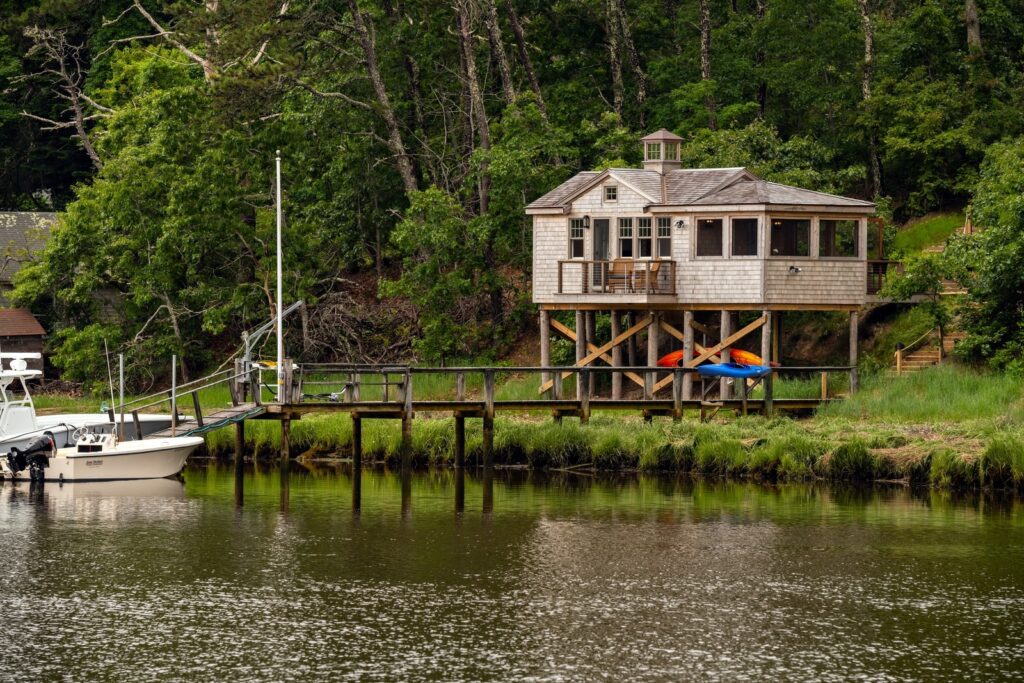 McPhee Associates rebuilt this boathouse from scratch on the original footprint and transformed it into the homeowners' accessory dwelling unit. The McPhee team designed a cozy and functional space that comprised of a kitchenette, full bath, screened-in porch, and multi-purpose living space. The goal was to create the perfect boathouse for both escape and work.
Bay Breeze Oasis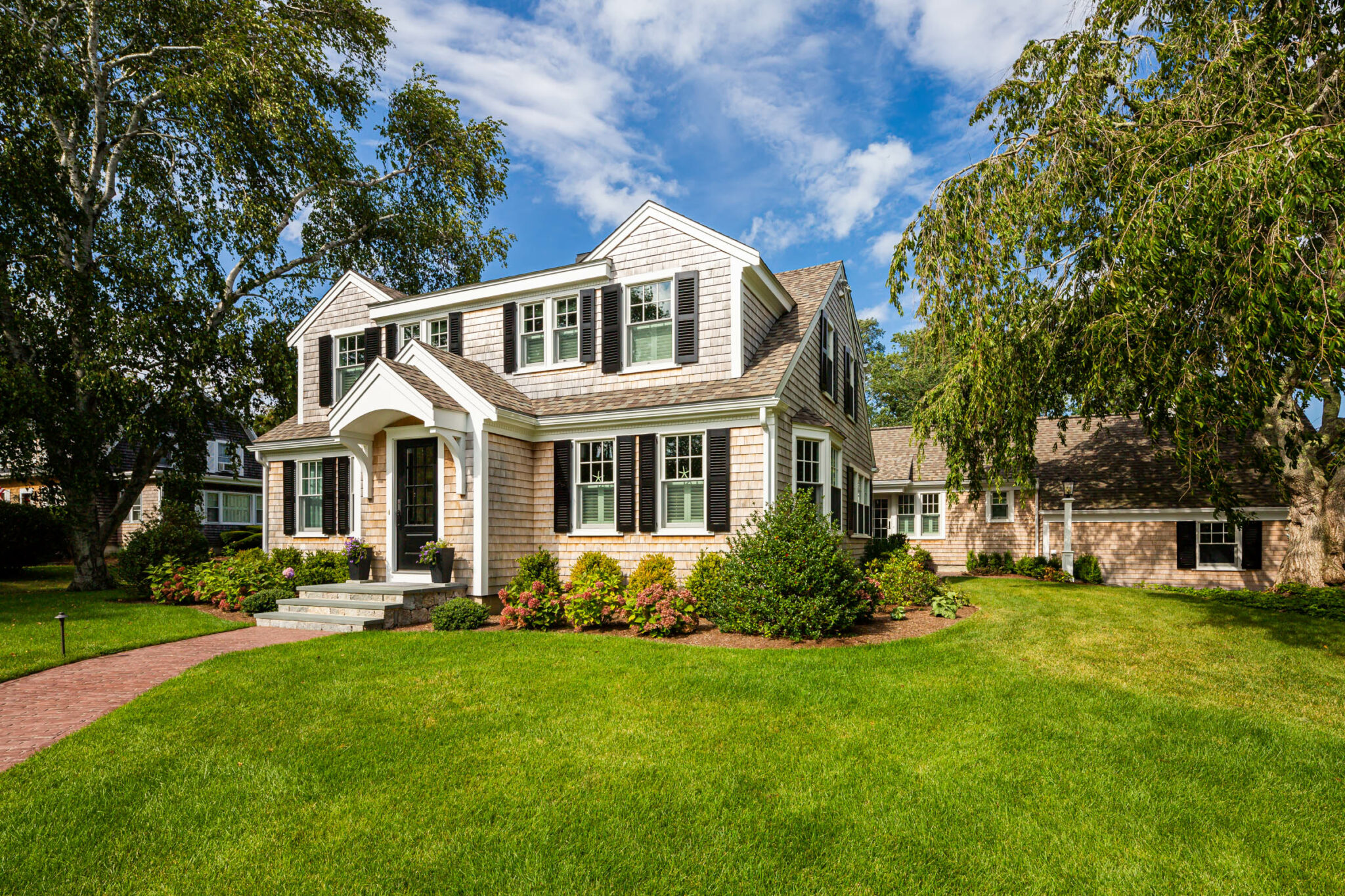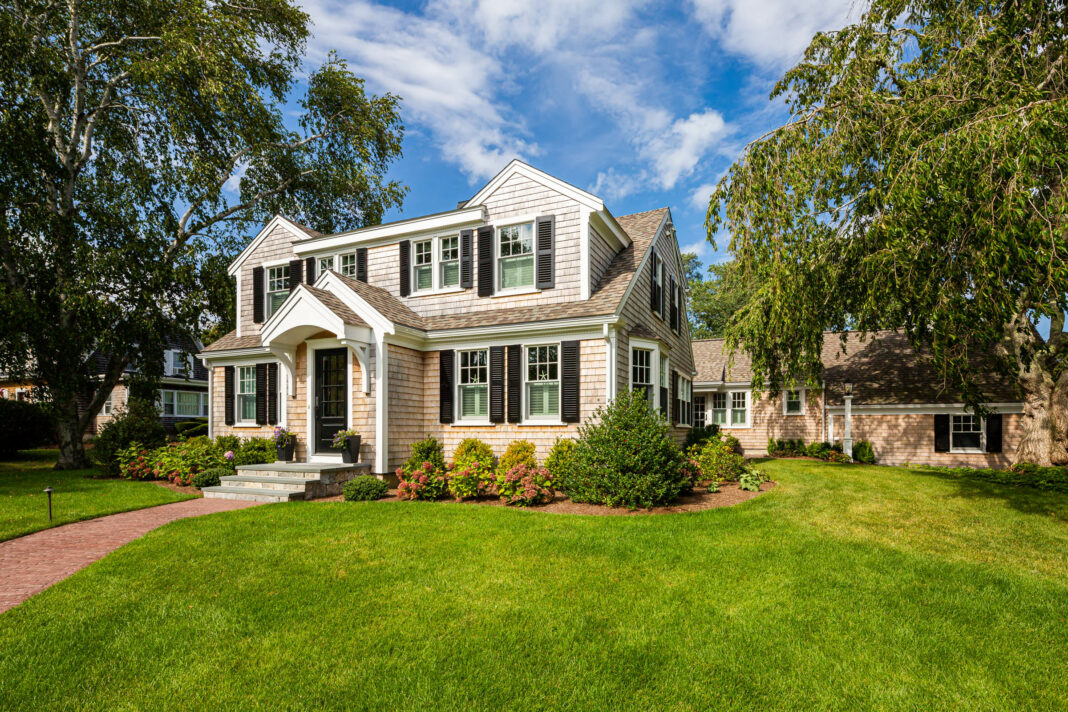 McPhee Associates expanded this traditional Cape Cod home with a dormer which enlarged the primary suite, creating a spacious and tranquil environment.
Historic Chatham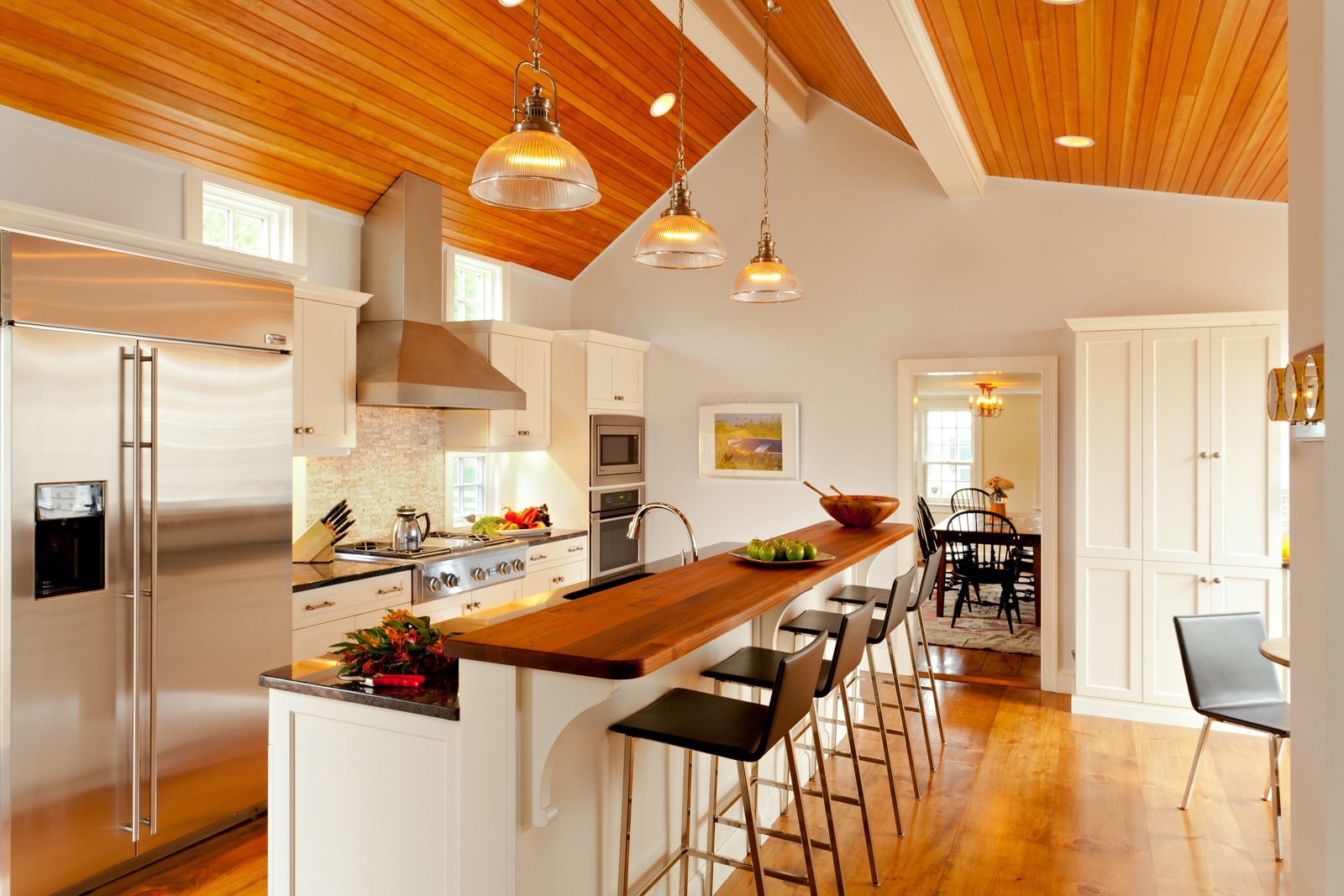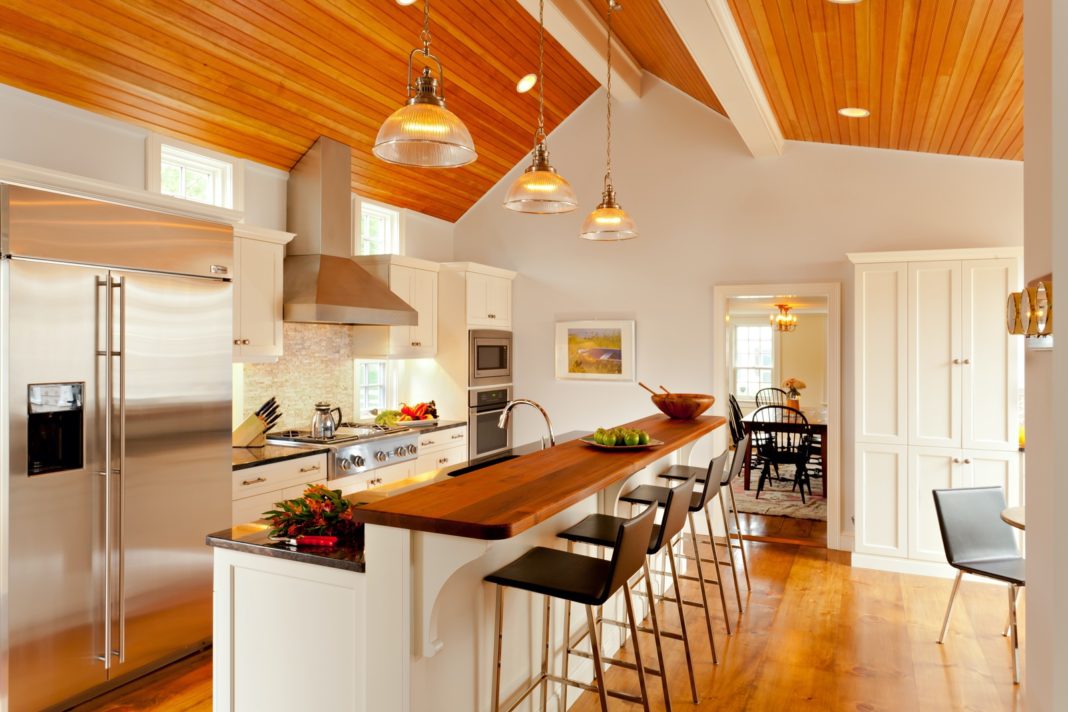 McPhee Associates transformed this once-cramped kitchen into an open and generous space. The new home layout provided the homeowners with ample entertaining and cooking opportunities to enjoy their new space.
Conclusion
We hope you have enjoyed discovering more about Cape Cod home additions. McPhee Associates of Cape Cod loves designing, building, and renovating homes on Cape Cod. Feel free to contact us today to learn more about working together.