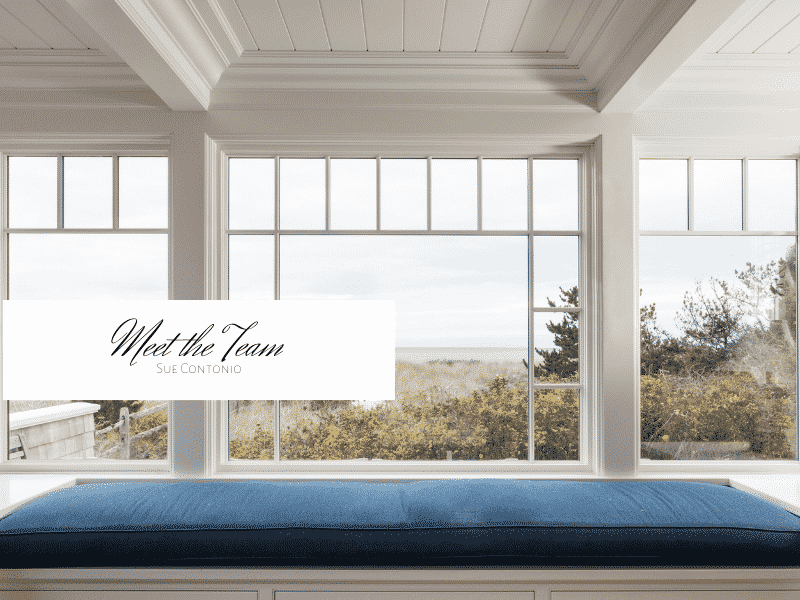 Sue Contonio wears many hats and always does so with a smile. She's a VP, senior estimator and project coordinator here at McPhee and has close to 20 years of experience in the construction industry. She loves the pace and the challenge that each day brings, and finds joy making the dreams of homeowners a reality.
How did you initially get involved with McPhee as a senior estimator and project coordinator? 
I had been self-employed as a freelance estimator and project manager for a few years since the birth of my first child. Being local to the area, I was very familiar with McPhee and conveniently had a past colleague (Jon!) who works here. My husband, Mark, had been sub-contracting for them for some time, so I knew the quality of the organization well. Jon and Mark asked me if I would interview with Bob and Rob as they were trying to plan for Bob's future retirement and move the estimating of the business to a more digital age. I interviewed, nervous that I wouldn't be able to fulfill what they expected with two small children at home (at the time). When Bob said "Do you think you would want to work full-time when they reach high school?" I laughed and said "I'm still aiming for Kindergarten," which has since come and gone for my youngest!
What excites you the most about what you do every day? 
There is something new every day. Products change, technology changes, practices evolve…there is always a challenge to rise to. And most importantly, the terrific team of co-workers that make everything come together perfectly.
Take us through the spec phase – how do you begin an initial estimation? 
Many times I am fortunate enough to be exposed to a project at the start of the design, so I have a good idea of what evolves through the design process; many times I can help steer the design towards budget goals. This also flows into the spec development, which is the next phase after designs are complete. That is the point where we get to ask the clients more detailed and specific questions about what their style and vision is for the home so we can do our best to create a detailed proposal specific to what their hopes and expectations are.
What's top of mind as you begin to put together selections for your clients?
We always try to put ourselves in clients shoes and strive to deliver what they are looking for, so with each selection we are thinking, 'Wait, do they have a very traditional style and prefer heavier moldings, or are they rather modern, gravitating towards minimal details? Do we need more wall space for their art collection? Maybe I should suggest this style door, etc.' For each home there is always one item that seems quirky — this could be the space in the laundry room for a specific hamper, or the ability to have the outdoor shower easily accessible from the master bath, or a specific cabinetry color to match the dishes, or a way to hide the clutter in the playroom. The list goes on!
What is your favorite thing about working alongside your clients? 
Being there at the end when they get to see their dream home as a reality, with the little touches that make it special to them.
What do you find most challenging?
When building restrictions with codes, site, etc. prevent us from creating something that otherwise seems simple and then having to explain that back to our clients.
If you could give one piece of advice to homeowners as they begin the design/build phase of a new home or renovation, what would it be? 
Select designers and builders you trust, the rest will come easily. It's more about the relationship and making sure they understand what your objectives are. Anyone can give you a price on a home, but does that price include the details you want and the quality you deserve?
Just for fun: what is your favorite place for a night out on the Cape?
My husband and I are big fans of Clean Slate Eatery in West Dennis. A small farm-to-table owner-operated establishment with AMAZING food.
Farthest travel destination?
New Zealand and Australia.
One thing people might not know about you?
I have always wanted a Weimaraner dog…and…while I complain about all the sports and activity obligations our children are involved in, I truly love watching them enjoy themselves in these activities.
And because it was such a crazy and challenging year, for you, what was 2020 like?
2020 was personally one of the most challenging years. Having always been a working mom, it was much different actually doing that while trying to help my kids through everyone's first experience with virtual school! I walked into the pandemic thinking it would be a nice "time freeze" to catch up, similar to a blizzard, only to quickly realize that was not going to be the case. Rather, the exact opposite happened with the drastic increase in demand for Cape homes requiring renovation, new construction, or just plain deferred maintenance, which became more of a priority as owners were in their homes more.
We challenged ourselves to handle more things virtually rather than relying on in-person visits and examples. We navigated our learning of virtual meeting platforms, we changed our overall social behaviors and video-toured homes under construction for owners who were not able to visit. Needless to say, I think we all learned many things.
It was nice to have some more evening time with my family as well without the commitments of sports, school and social activities (although a few more social evenings would be nice too!)