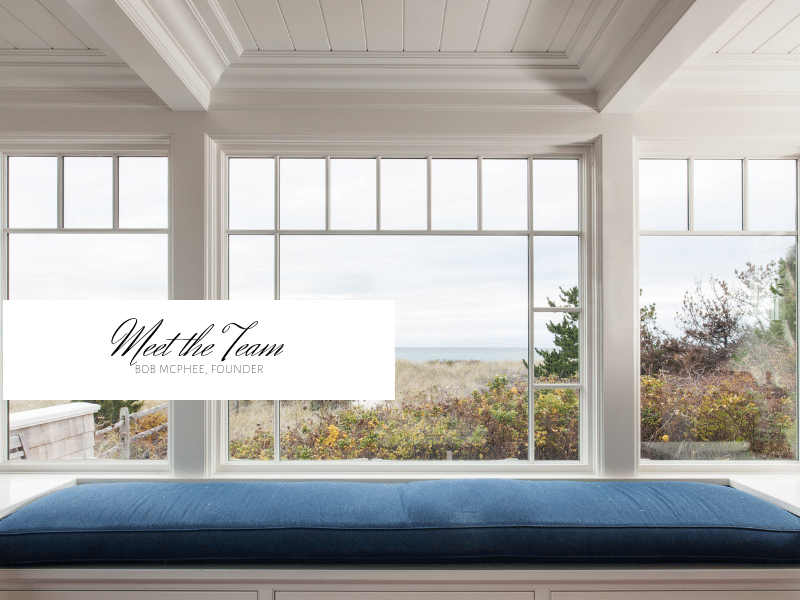 Successfully starting, maintaining and growing a business is no small feat, particularly in an industry that is everchanging; an industry that rides the tide of the economy and is faced with daily challenge and expectation. After nearly five decades of navigating the ebb and flow of the building and real estate industries on Cape Cod, Bob McPhee, founder of McPhee Associates, weighs in on what got him started, and what keeps him going.
When you started McPhee Associates, what was your main mission? What did you hope to bring to the industry?
During summers, while in college, I worked for a home builder in Chatham. I would see the reaction of homeowners when they visited the construction site. I realized early on what a large financial and time-consuming commitment it was to build a home. Owners want their homes to be special. My goal was to make this happen by building positive relationships with my customers, making their building experience just that. Detailed plans and specifications establish and support price, but honesty, transparency and good communication are fundamental requirements in a successful building project. My mission was to satisfy my customers by making their building experience exciting, enjoyable and problem-free.
What has it been like to watch McPhee grow and develop over the last 47 years?
I confess that it is very gratifying to look back on the growth we have achieved over the years. I started by building duplexes. The thought was, if they did not sell, I could rent them. Fortunately, they sold, and gradually provided capital to invest in building homes. As that progressed, it provided capital to invest in land development as well as custom home building and renovation. Like any business, there are cycles to be managed – some more fun than others. You take nothing for granted and learn to stay focused. And never quit trying. A little luck also plays into the equation.
What are you most proud of?
I have lots to be proud of. I am most proud of my family and feel very fortunate to have a wonderful, supporting wife. I am proud of my son, continuing the legacy of the business. I am proud of the people I work with and what they have been able to achieve. I am proud of the company's reputation.
Now retired from the day-to-day operations of the company, what part of the job keeps you feeling connected? What type of work are you enjoying the most?
Retiring is not easy. It is difficult to not pay attention to every potential job opportunity. Working with the architectural designers on plans is enjoyable, as is promoting our developments. Obviously, month end financial reviews draw my attention.
For you, what is quintessential "Cape Cod"? What makes it home?
To me, quintessential Cape Cod is a village lifestyle where you can enjoy the simple and clean natural attributes of nature, away from the hustle and bustle of a large city. It's where you get to know your neighbor, take the occasional walk on the beach and spend quality time with family and friends.
What is your go-to destination every time you're back on Cape?
I love being in my home, but Cuttyhunk Island would be my "go to" for a weekend getaway.